During our extensive research, this is one of those rare finds where not only is the vehicle cool to feature, but the pictures and description are excellent as well. So, we're letting the author of this cool '35 Rolls Royce shooting brake describe it all!
The vehicle up for auction here is truly a one of a kind, unlike any other you'll ever see. This 1935 Rolls-Royce Woodie Wagon, or "Shooting Brake" as a true Englishman would call it, is being offered for sale as a result of the untimely passing of it's owner. Below you will find a thorough description of the vehicle's condition broken down into categories, and any questions you may have will most likely be covered there. However, if you find that you still have questions after reading the description, please don't hesitate to email me by clicking the "Ask Seller a Question" button and I will answer you promptly.
History:
The history of this Rolls is as interesting as the car itself. Since Rolls-Royce never actually made any Woodie Wagons, this particular car started life as a custom bodied four door sedan and no doubt served as reliable transportation for some well-to-do English family for the first 11 or 12 years of it's life. Shortly after the end of World War II a group of fraternity brothers from Yale University decided to spend the summer touring England, and they purchased this car to use as their transportation while there. I'd imagine if the car could talk it would have some amazing stories to tell from that Summer! When the time came to return to the US, these young men decided that their Rolls purchase was such a great car that they'd just ship it back to the States and continue using it. As the story goes, this Rolls provided many years of loyal service to these young men as the frat house "drunk bus" shuttling intoxicated frat brothers around to the local New Haven bars and safely back home. Unfortunately, at some point the car spent a particularly cold night outside without antifreeze which resulted in a frozen and busted engine block, so it then spent some time languishing behind the frat house until the current owner purchased it in 1979 and began the slow transformation into what you see today.
Body:
Obviously the body of this Rolls is what makes it so special. As stated in the intro, this car was born as Chassis Number 34UK and believed to have been bodied by Barker & Co. I'm unclear as to whether it would have been considered a limousine or simply a 4 door sedan but most likely it would have been a limousine due to the presence of two pair of jump seats in the back. Regardless, the owner decided that he wanted something even more unique so he enlisted the services of a woodworking specialist to make his vision a reality.
Before cutting up the original body, kraft paper and 1/8" plywood were used to simulate the various design ideas the owner had envisioned so that he could be sure things would work and look like he expected. After many small changes a final design was approved and the body was cut off directly behind the rear door hinge posts. From that point rearward, an all new wood body structure was fabricated from aged ash and then attached to the existing Rolls body structure. Then overlays were fabricated from ash for the original Rolls aluminum doors and each one was hand fitted to its respective door. The dark wood panels are a 1/4" marine grade, ribbon grain mahogany plywood that has been kerf cut on the back to allow it to conform to the contour of the doors. The blue visible around the door window openings is primer and the plan was to paint that area a tobacco brown color to match the color of the mahogany panels.
The rear hatch and tailgate are already fabricated to match the rest of the exterior but hinges will need to be designed and fabricated for them. Glass has already been measured and cut for the rear hatch and rear side windows but there is currently no glass for the doors or windshield. Particular care was taken with the roofline to ensure a smooth and graceful transition from the original roof to the new section in the rear and it should be perfectly seamless once it's all covered in top material. Provisions were also made for drip rails on the sides of the roof and a custom sun visor has been fabricated for the front.
To be honest, here are so many custom features and minute detail items on the body that it's virtually impossible to cover it all here in the description so I have included numerous photos to hopefully show the extent and quality of the work done so far. If there is anything you would like to see in greater detail, please don't hesitate to ask for more photos.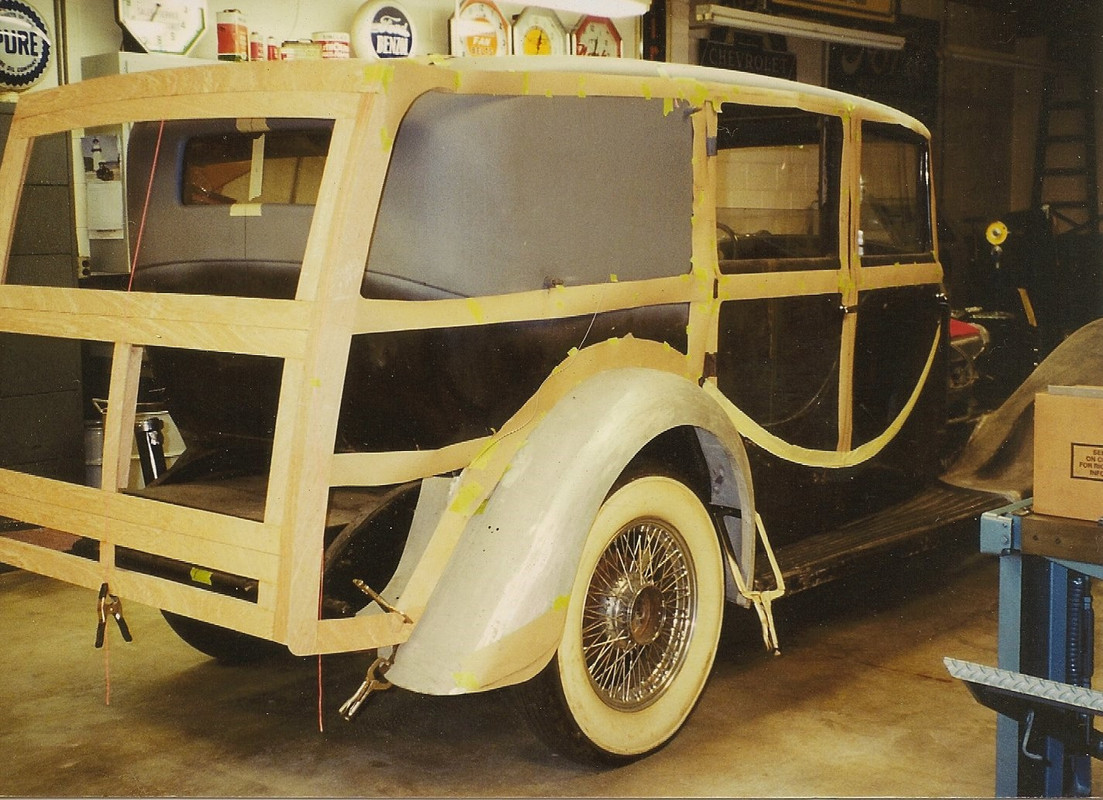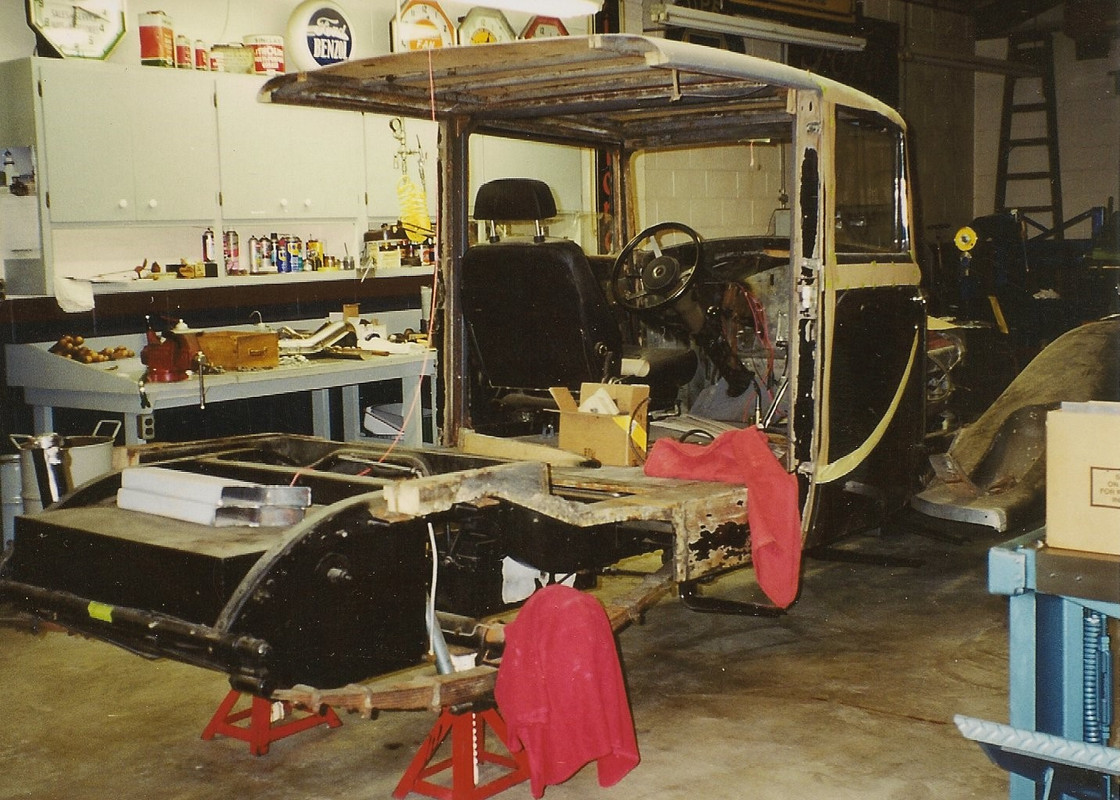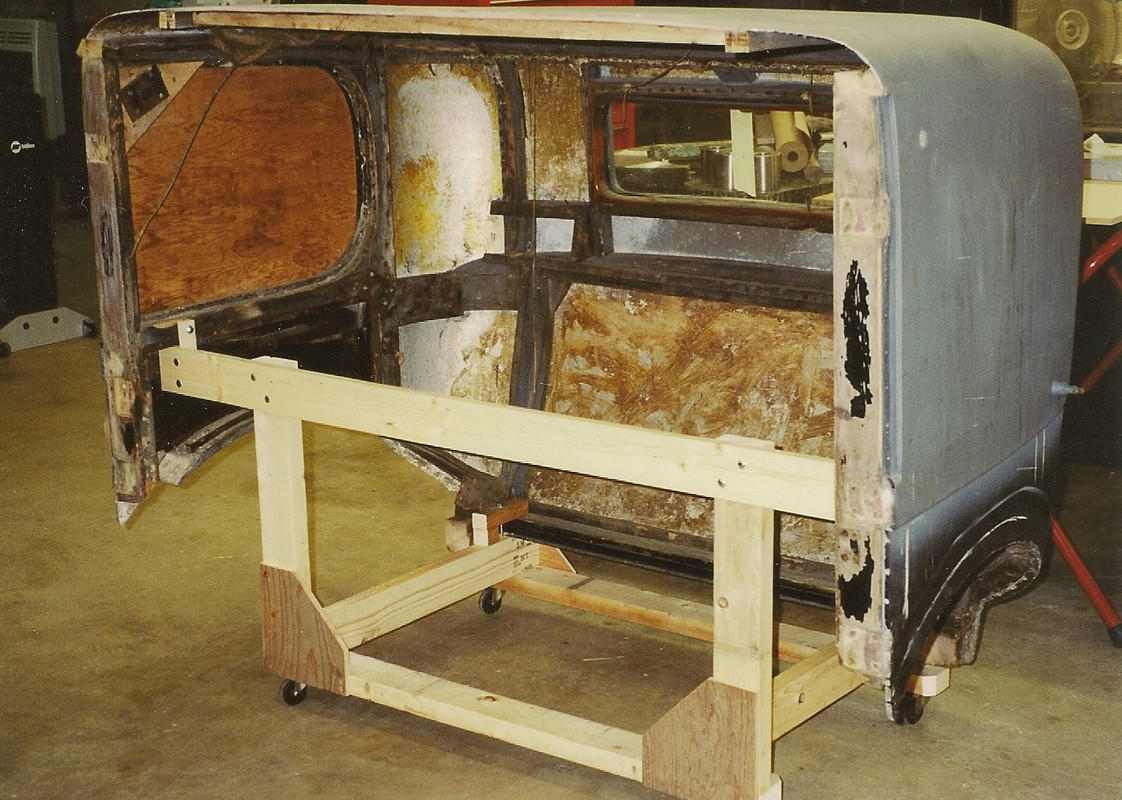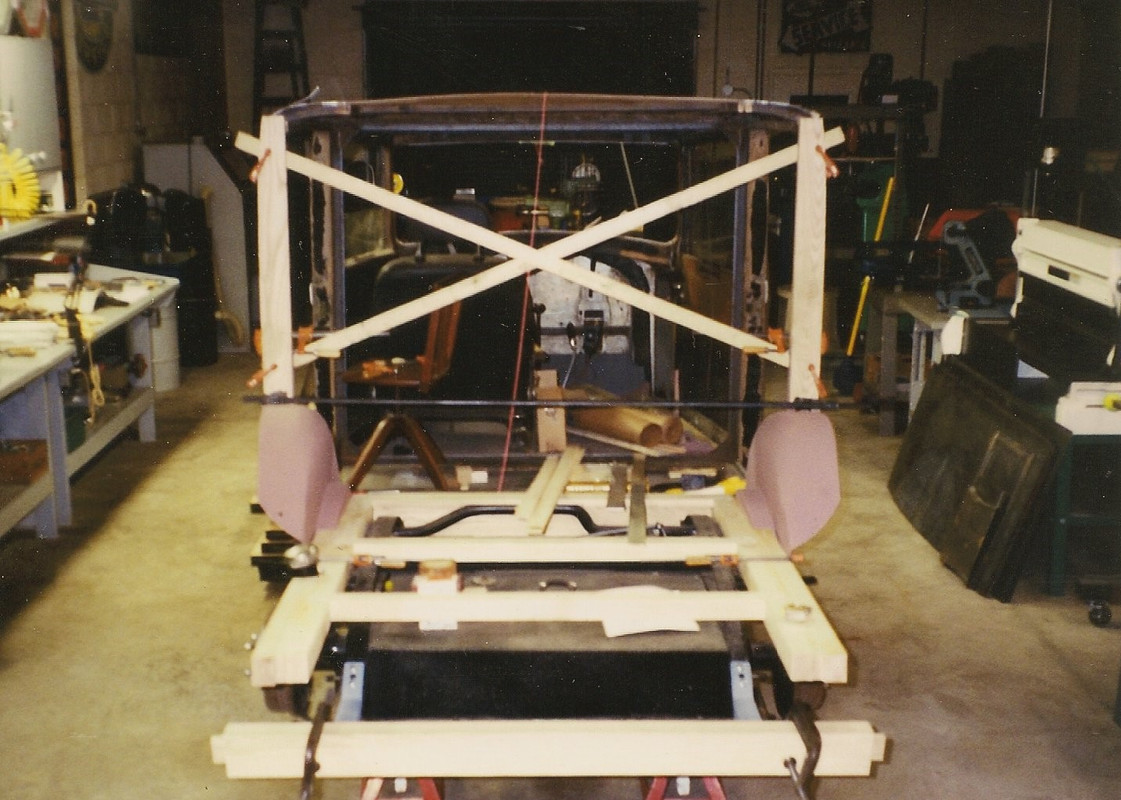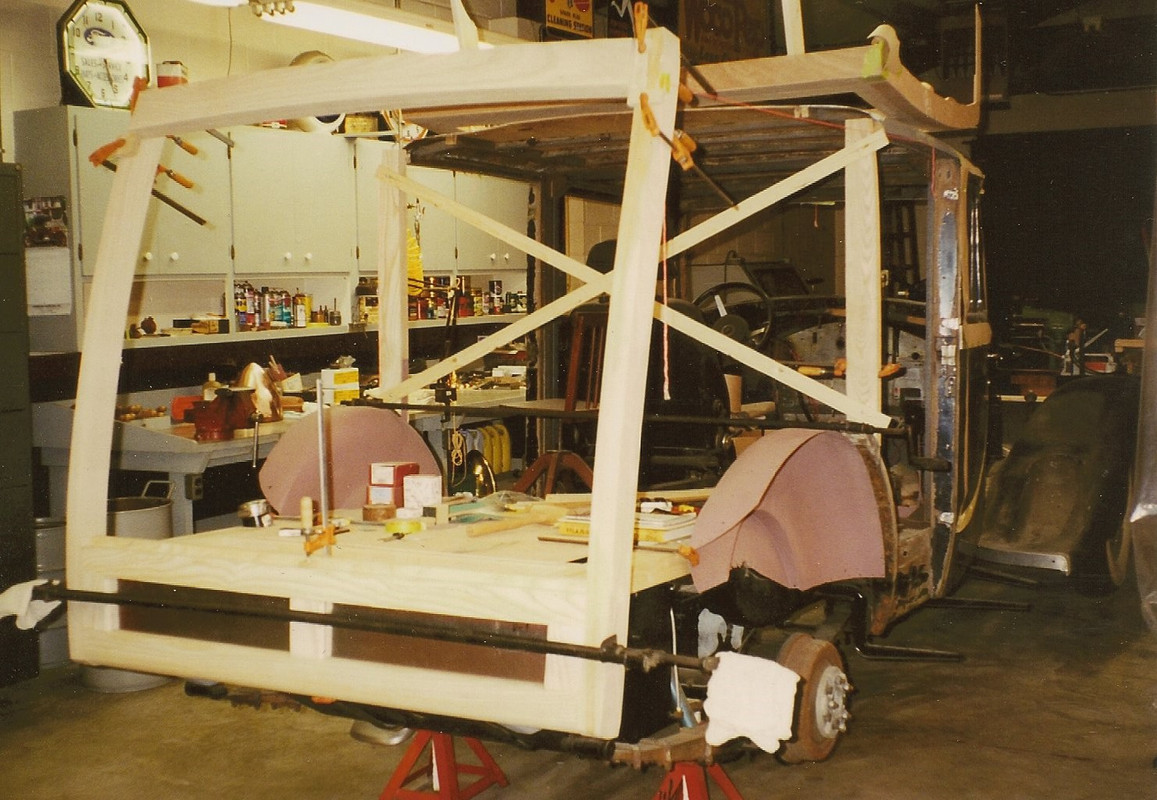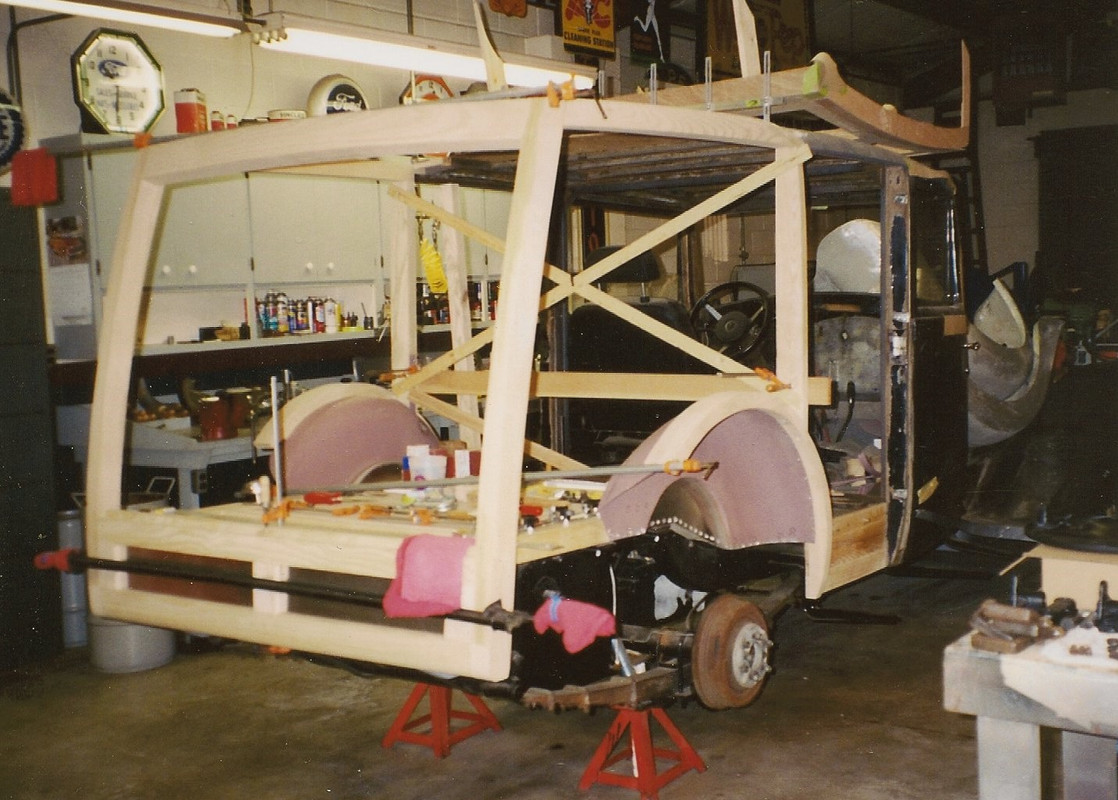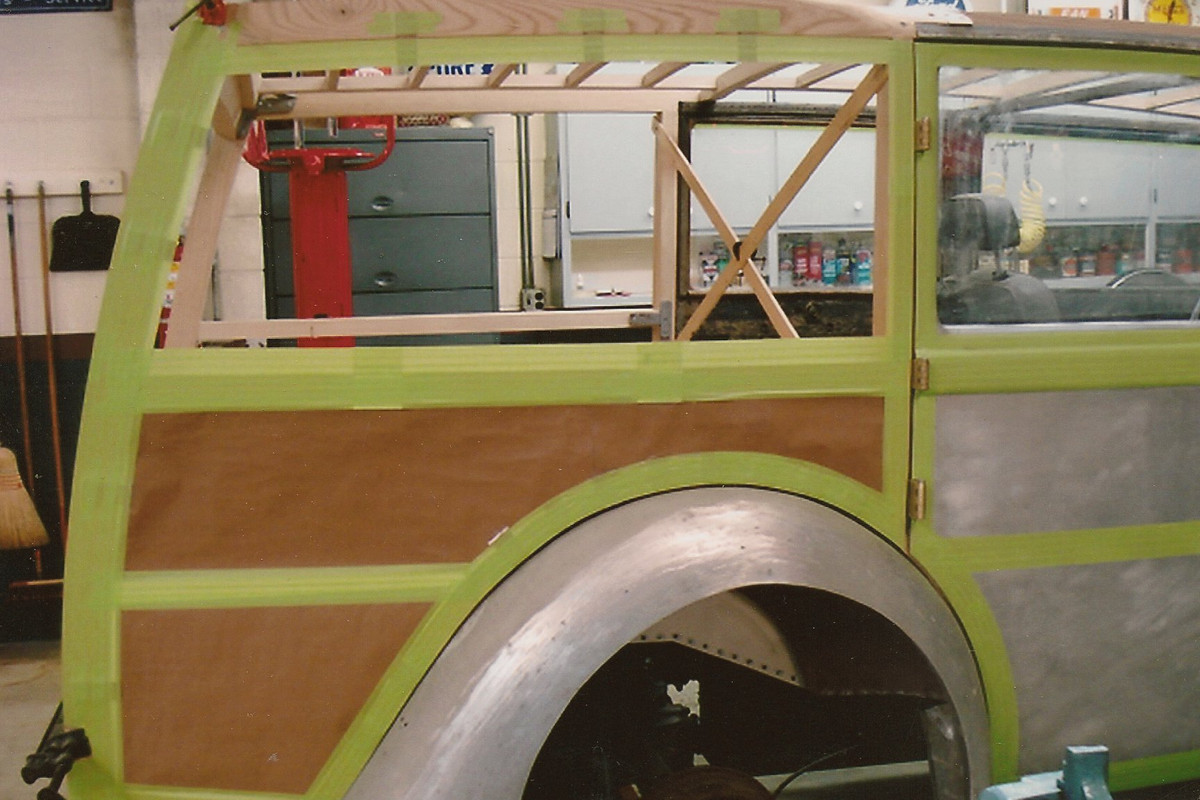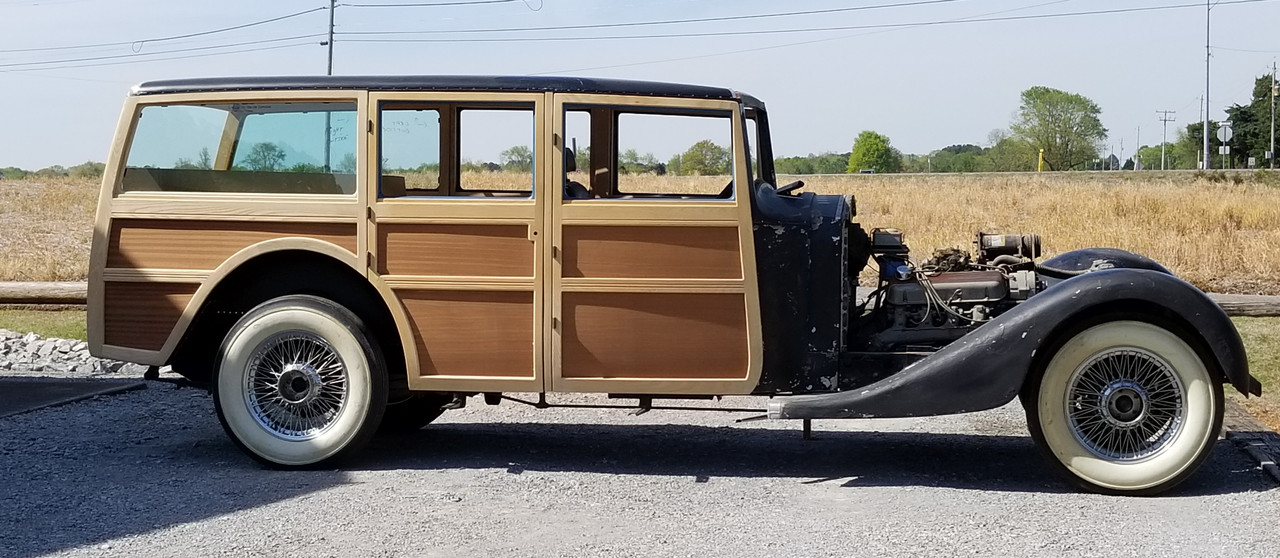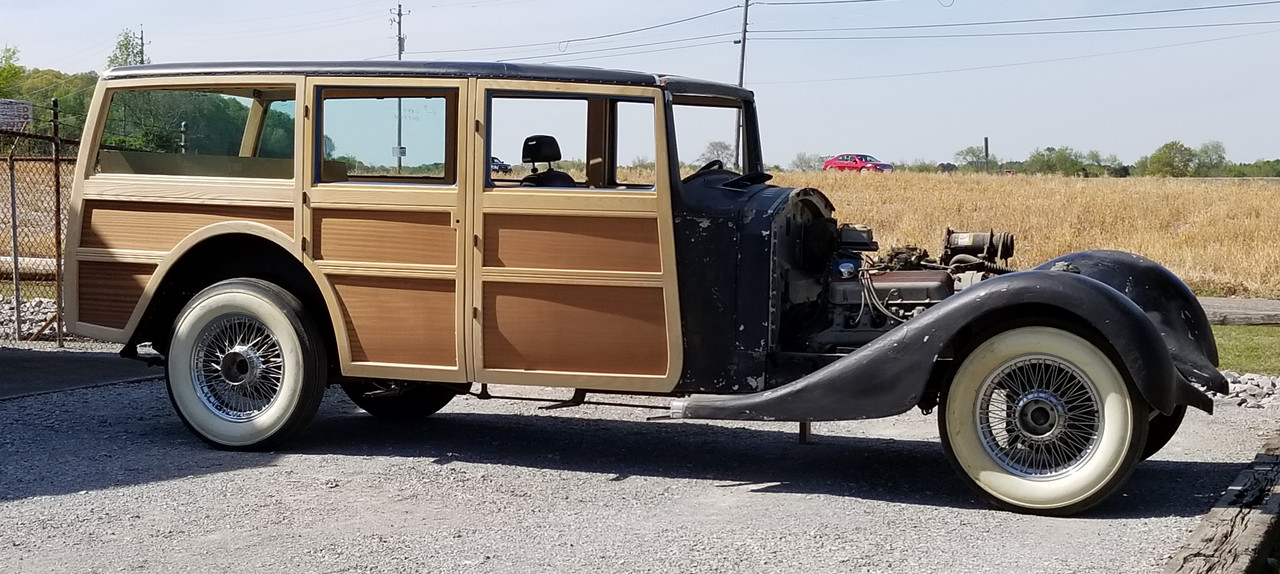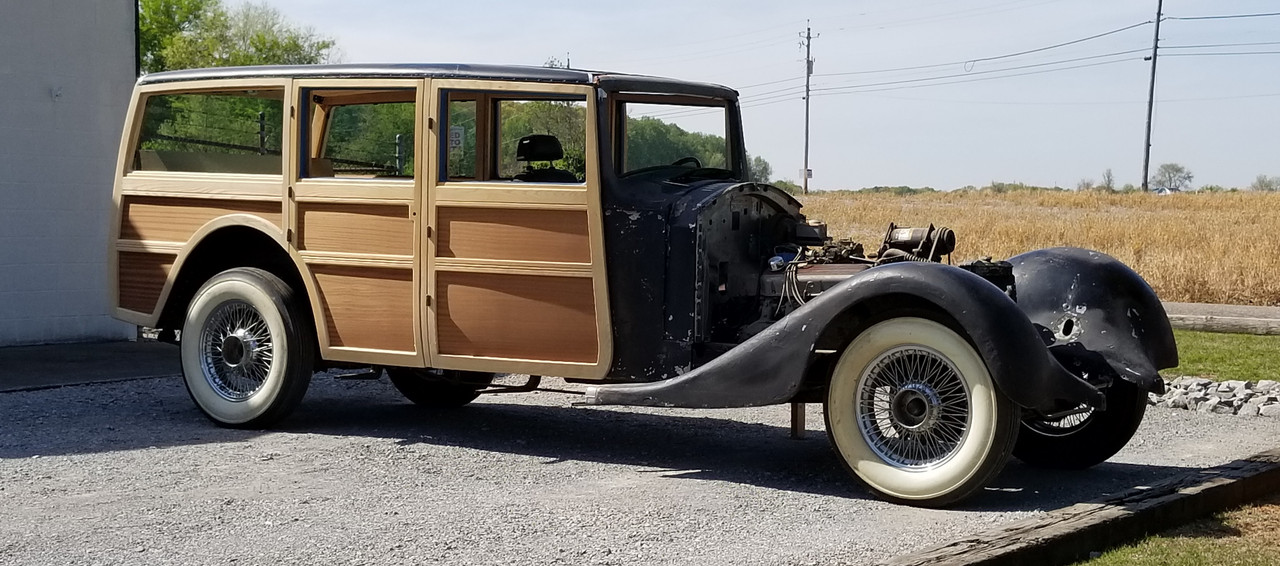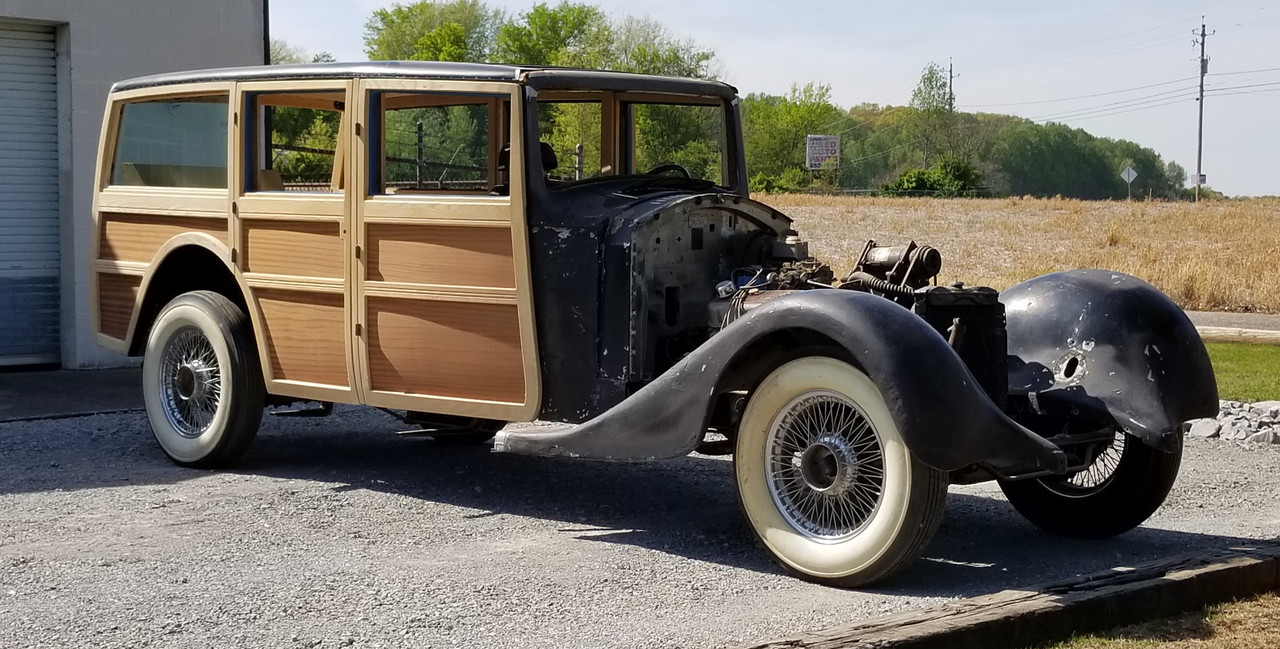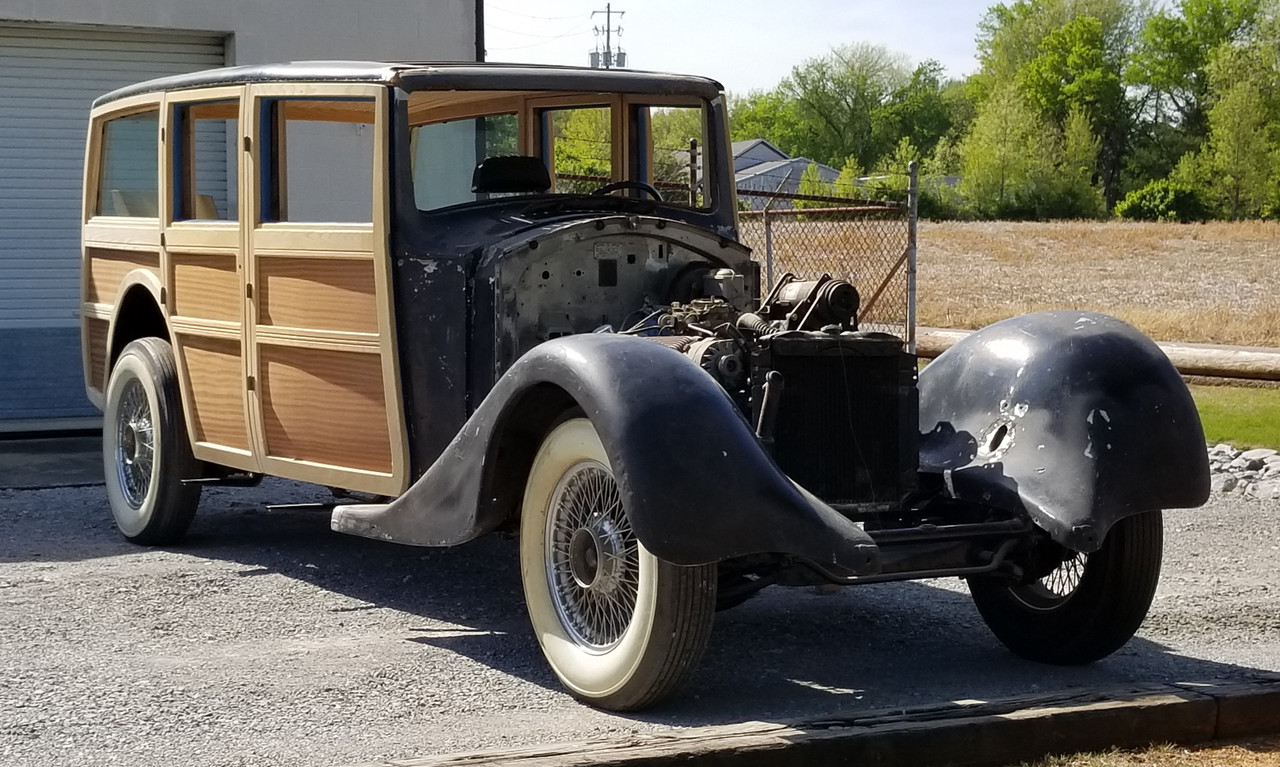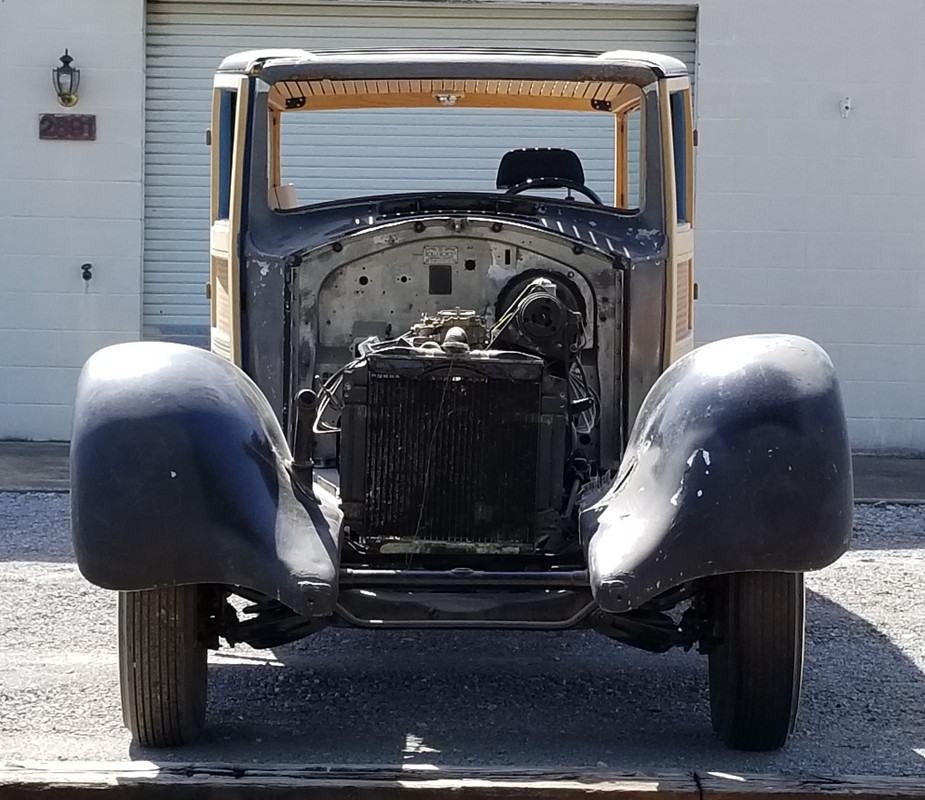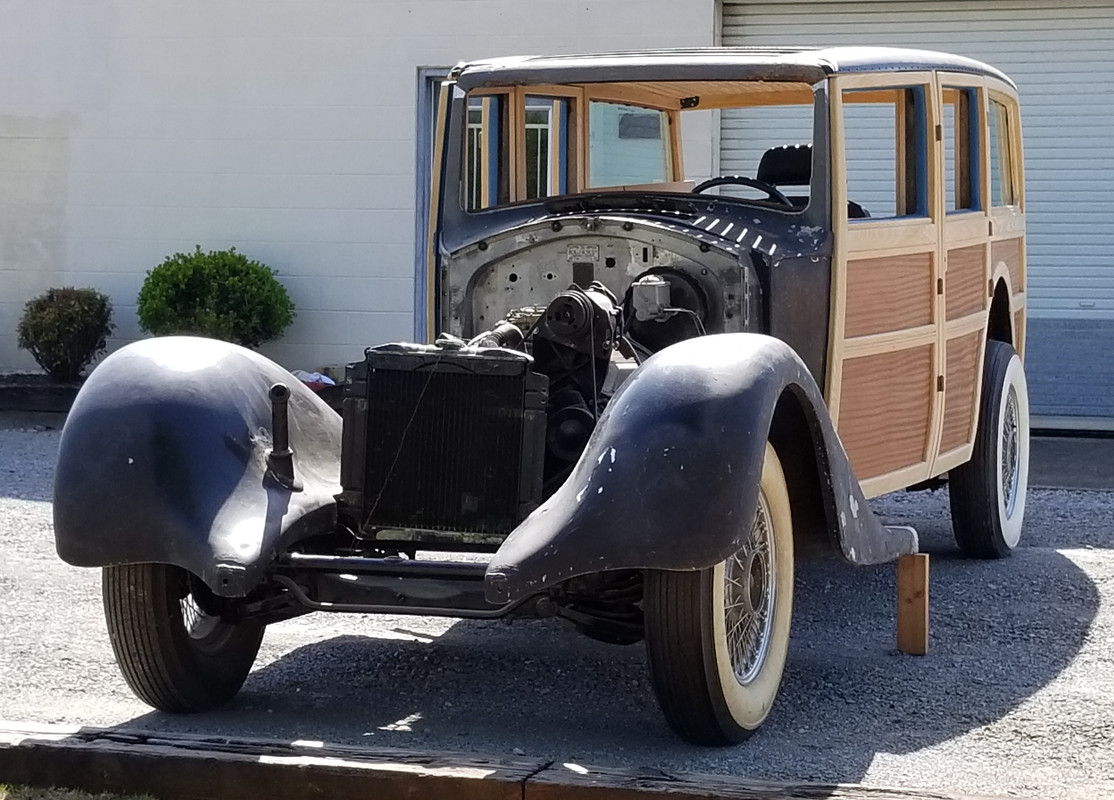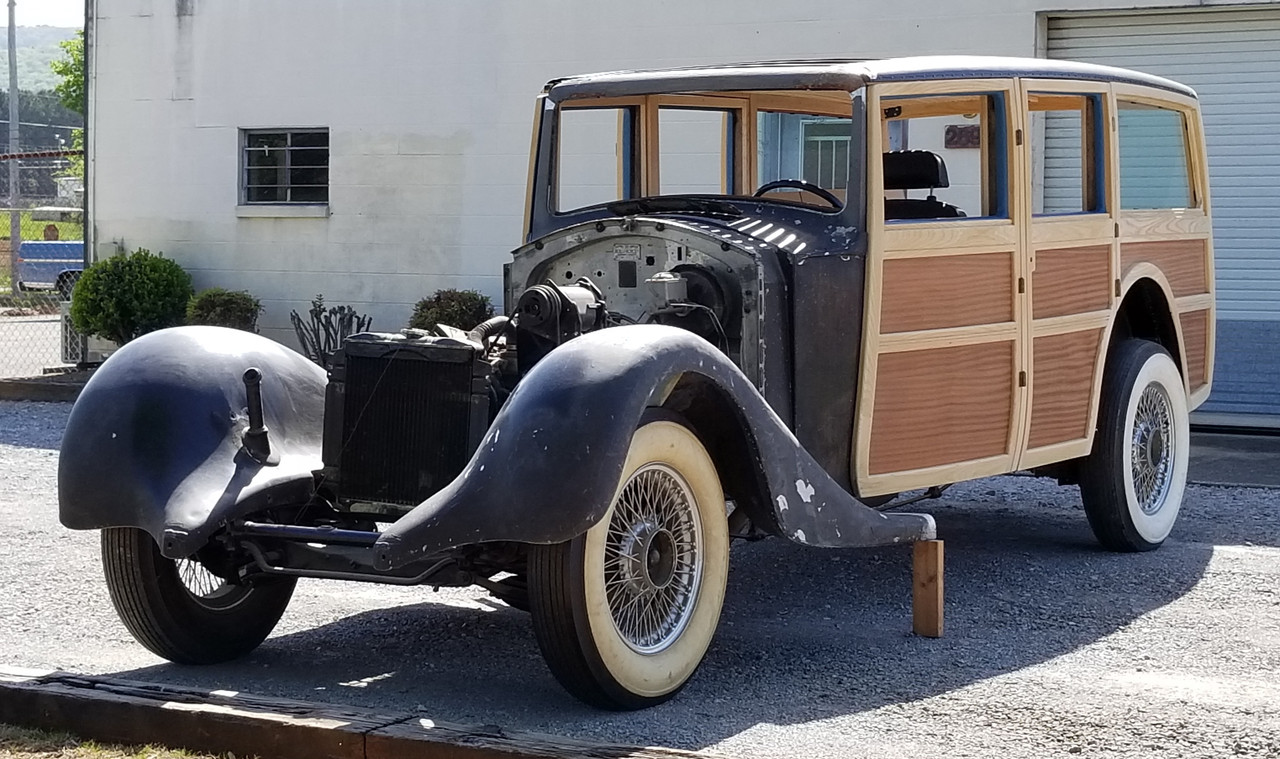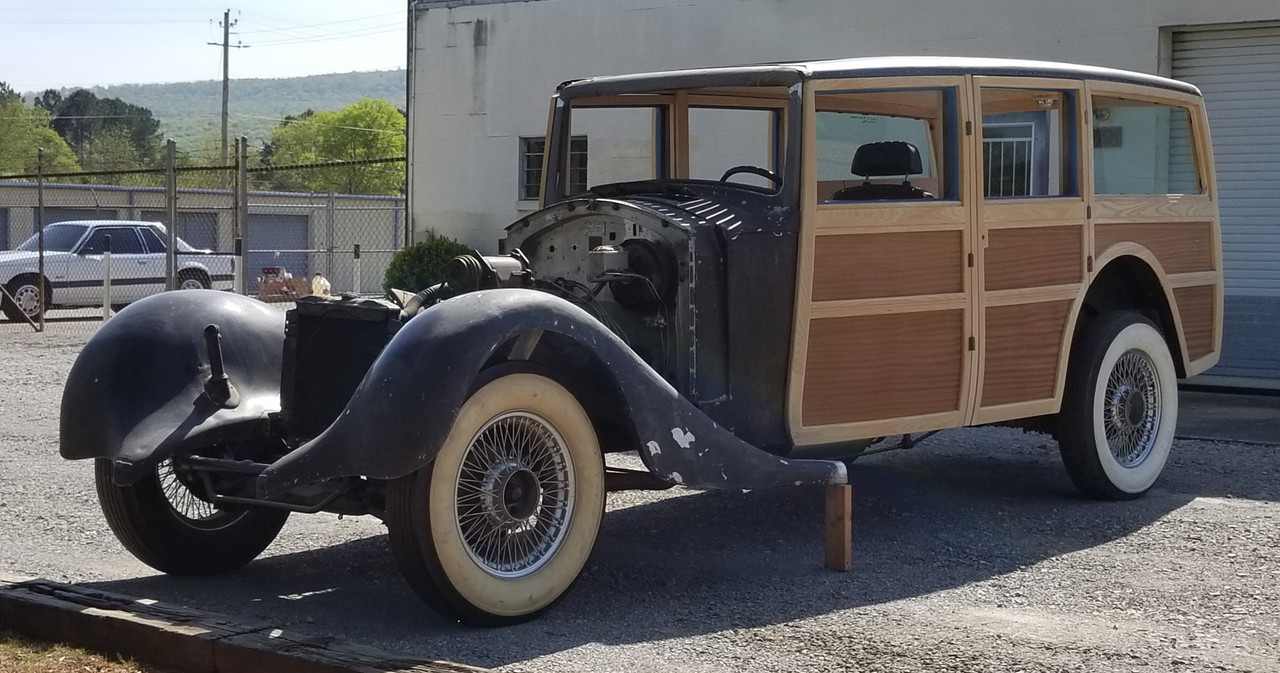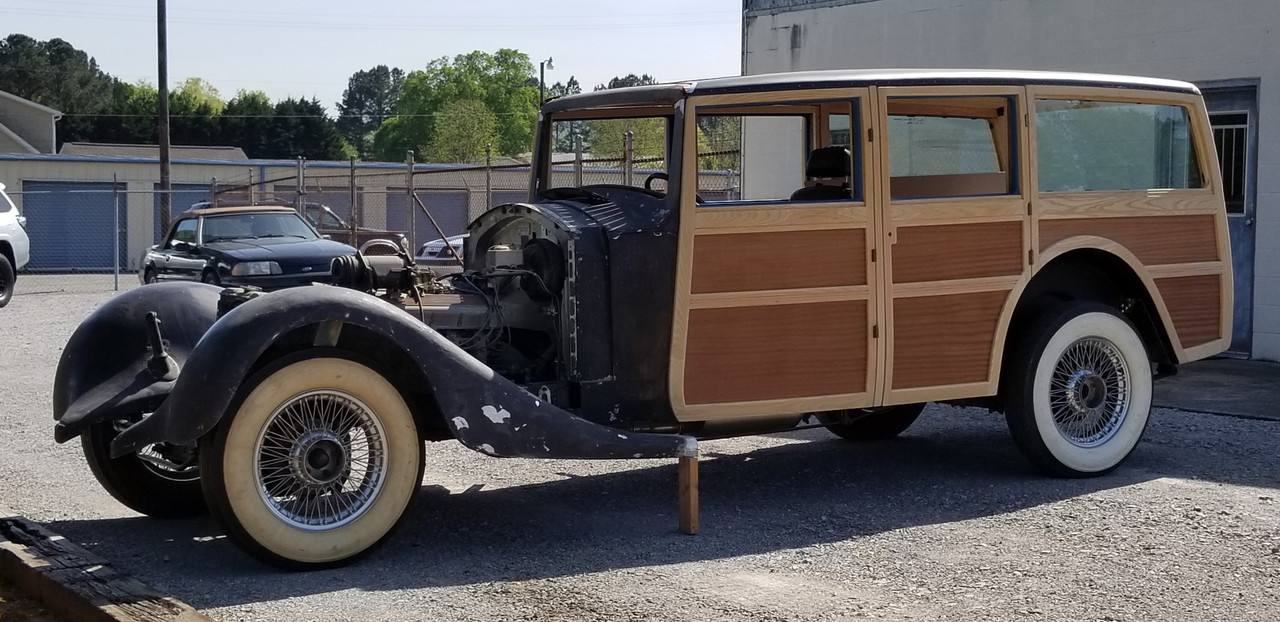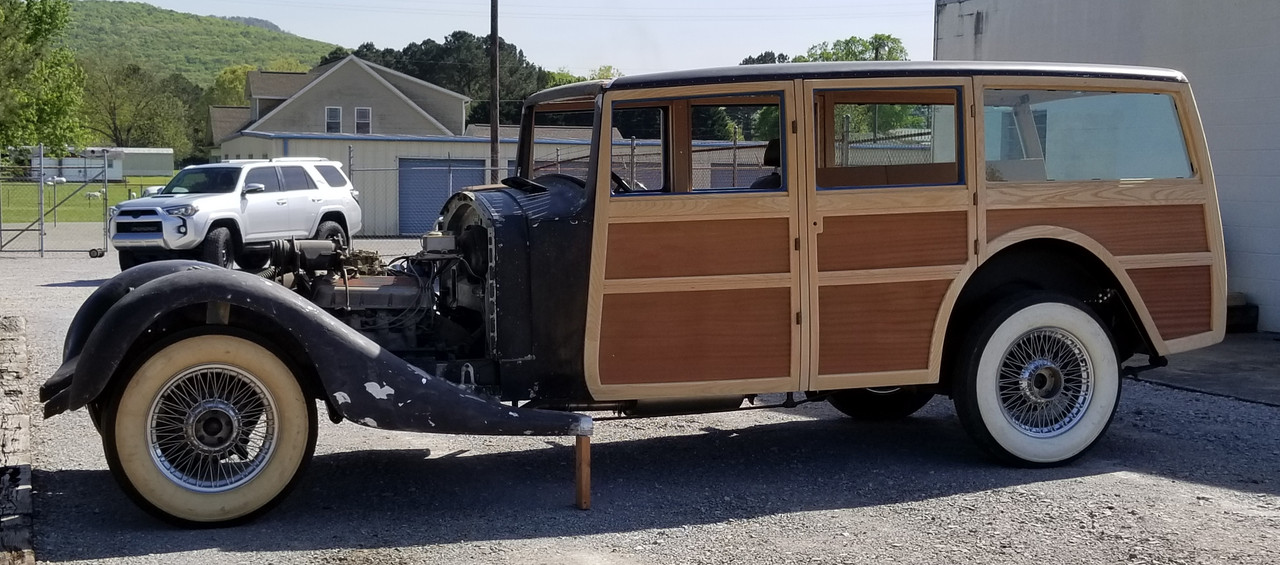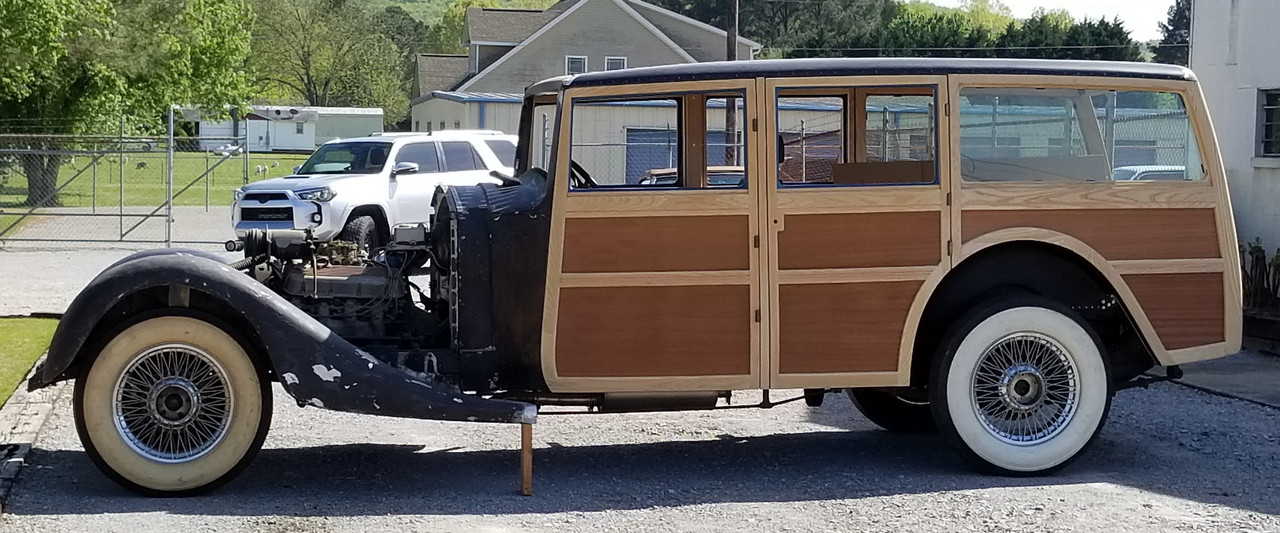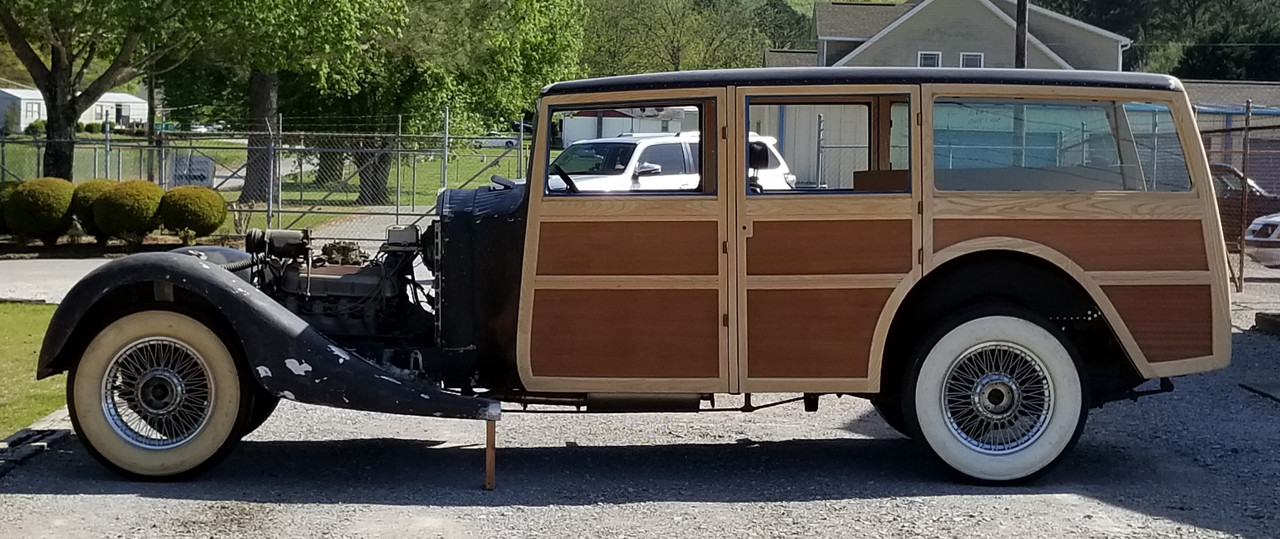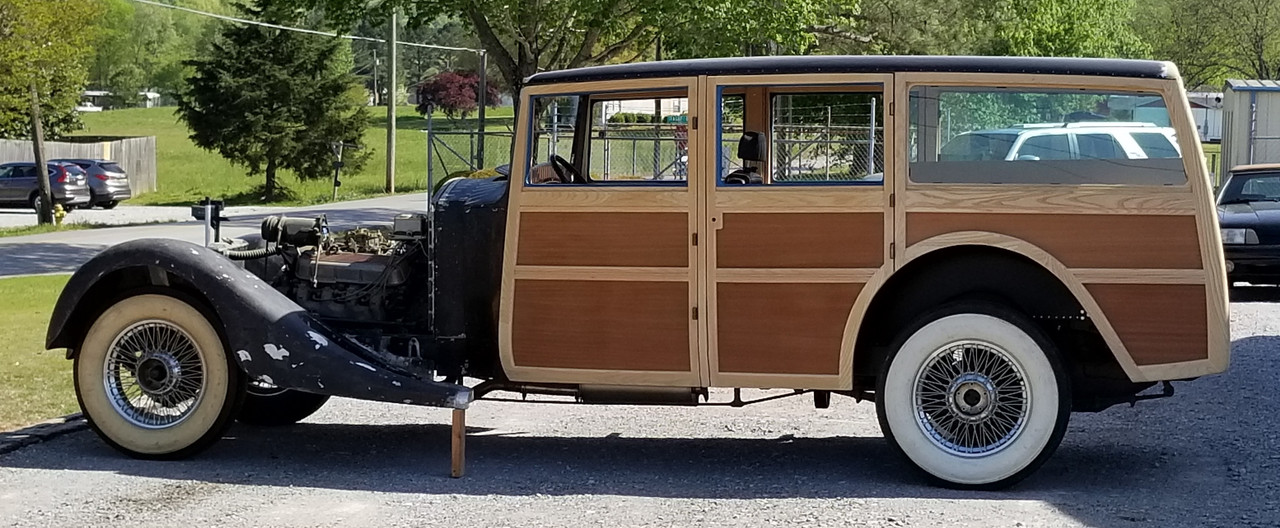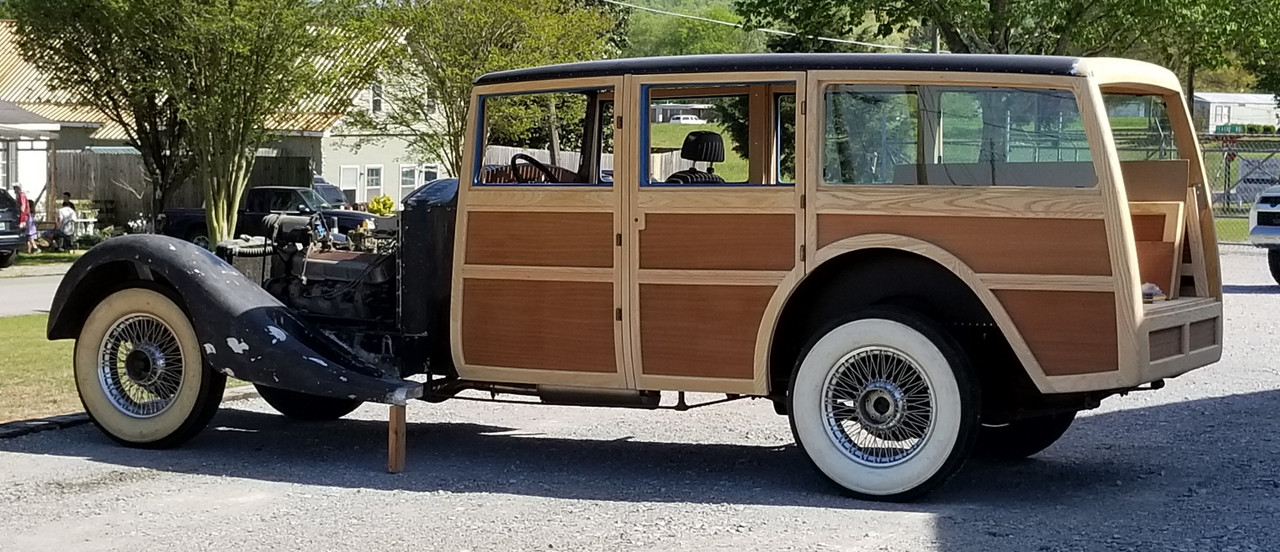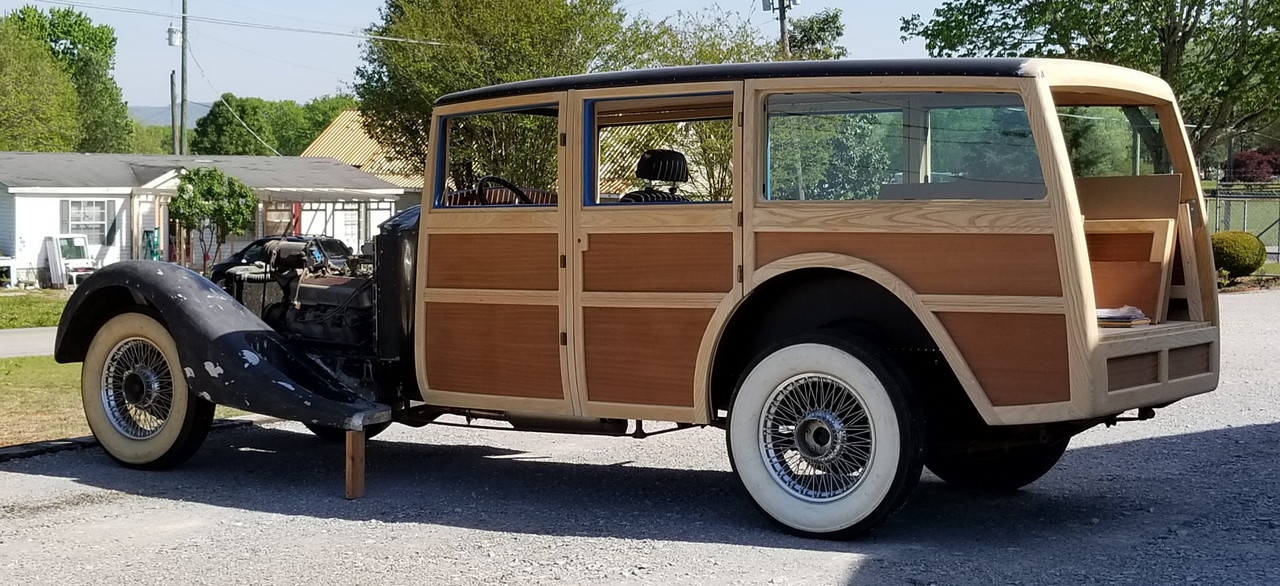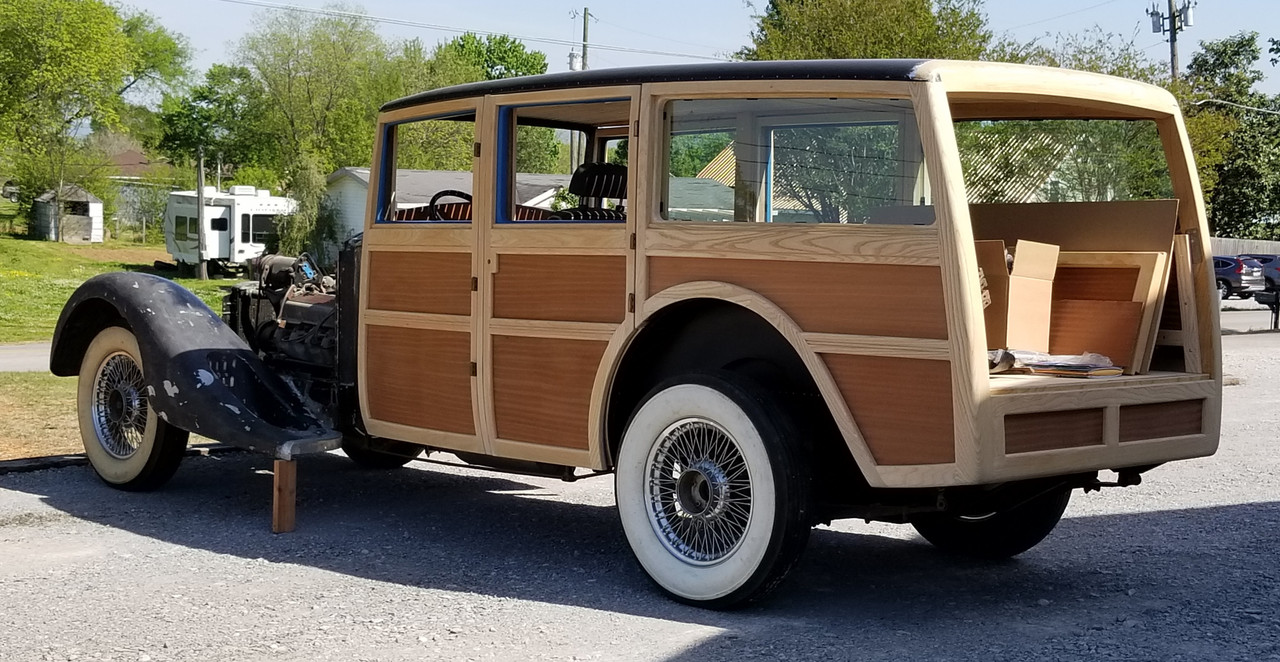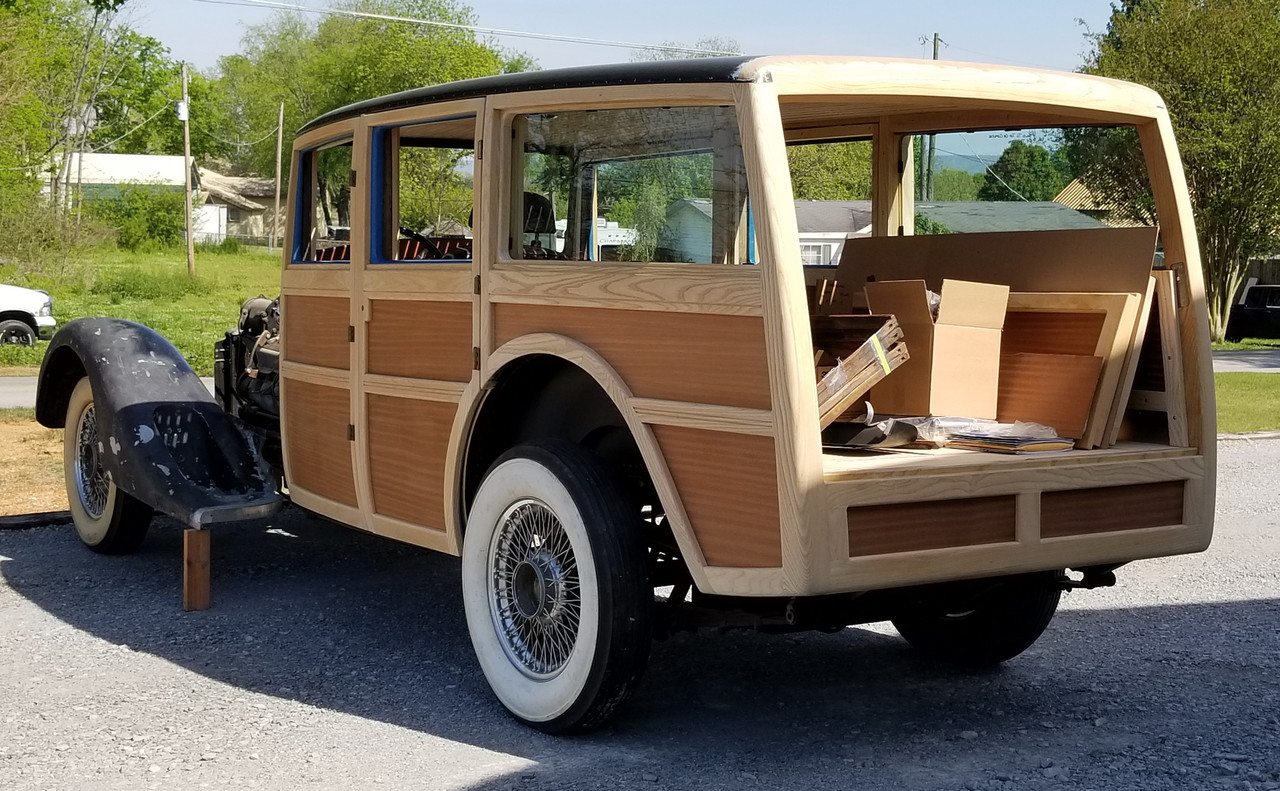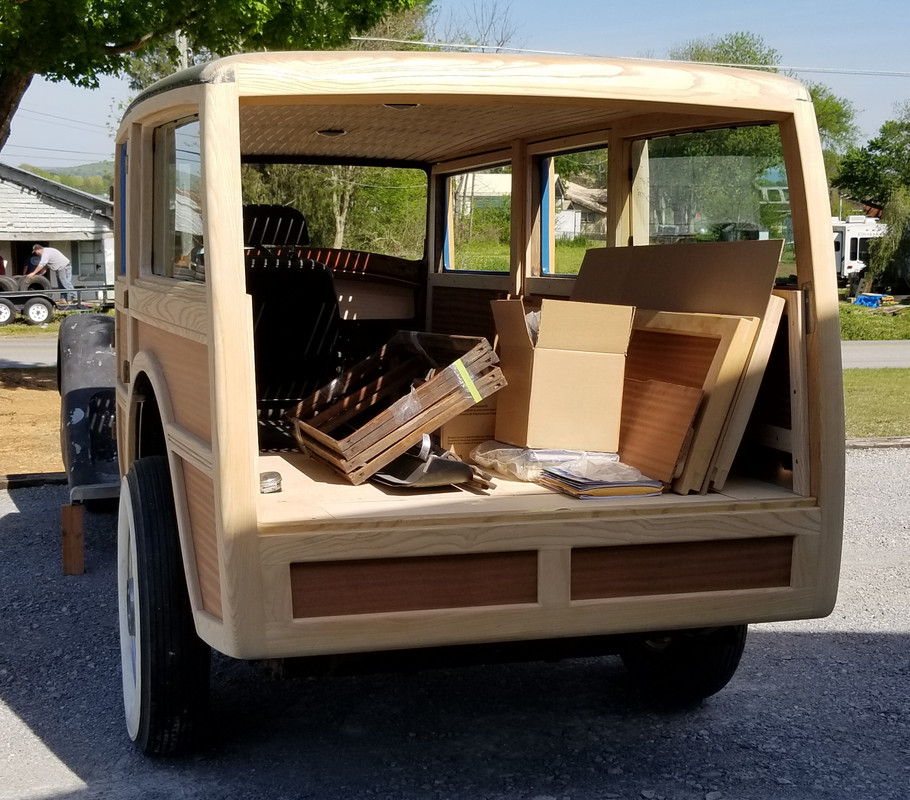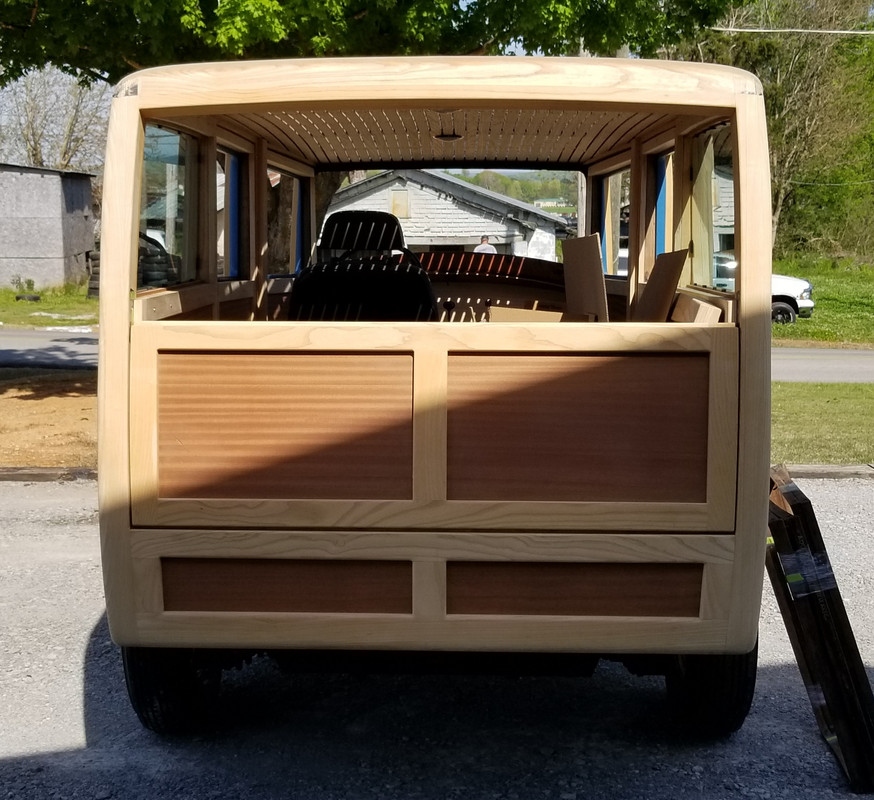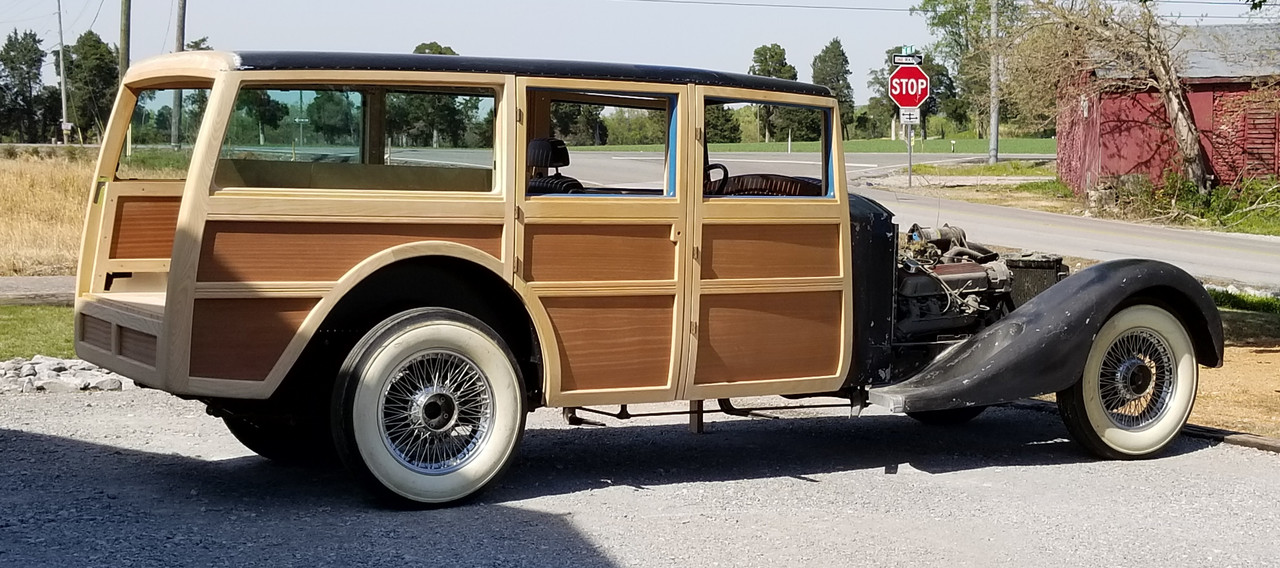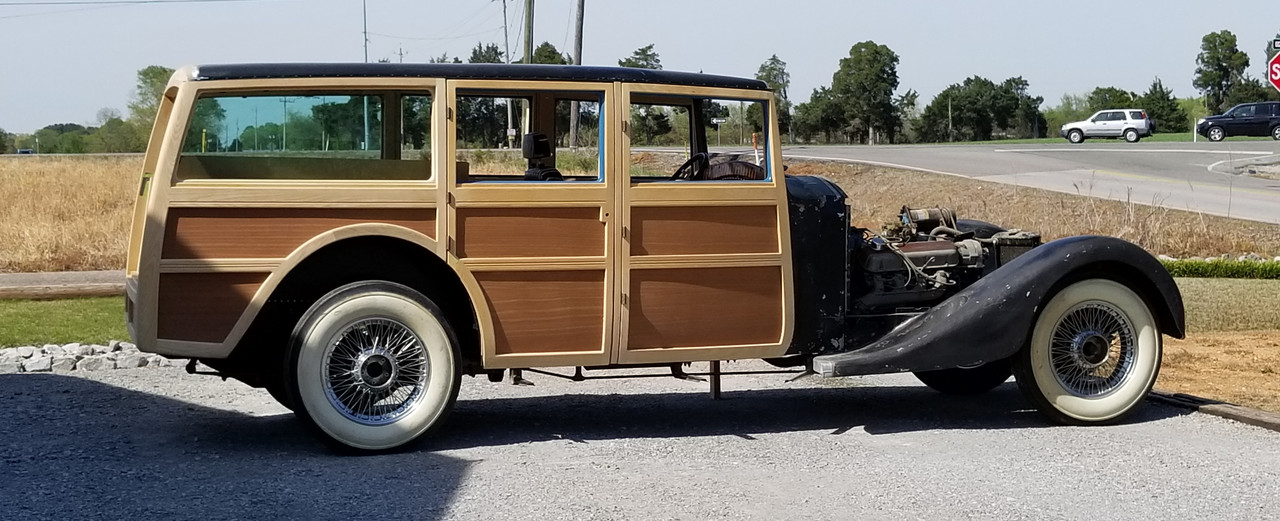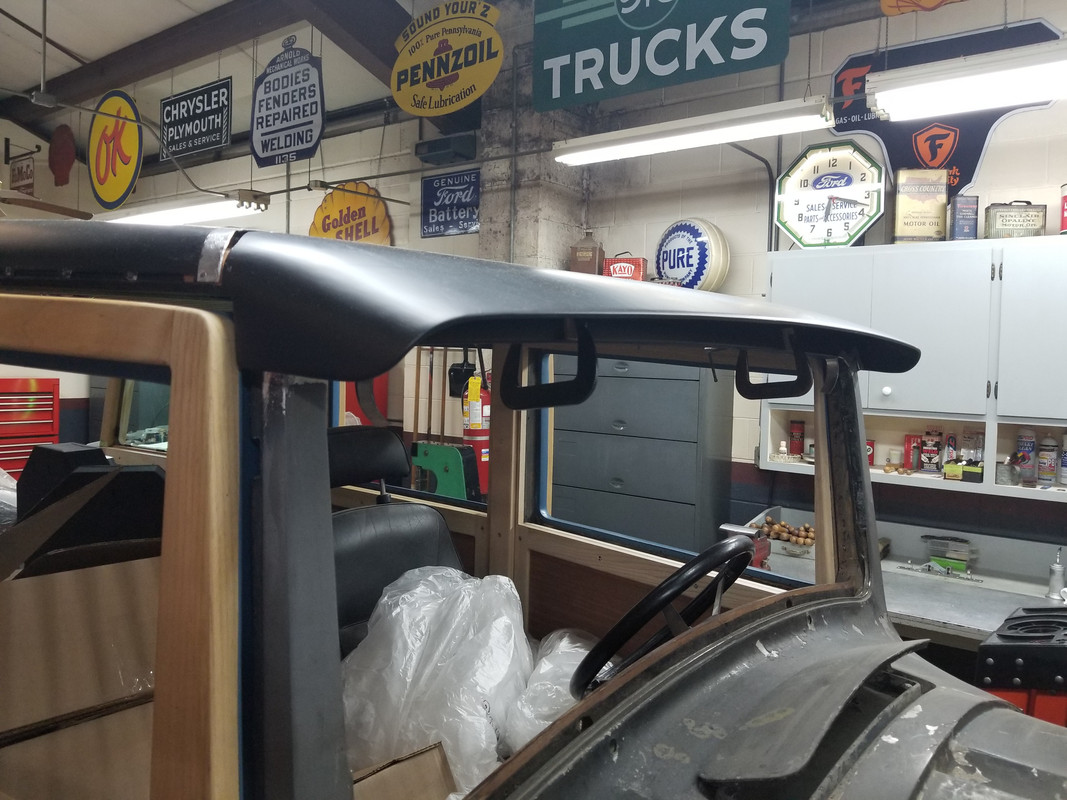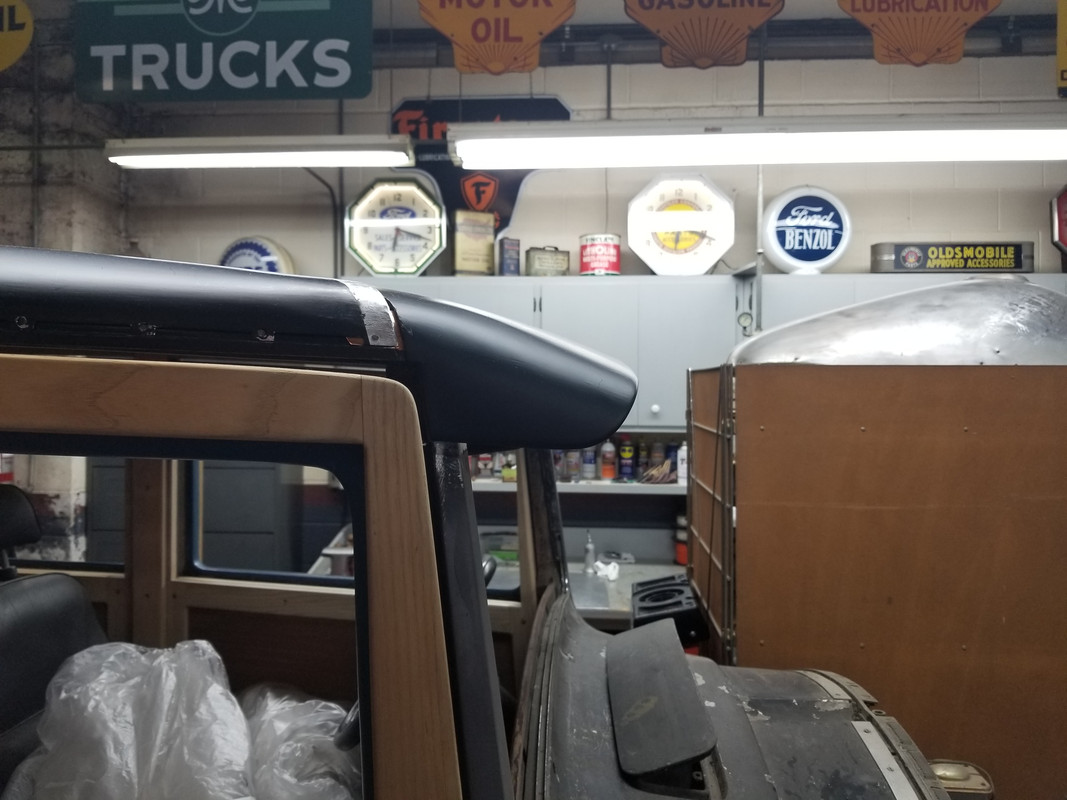 Interior:
As you can see in the photos, the door panels and rear side panels have been fabricated from the same ash and mahogany wood used on the exterior and a custom headliner was fabricated from ash as well. A dash panel has been fabricated from high grade birch plywood and the plan was to cover it with a nice veneer once a gauge layout had been designed. Other than that, the interior of this Rolls consists of a temporary seat and an 80's GM tilt steering column. Much like the exterior, this has been such a big project that it's hard to really put into words all of the detail and custom touches incorporated in the design and fabrication of the car, so hopefully the photos will do it justice and help complete the picture.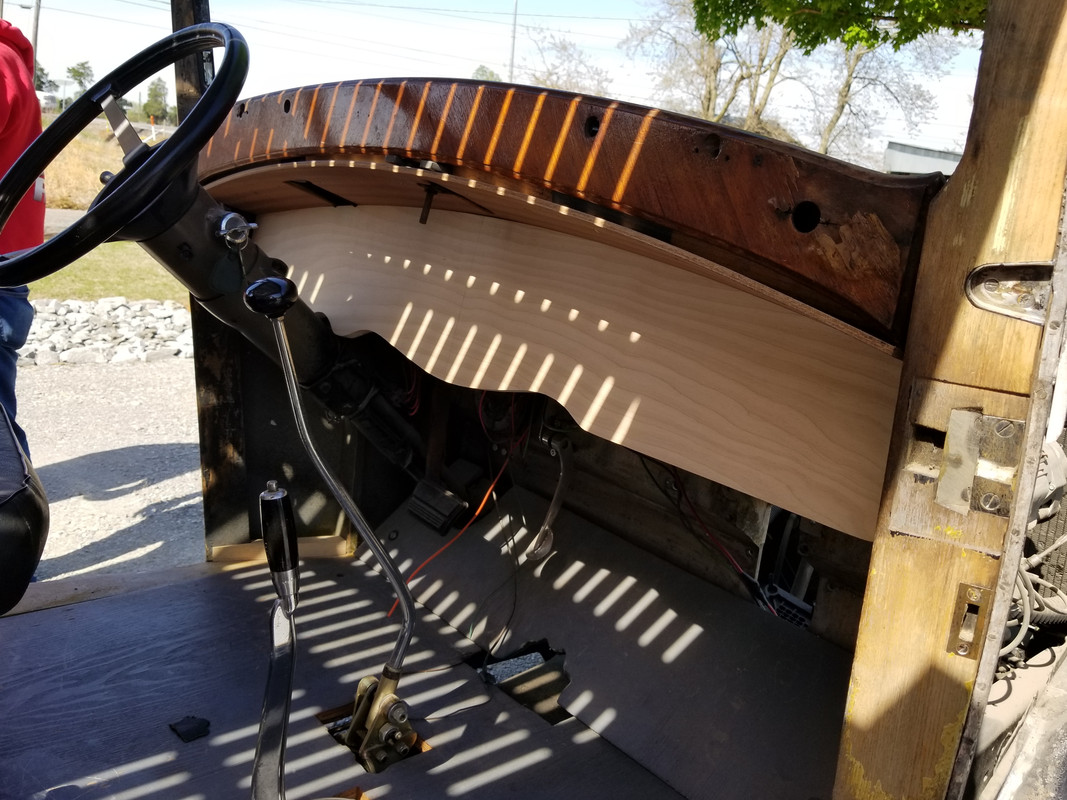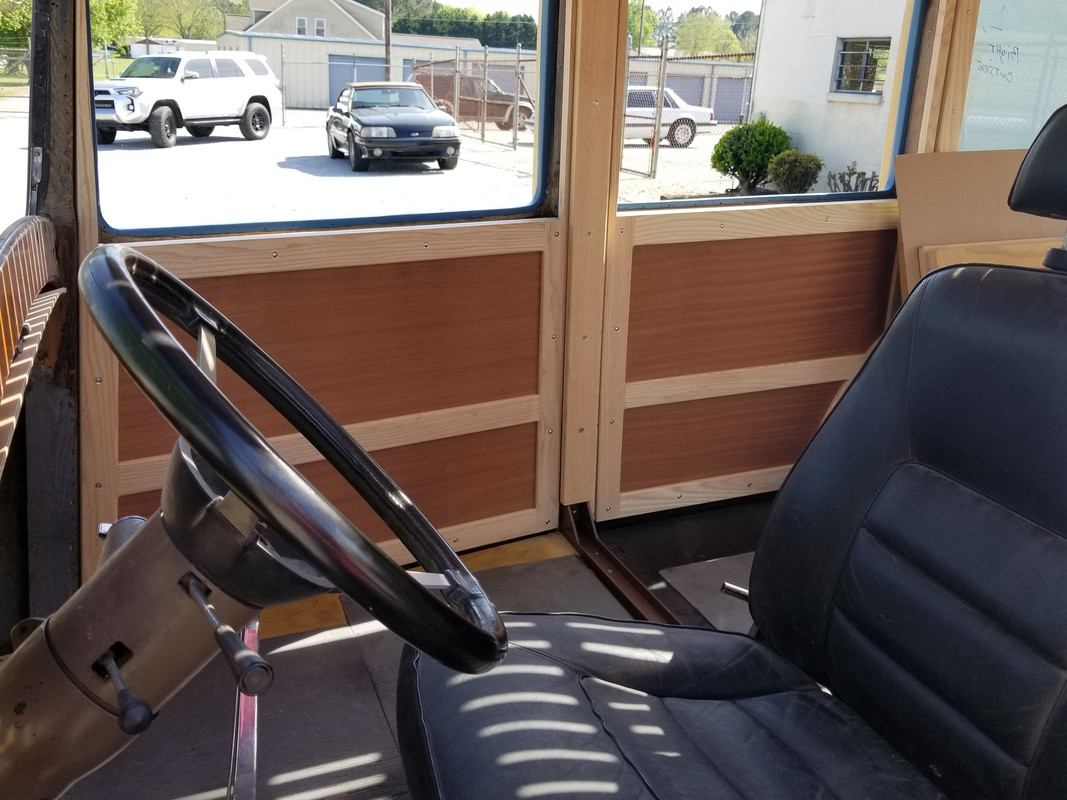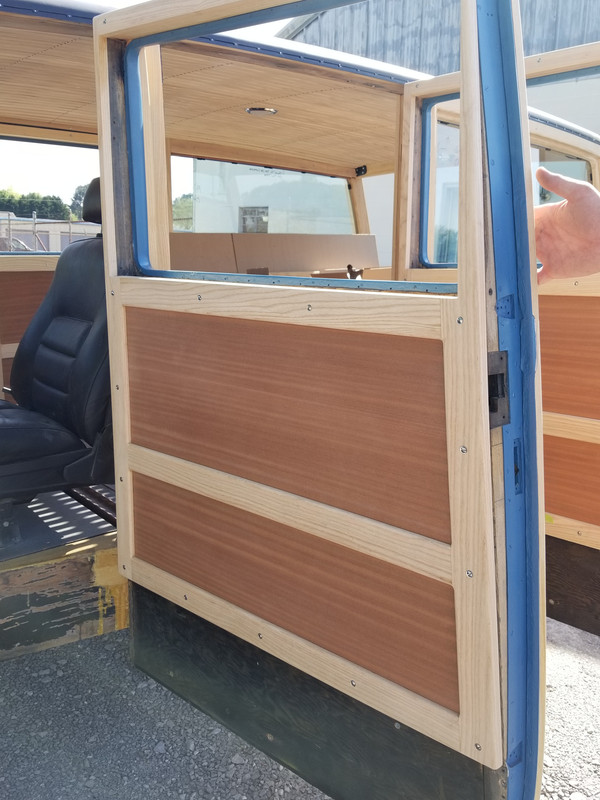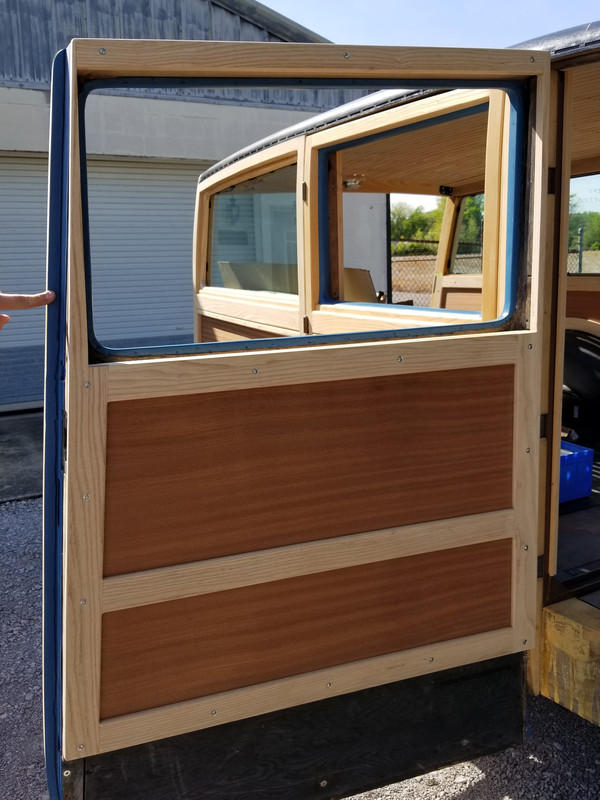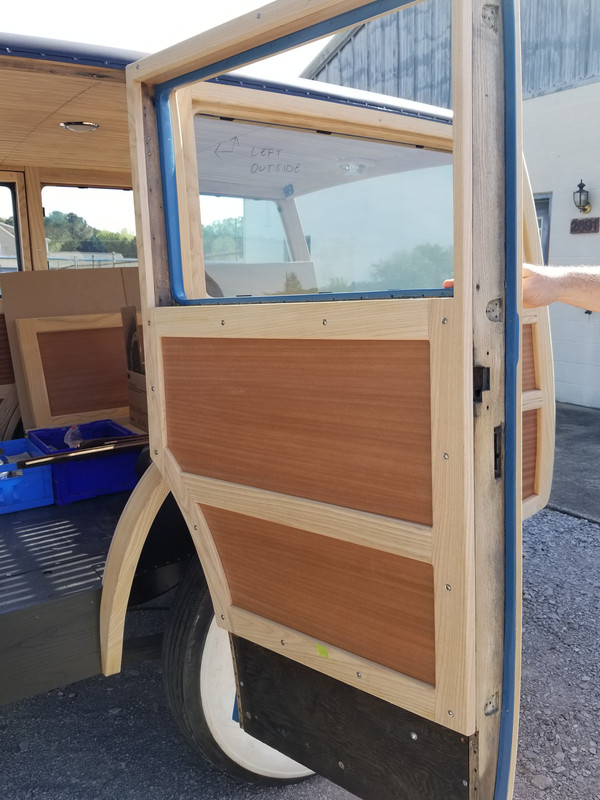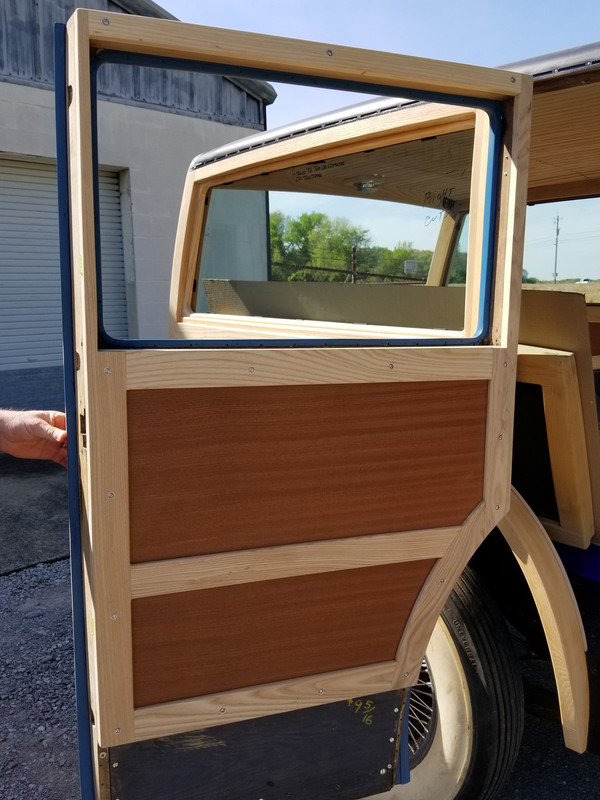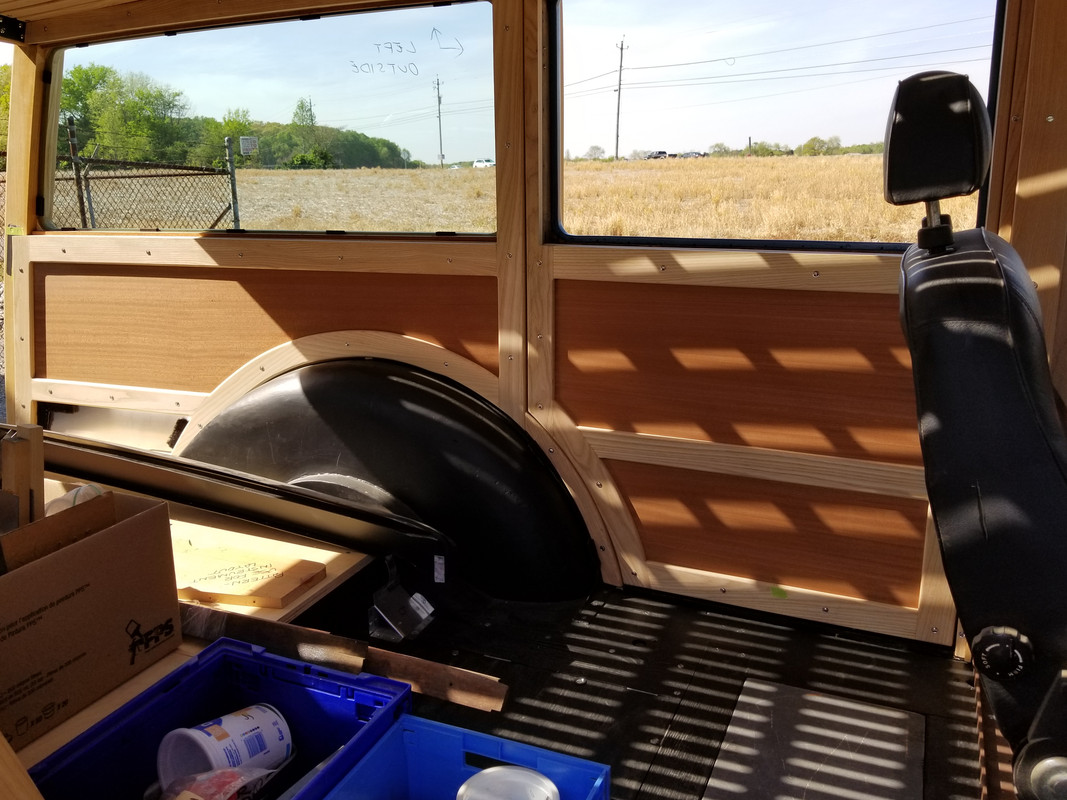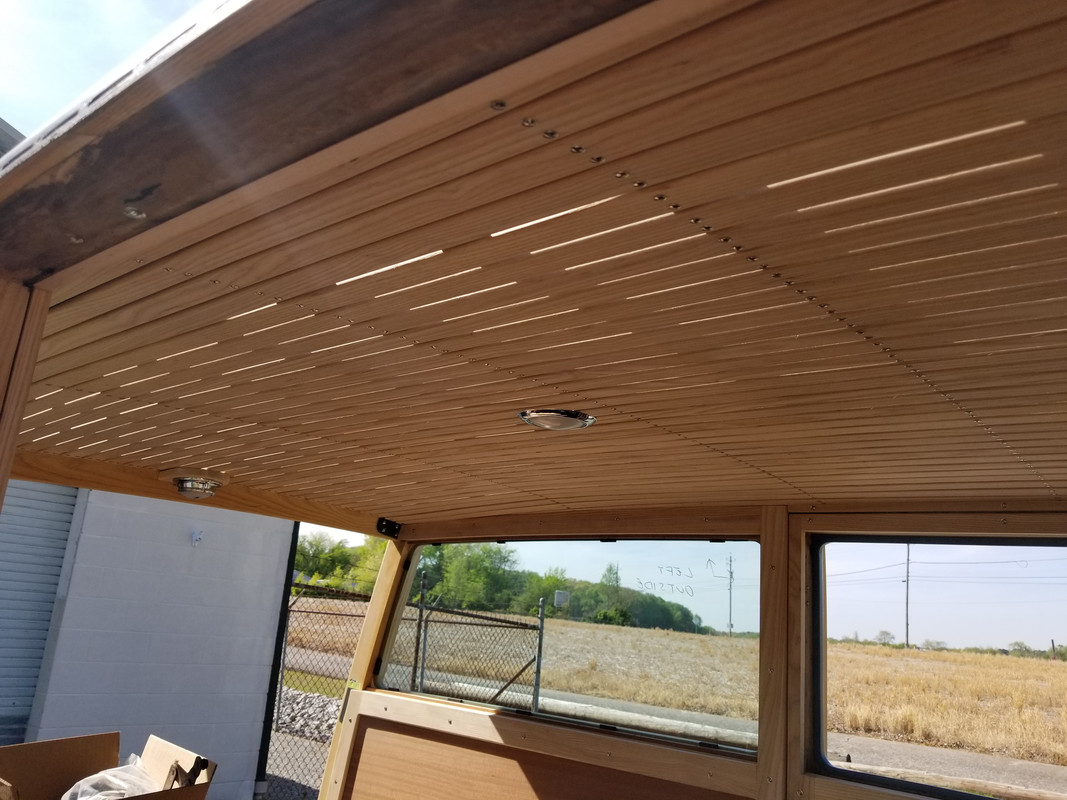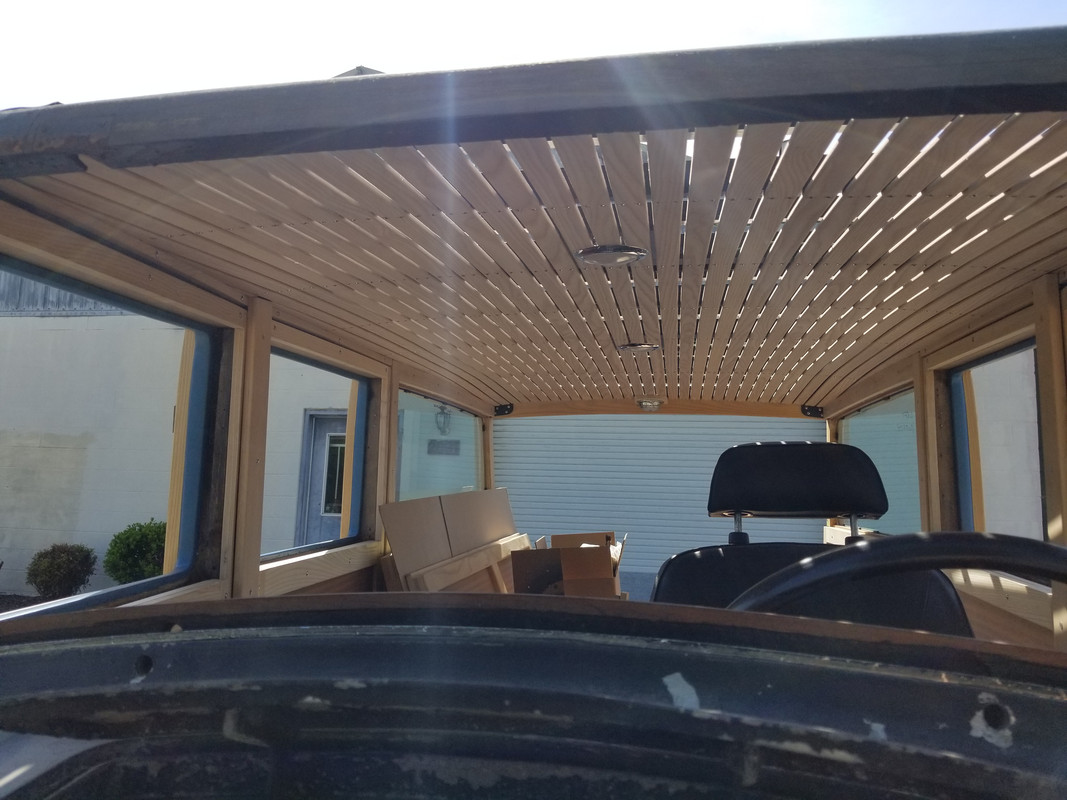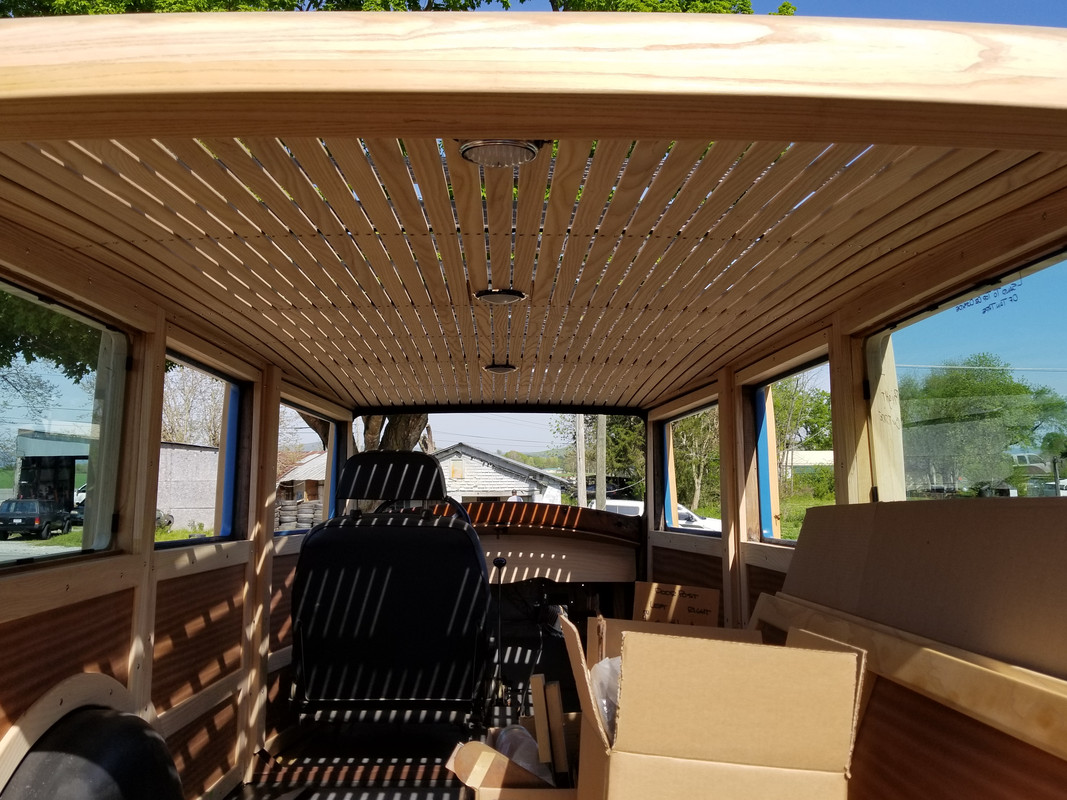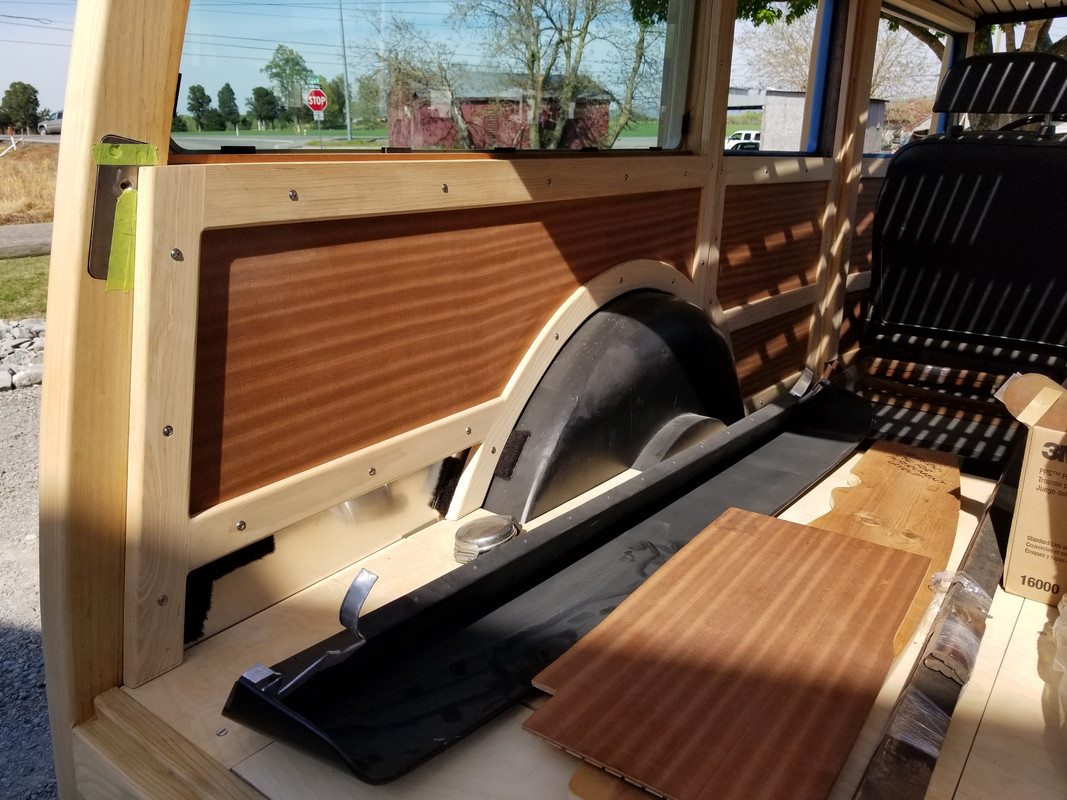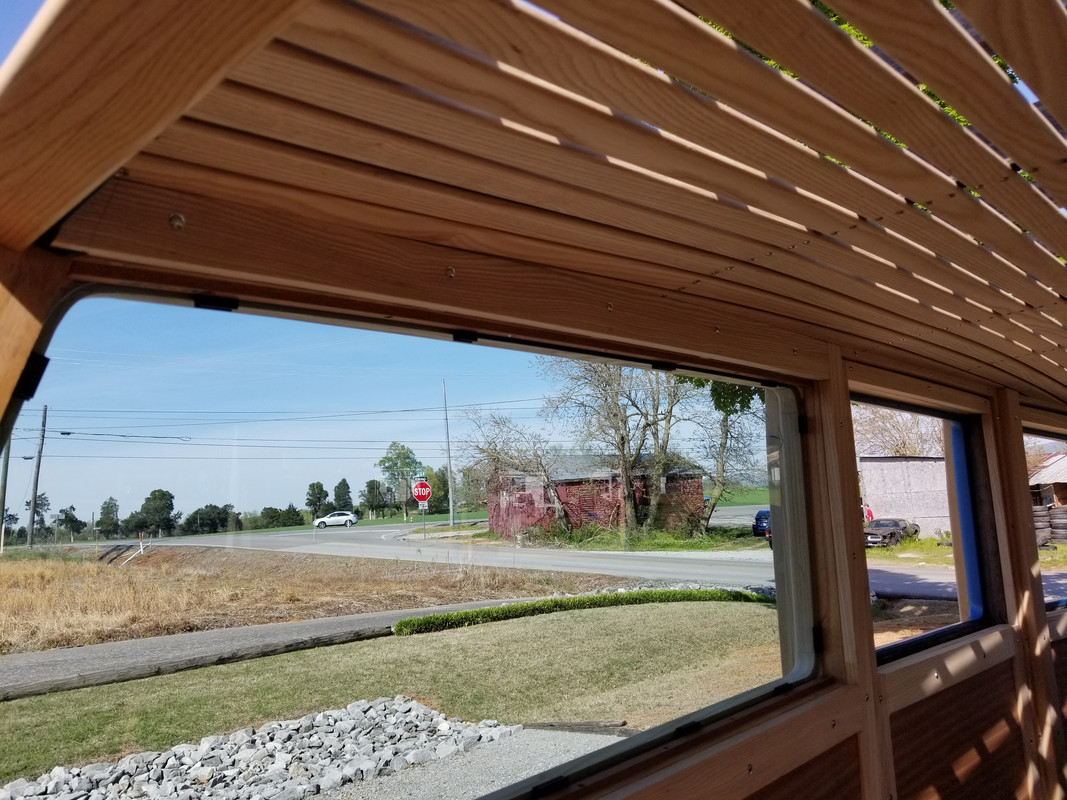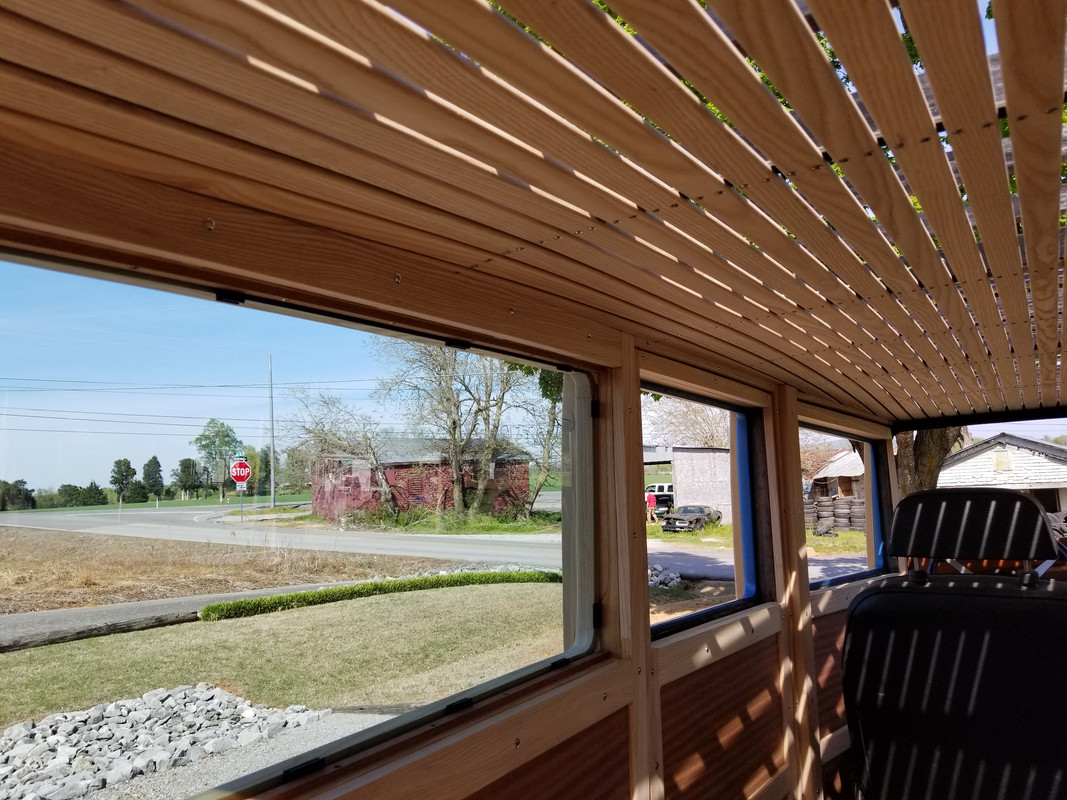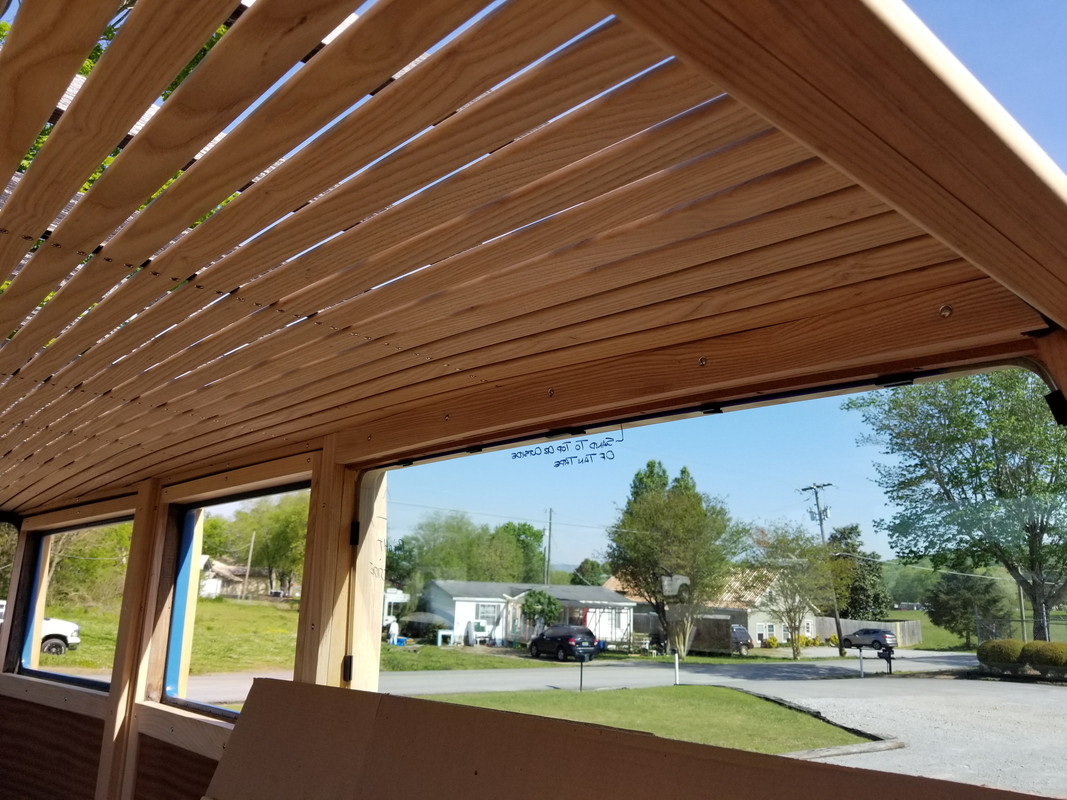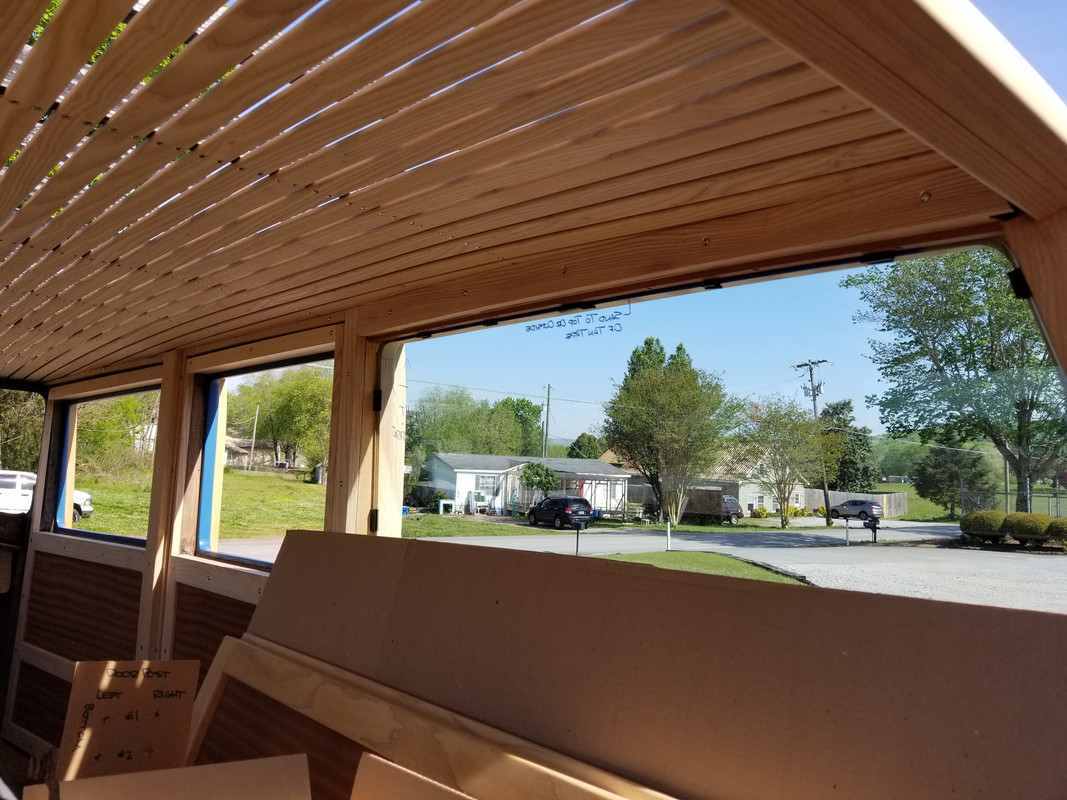 Chassis and Drivetrain:
As can be seen in the photos, the drivetrain in this Rolls is obviously not stock. The frame itself is the original (Chassis Number 34UK) but has been modified by the owner with some unknown vintage of Jaguar front suspension with disc brakes and a 9" Ford rear axle. The wheels were custom made by Dayton Wire Wheels per the owner's specifications and there are 6 included. The original engine and transmission were sold off to a Rolls collector and replaced by a low mileage Chevrolet 454 and Turbo 400 pulled from a wrecked Suburban. The radiator you see in the photos was a temporary unit installed just to get it running long enough to move it around the shop, and the original Phantom II radiator is included in the sale. The car was wired up temporarily and was running when brought here for the woodwork, but that's been quite a while now so it will need a fresh battery and the fuel system cleaned out before it will run again. Other than that, there really isn't much else to be said about the mechanical end of things.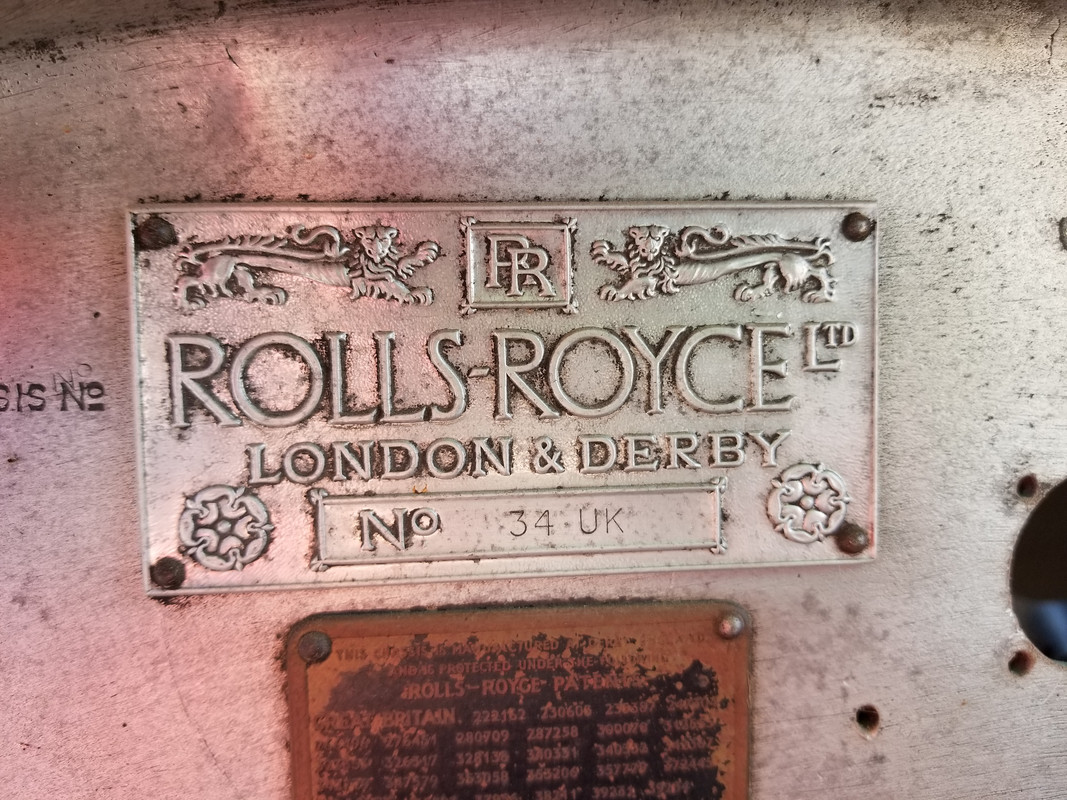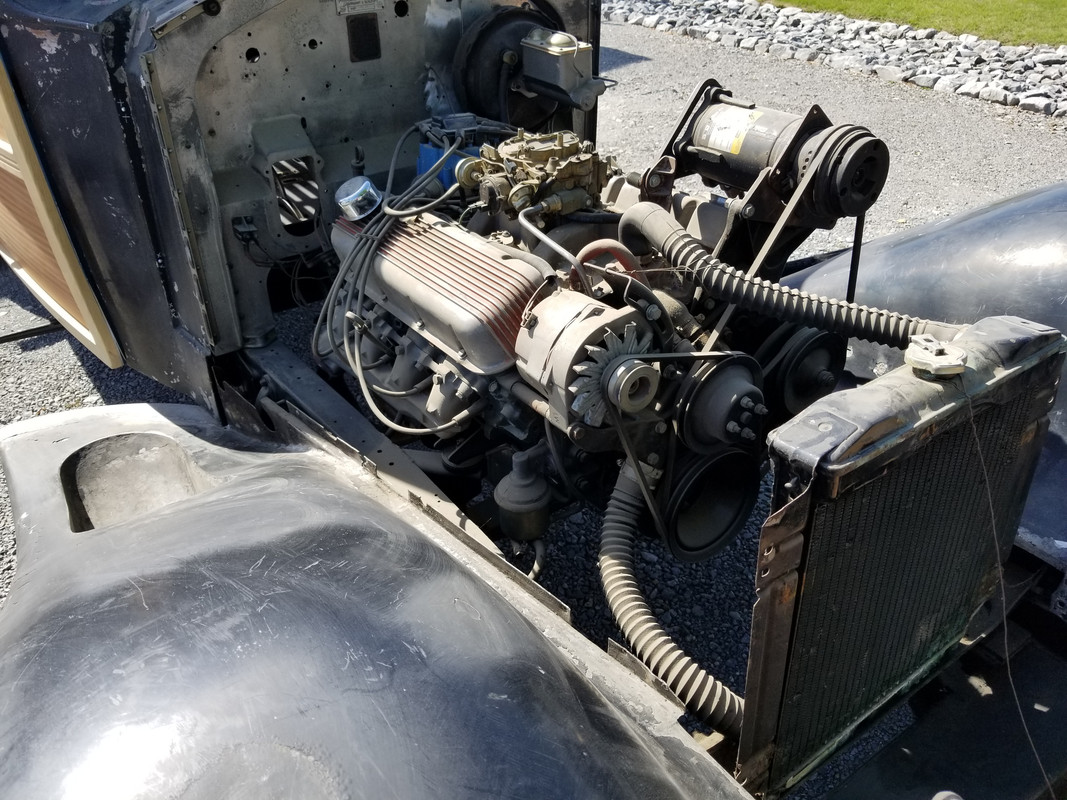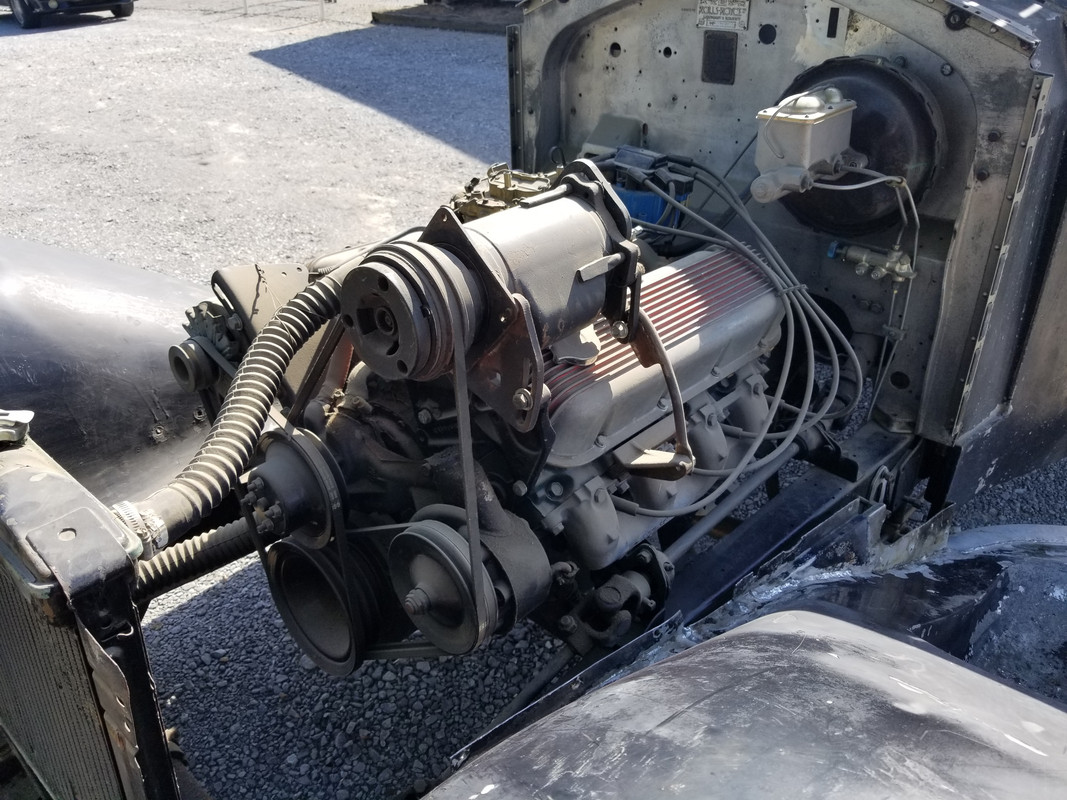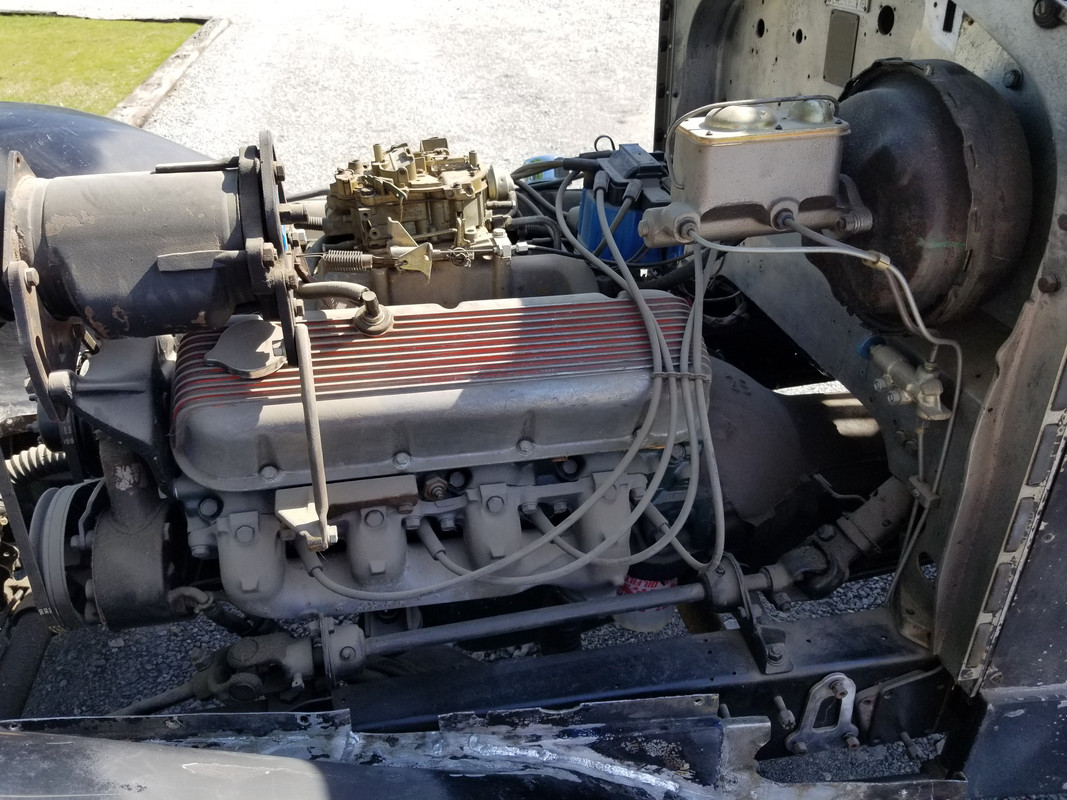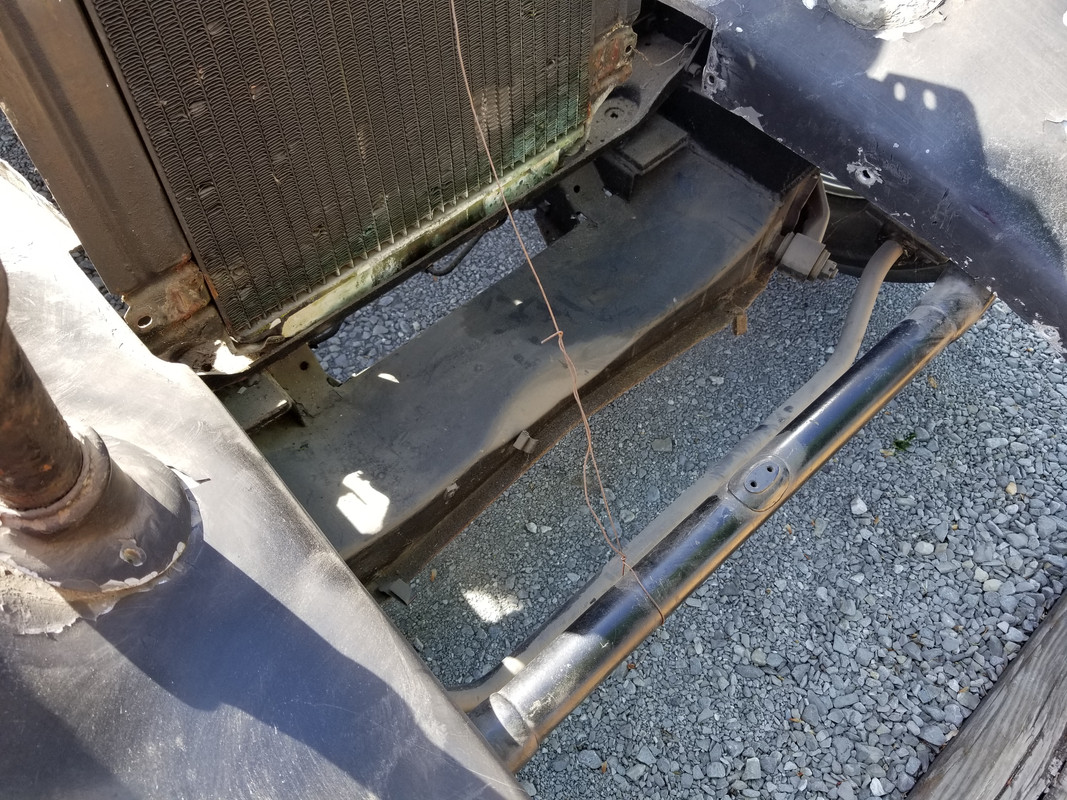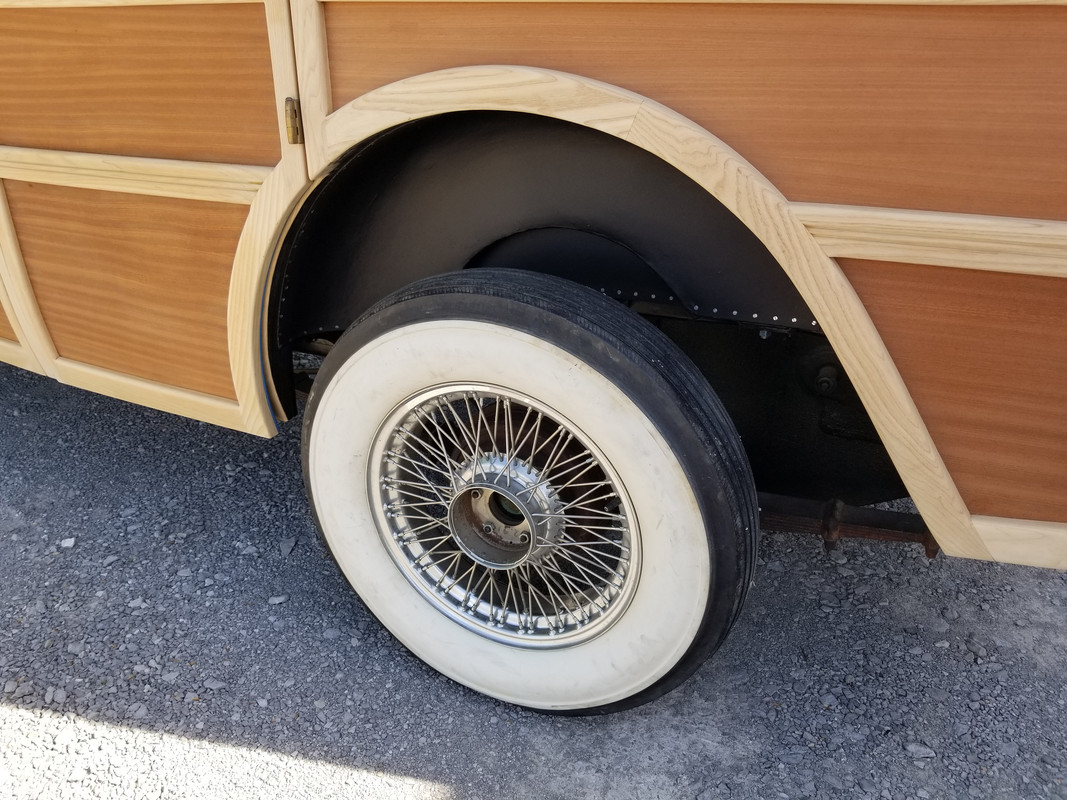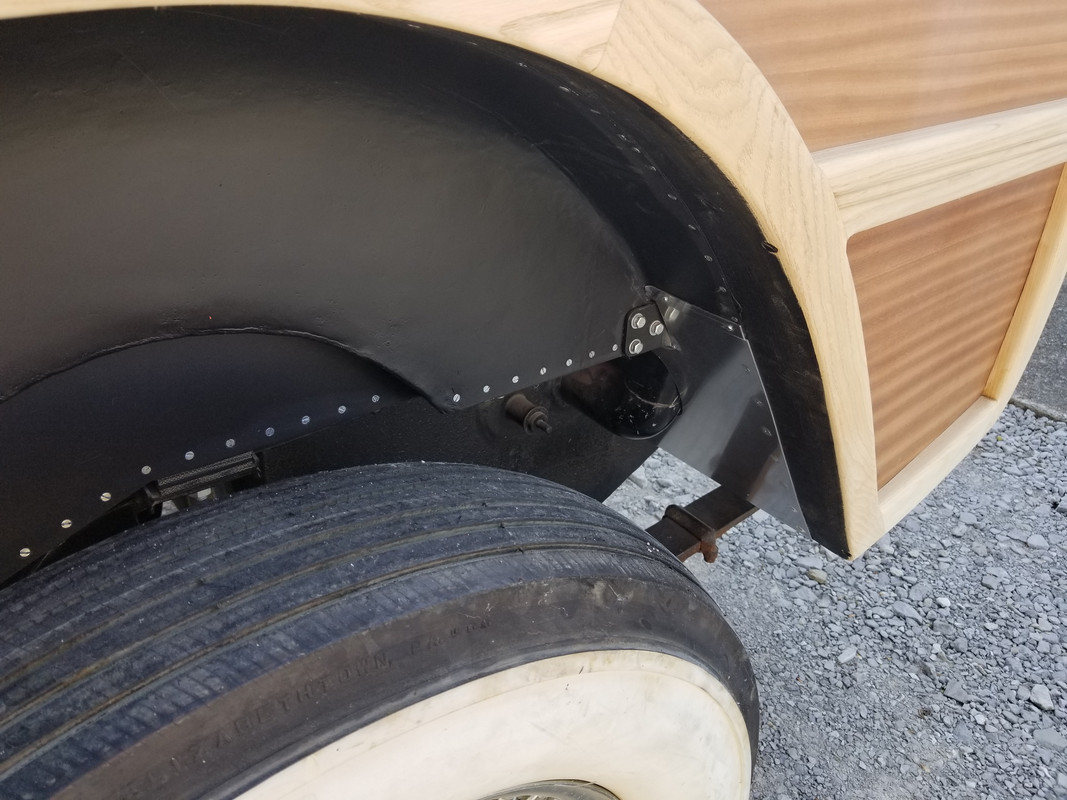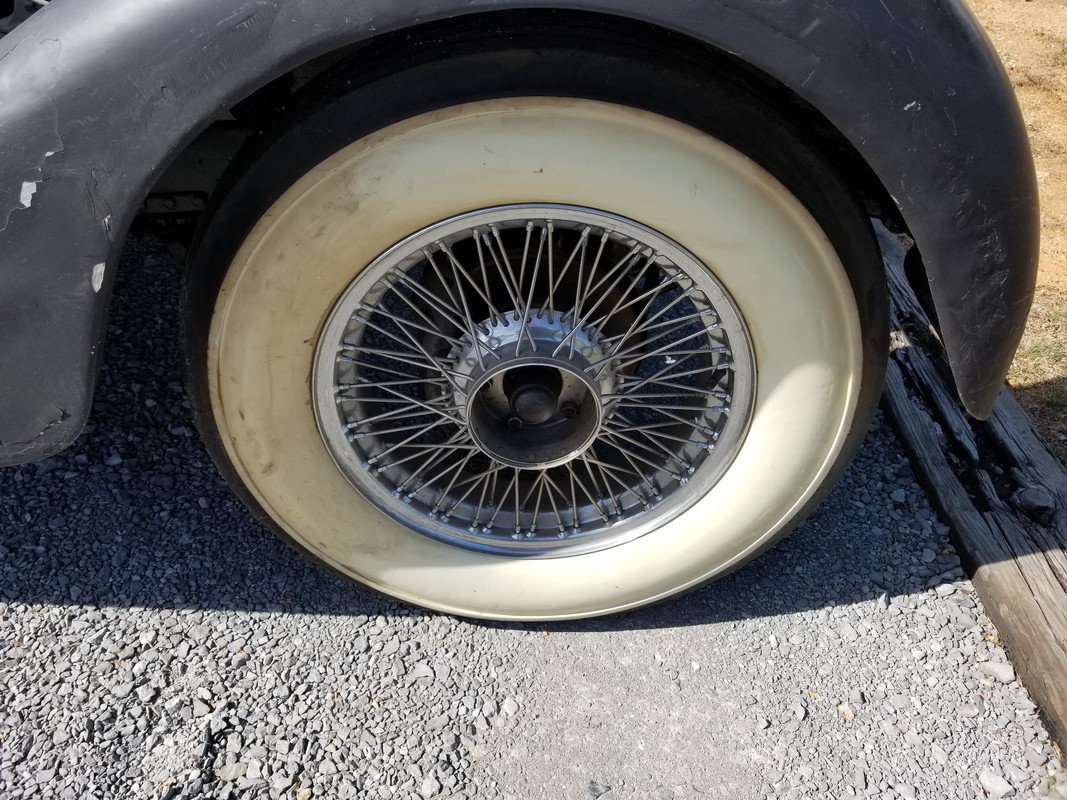 Other parts:
This car has been an ongoing project for almost 40 years now and the owner has managed to accumulate quite a number of parts for it. Rather than try to list everything individually I decided it was probably easier to just lay it all out and take a bunch of photographs for the listing. Everything you see in the pictures goes with the car plus there are a number of parts that never got photographed, so rest assured that you'll get your money's worth! If there is something in particular you don't see in the photos and wonder about, please send me an email and ask. There are a BUNCH of loose parts to go with it.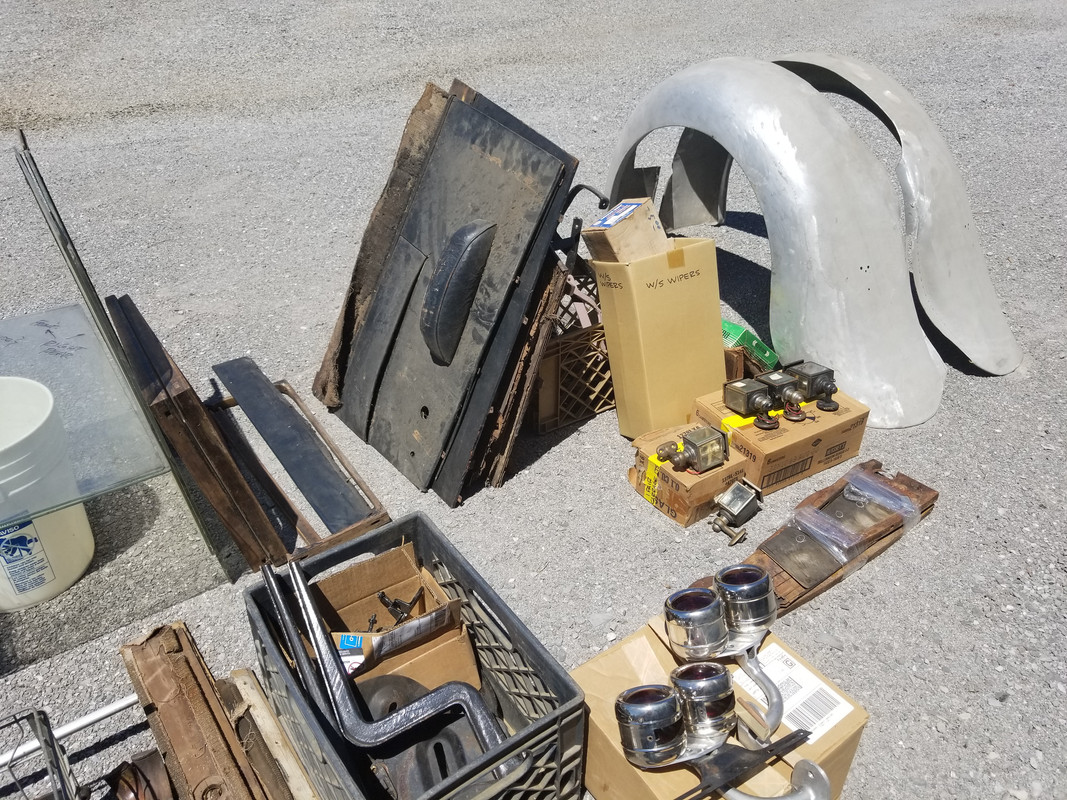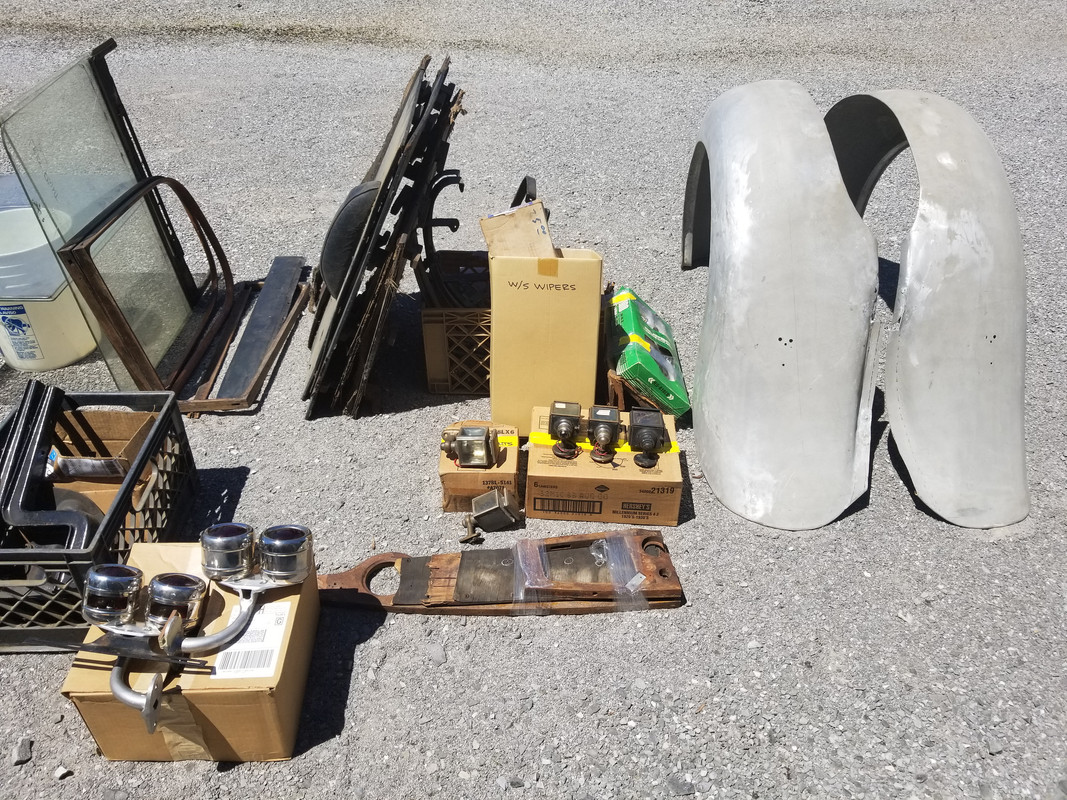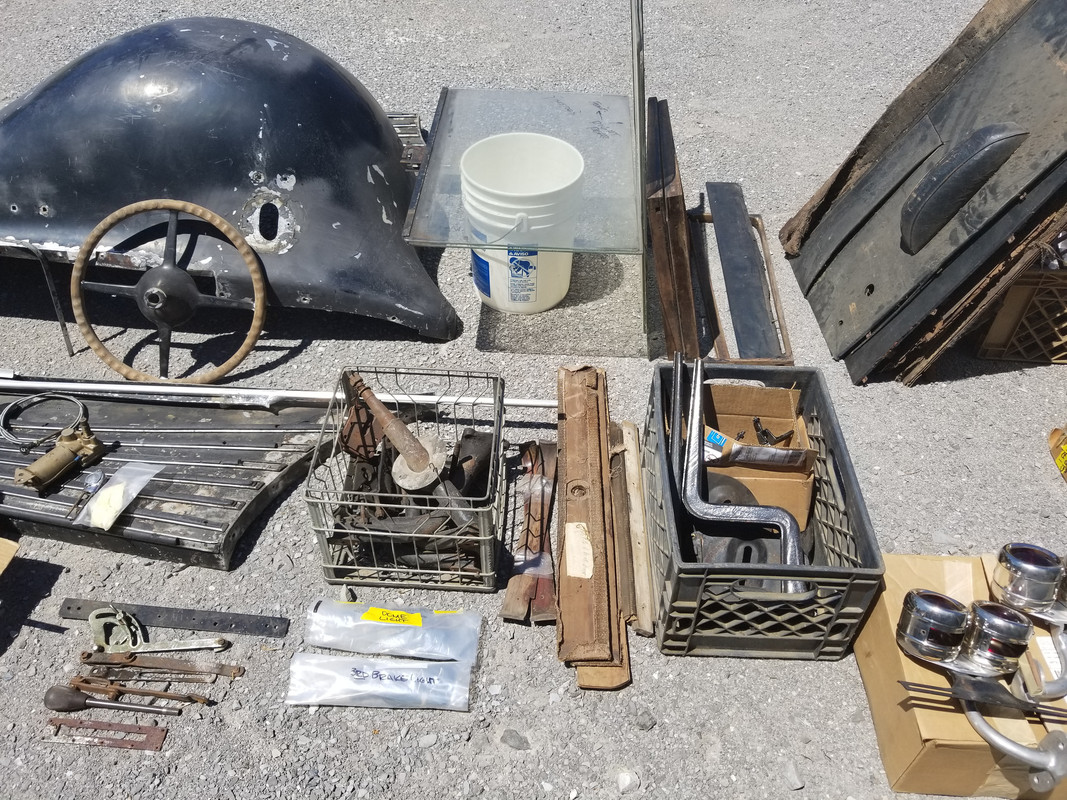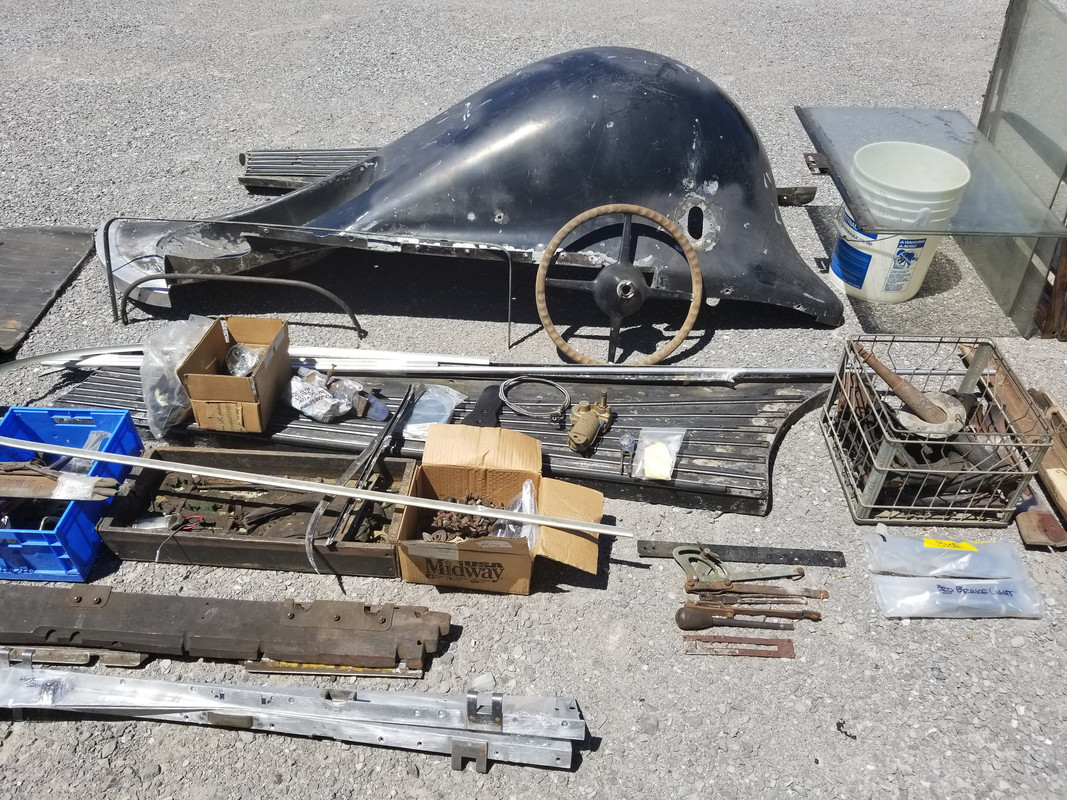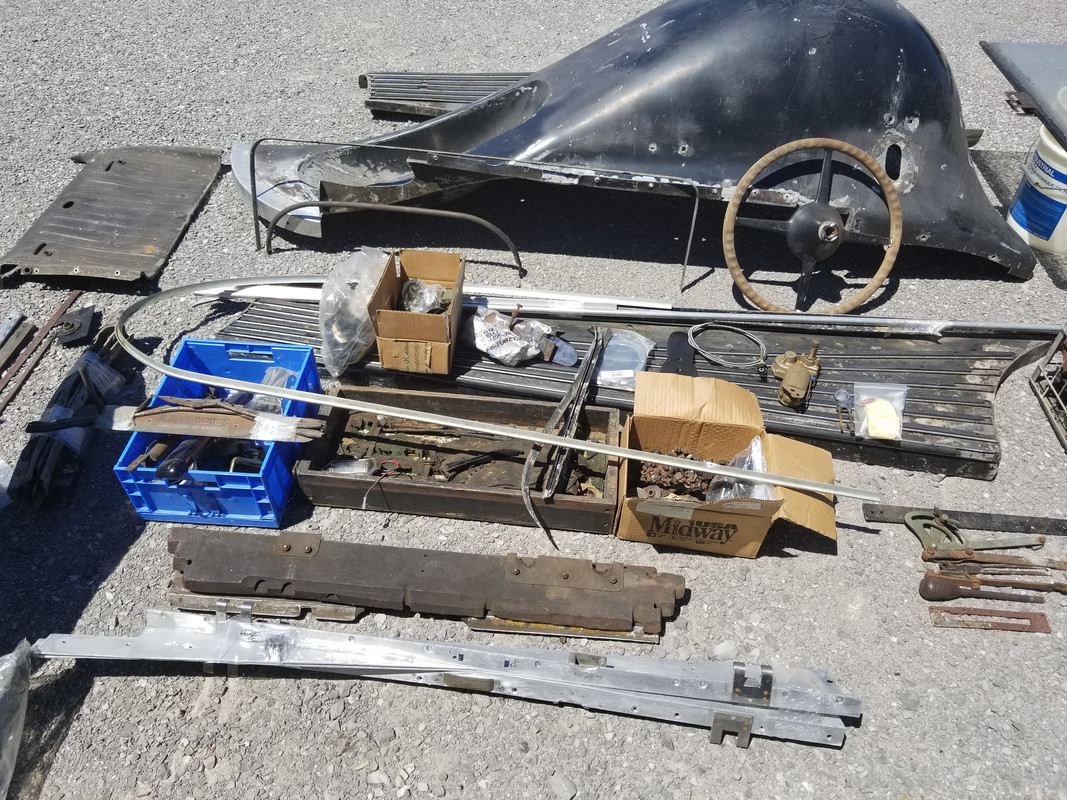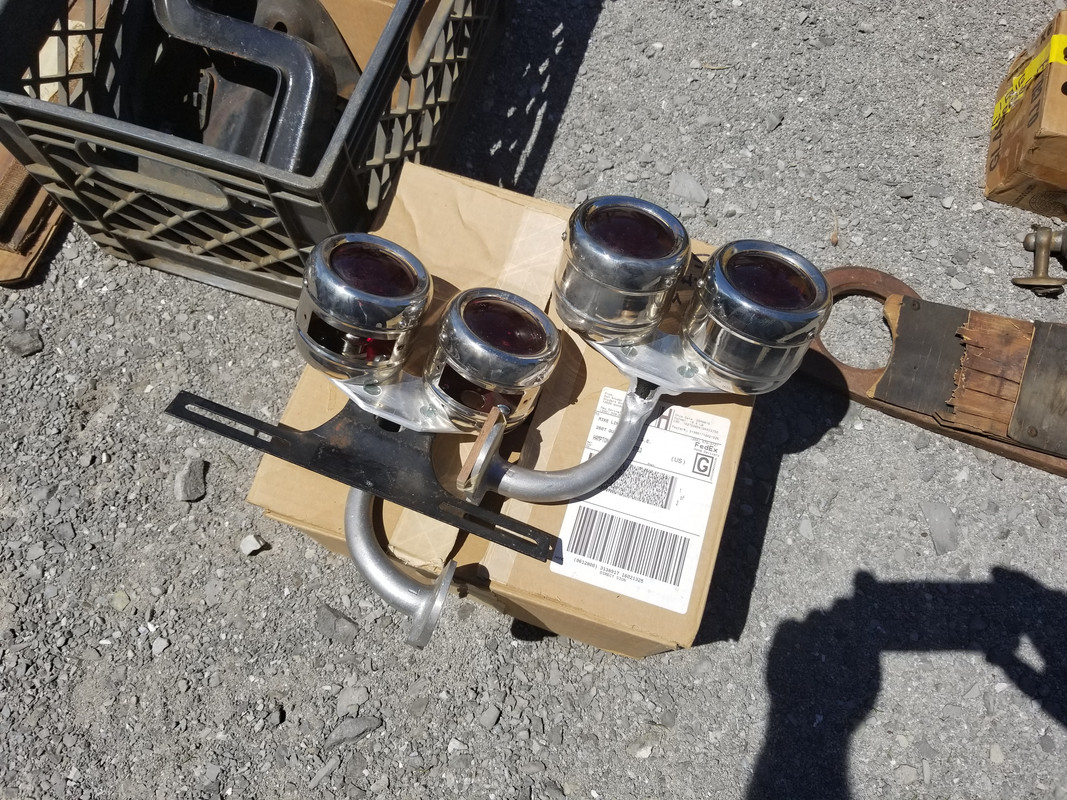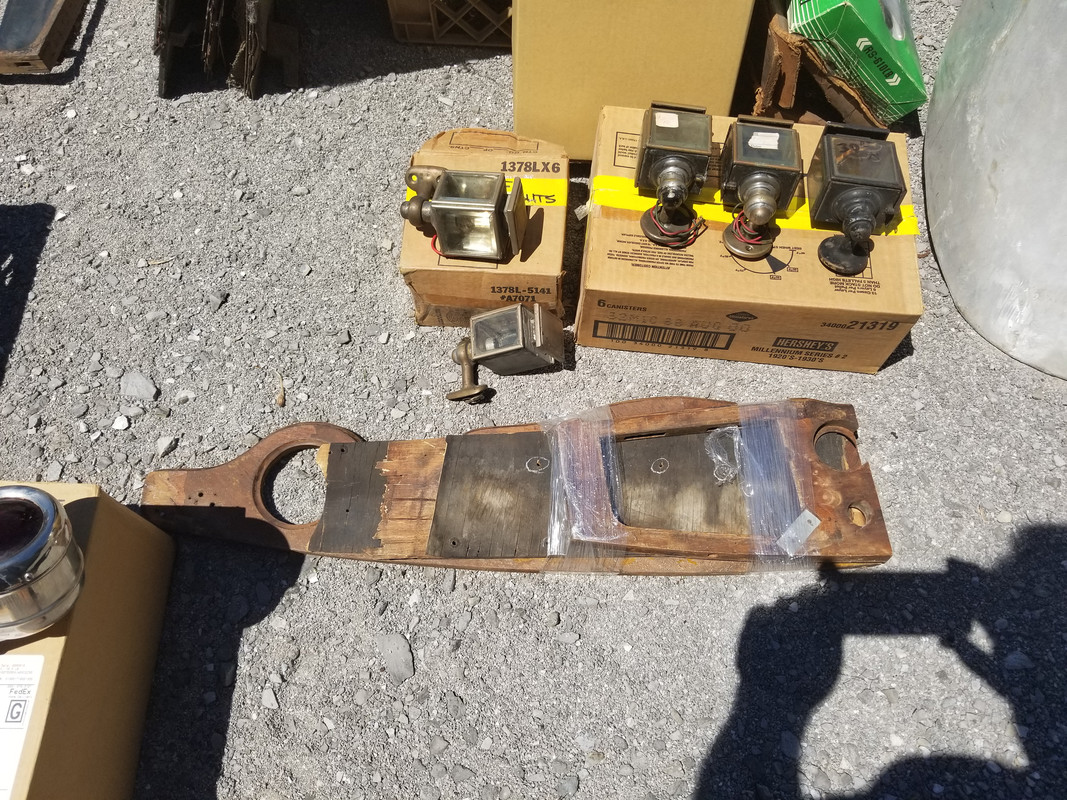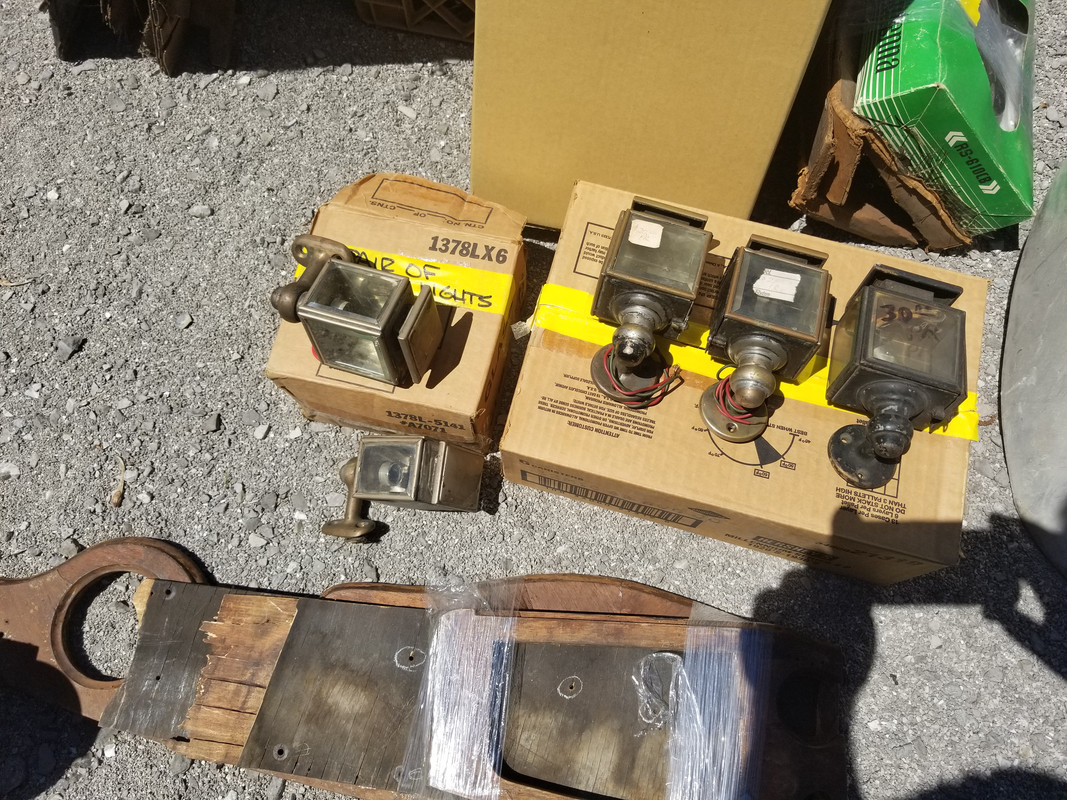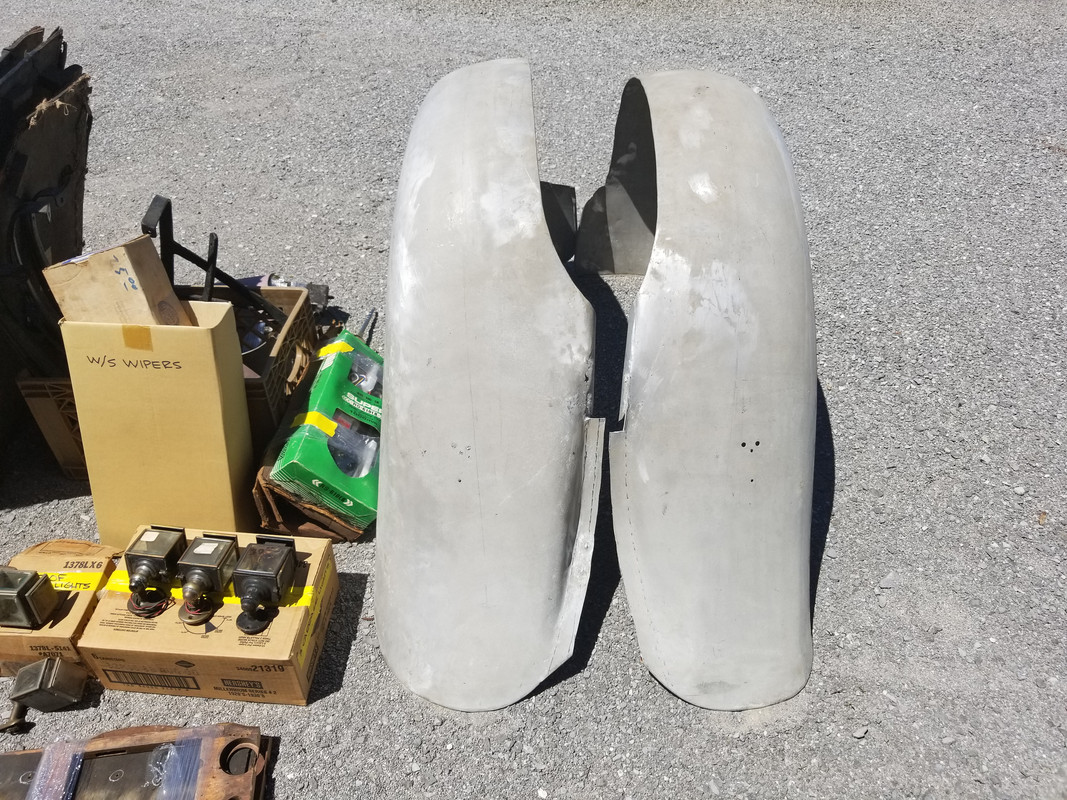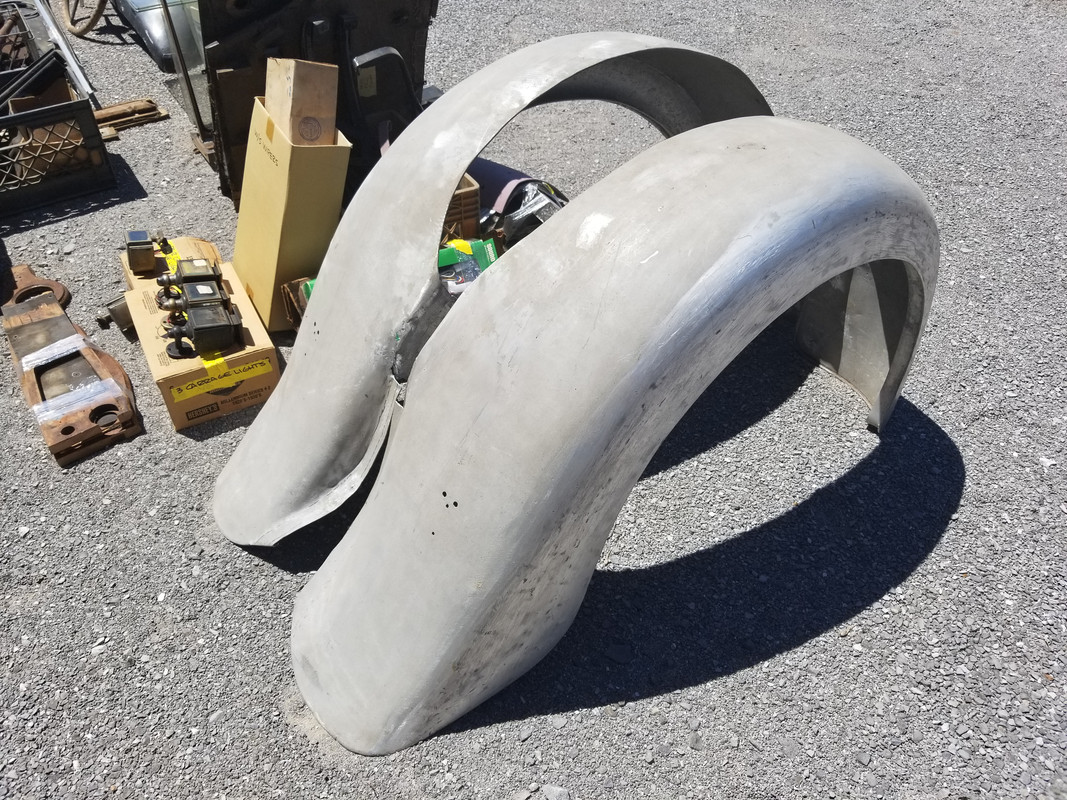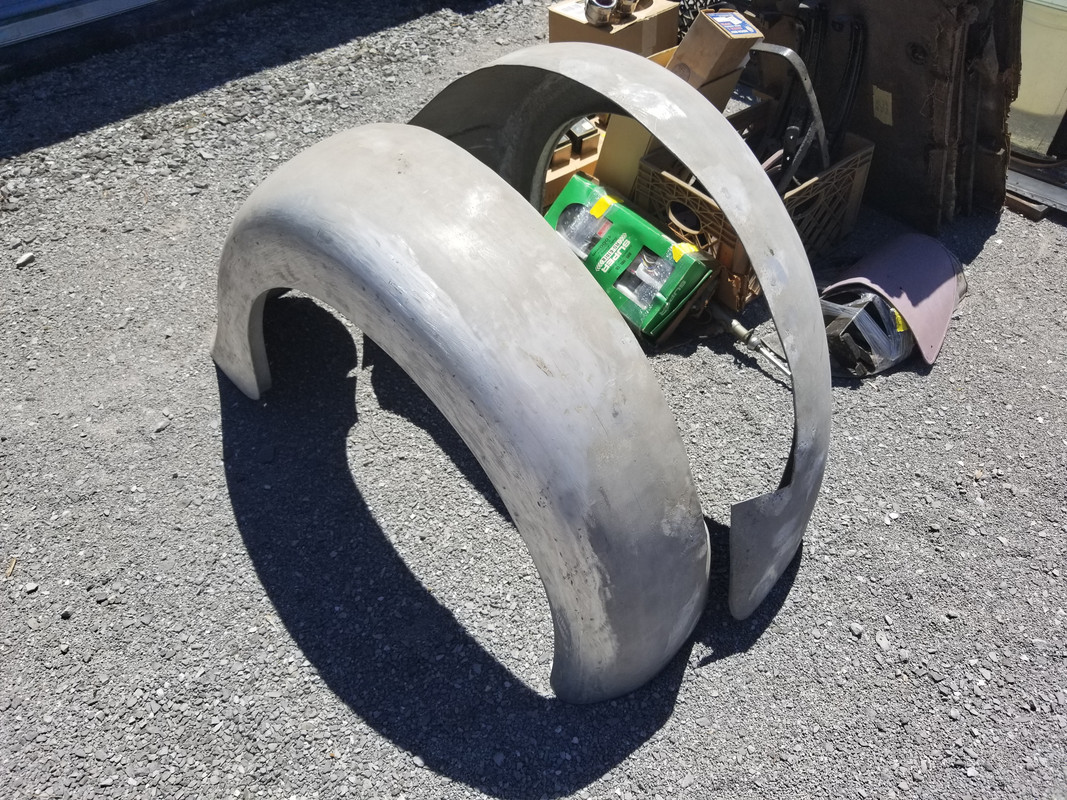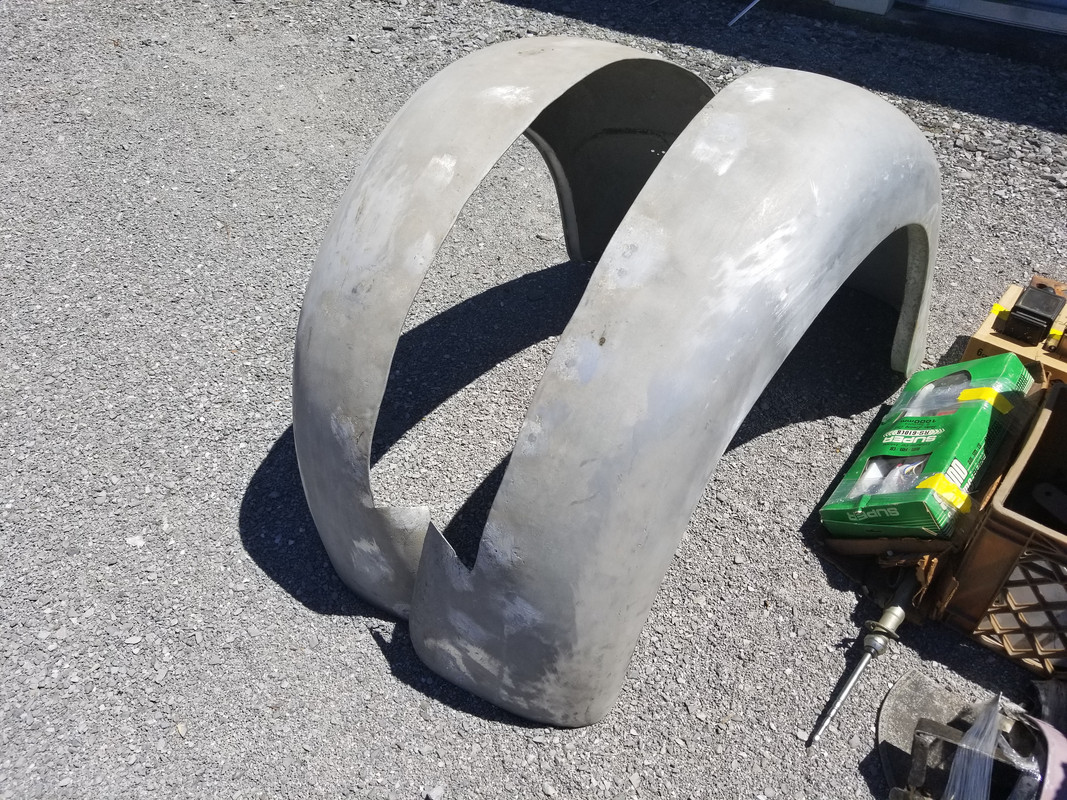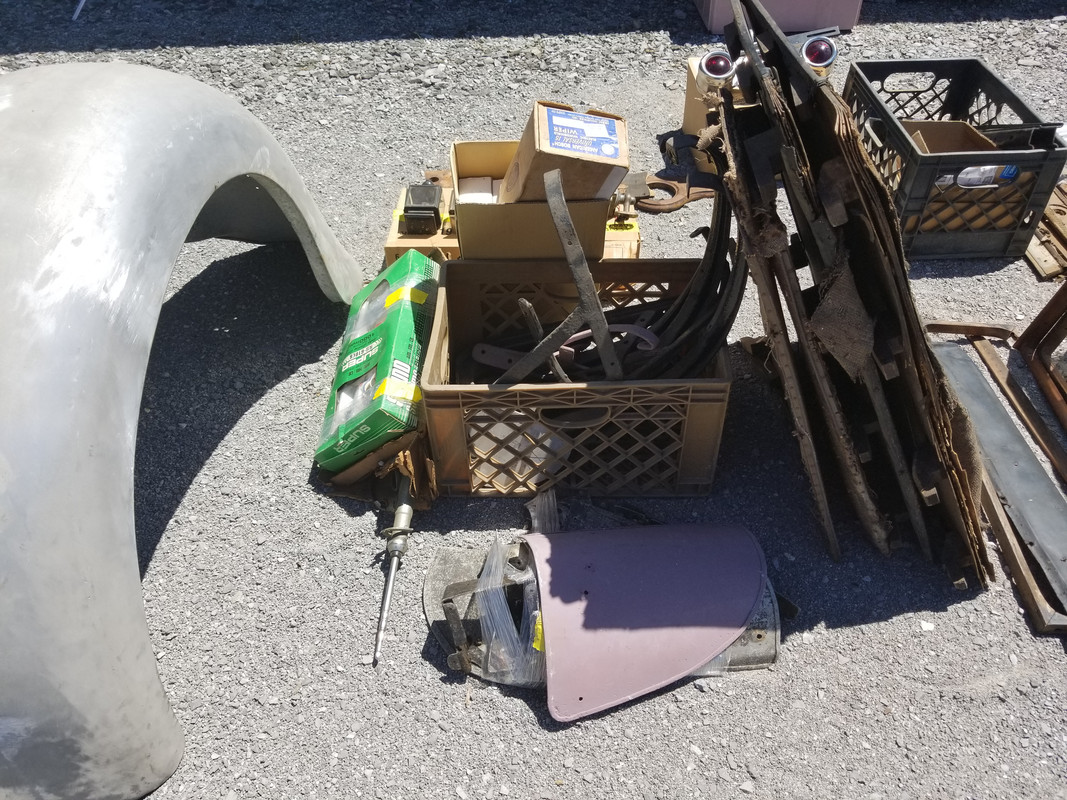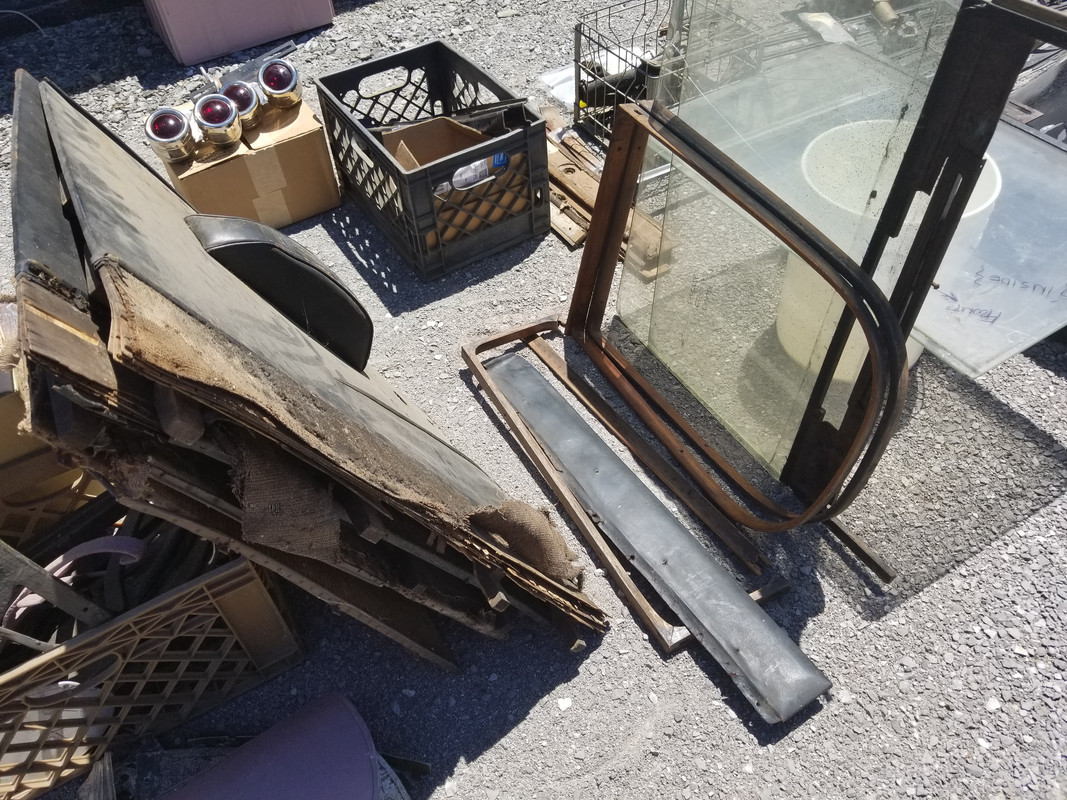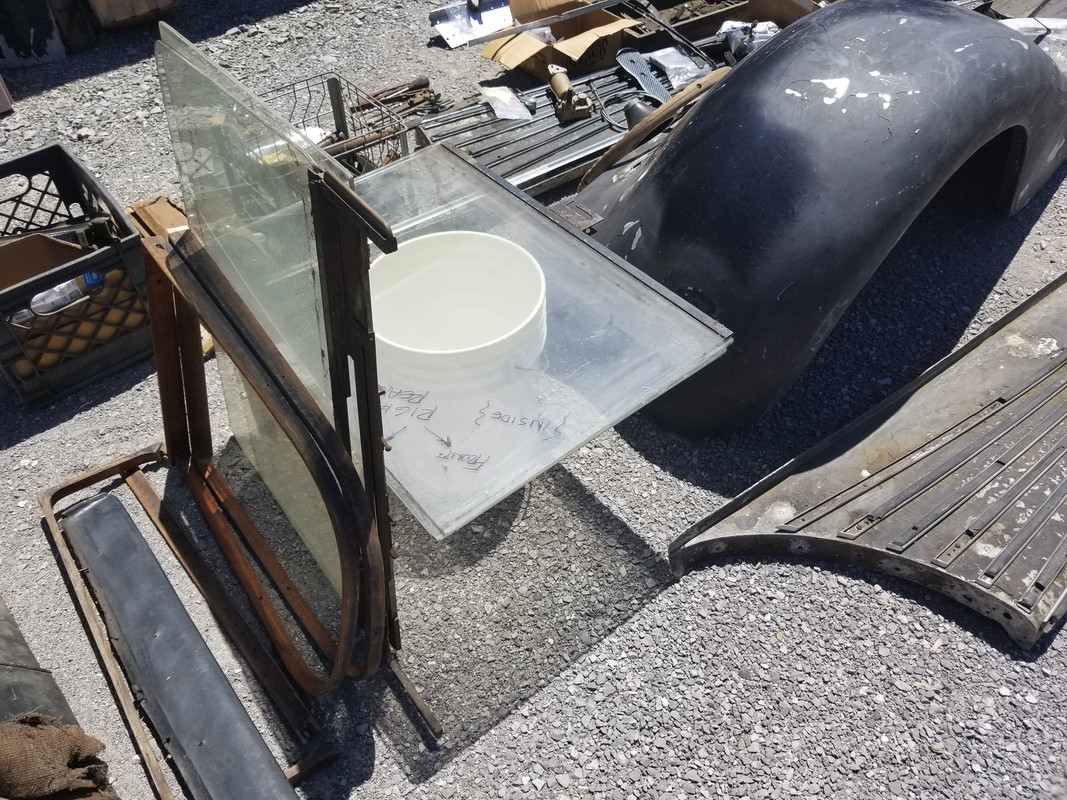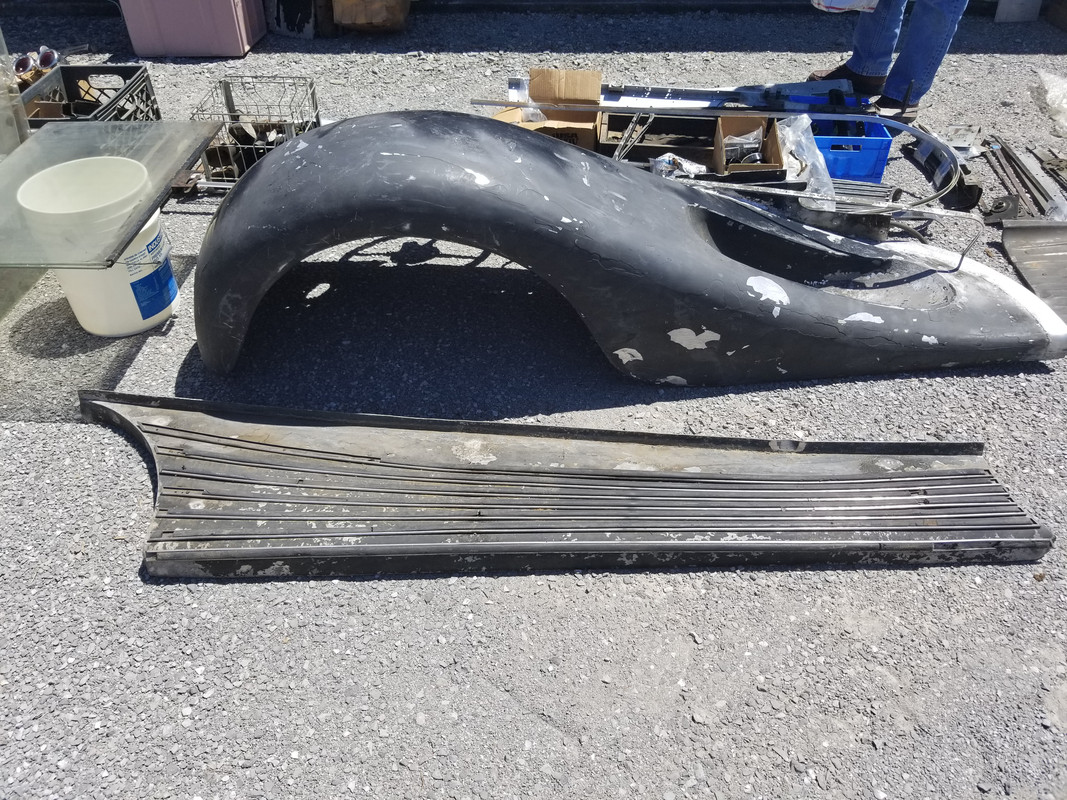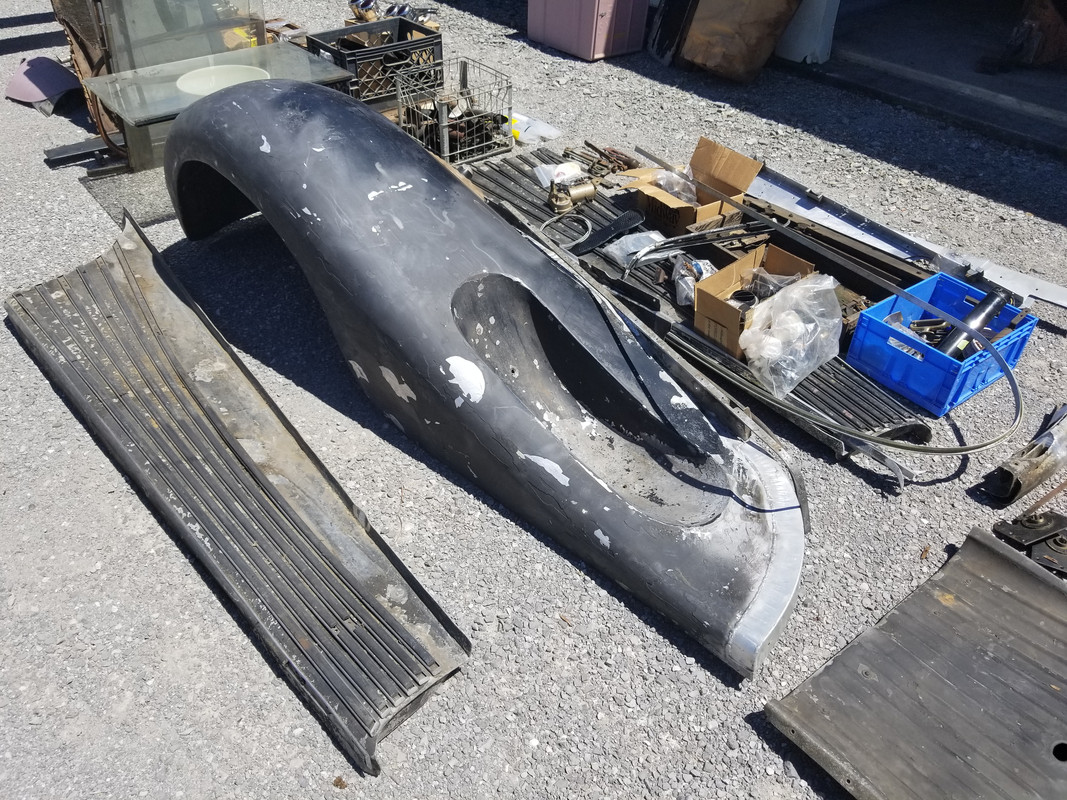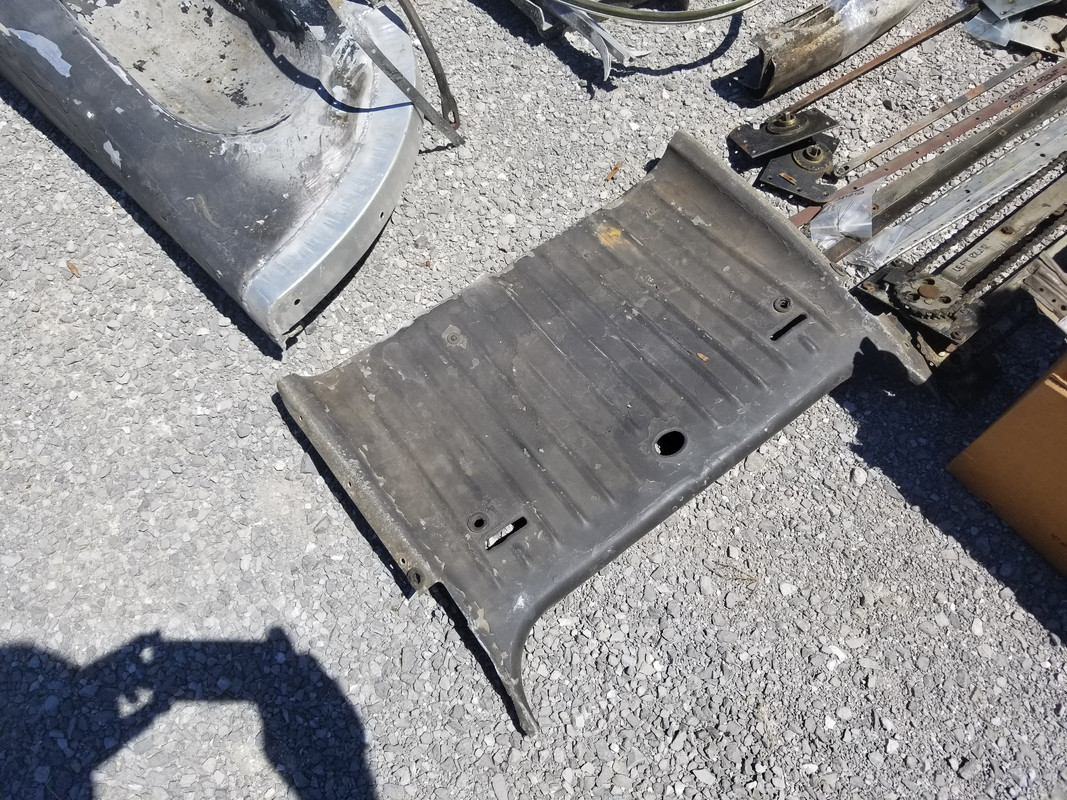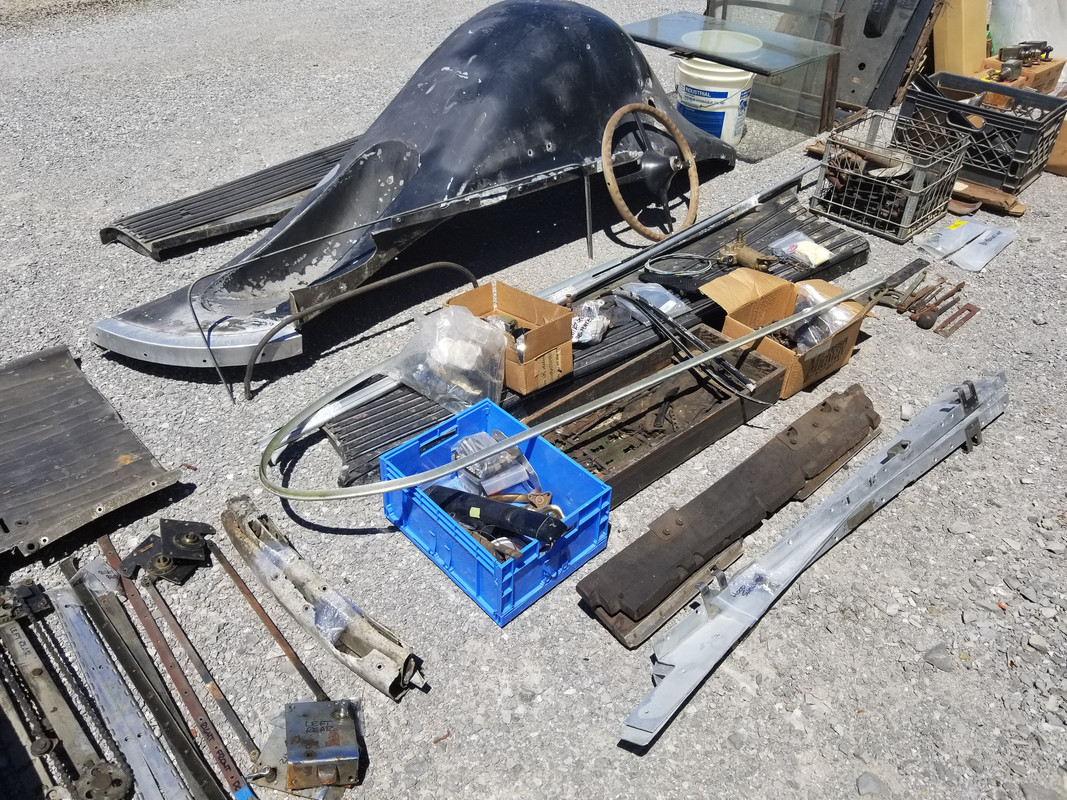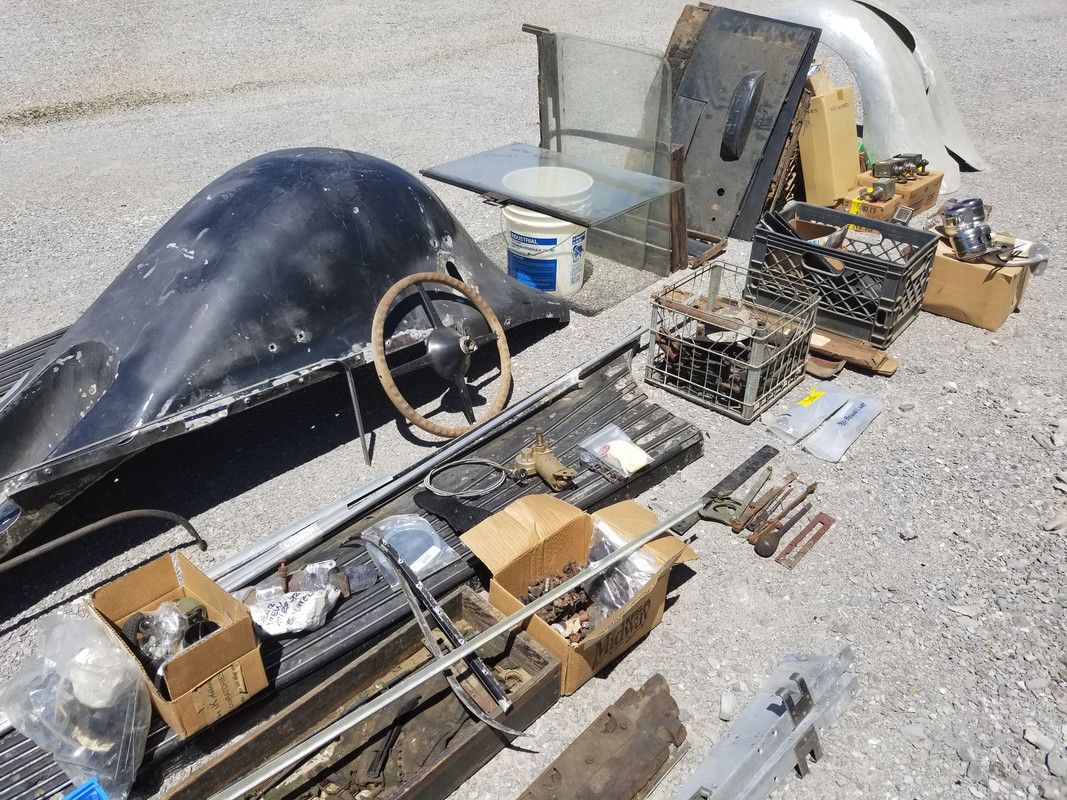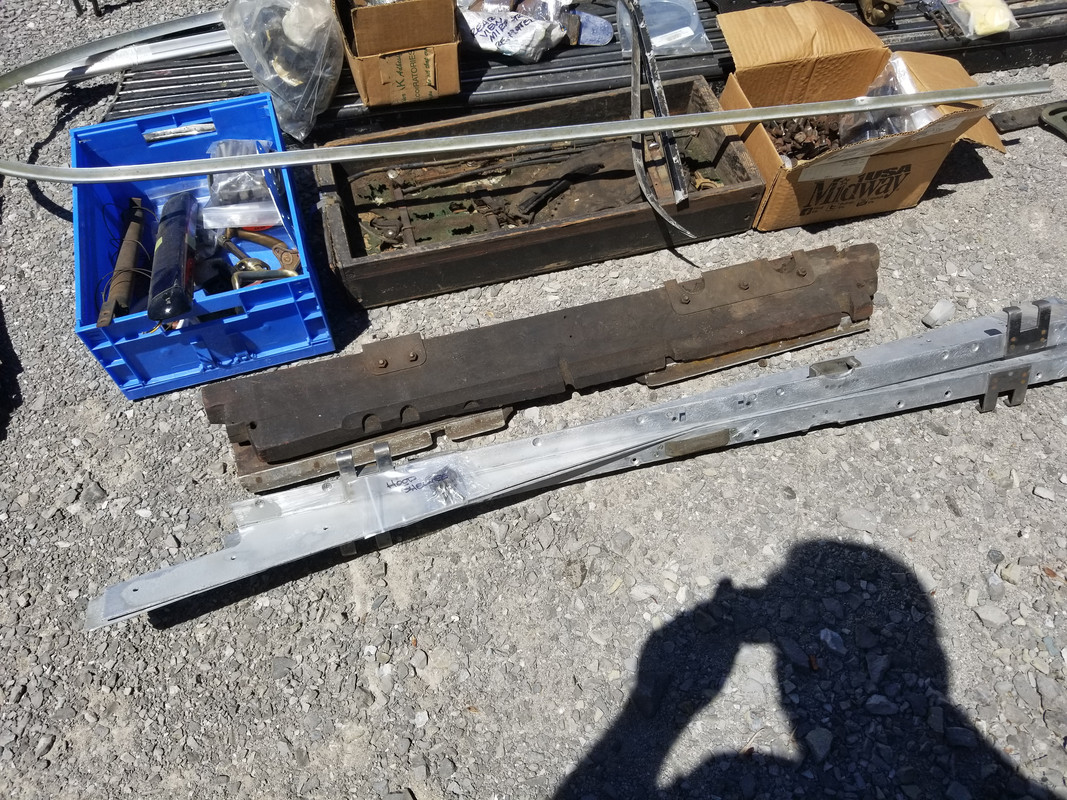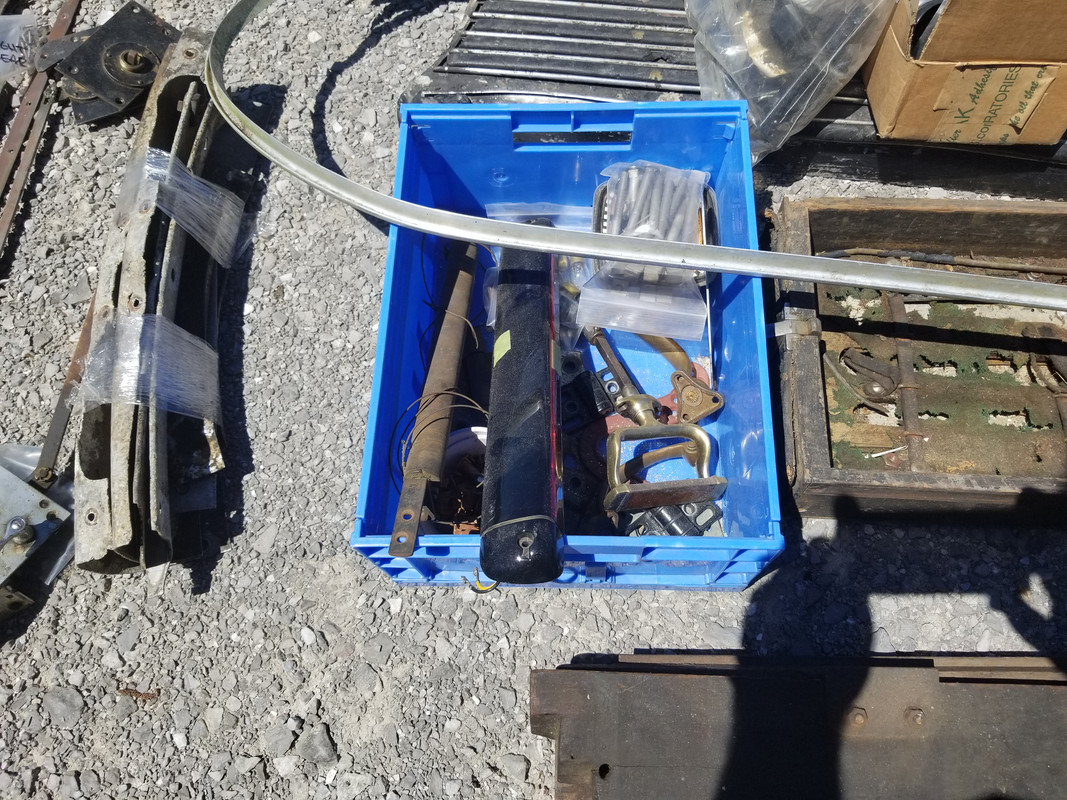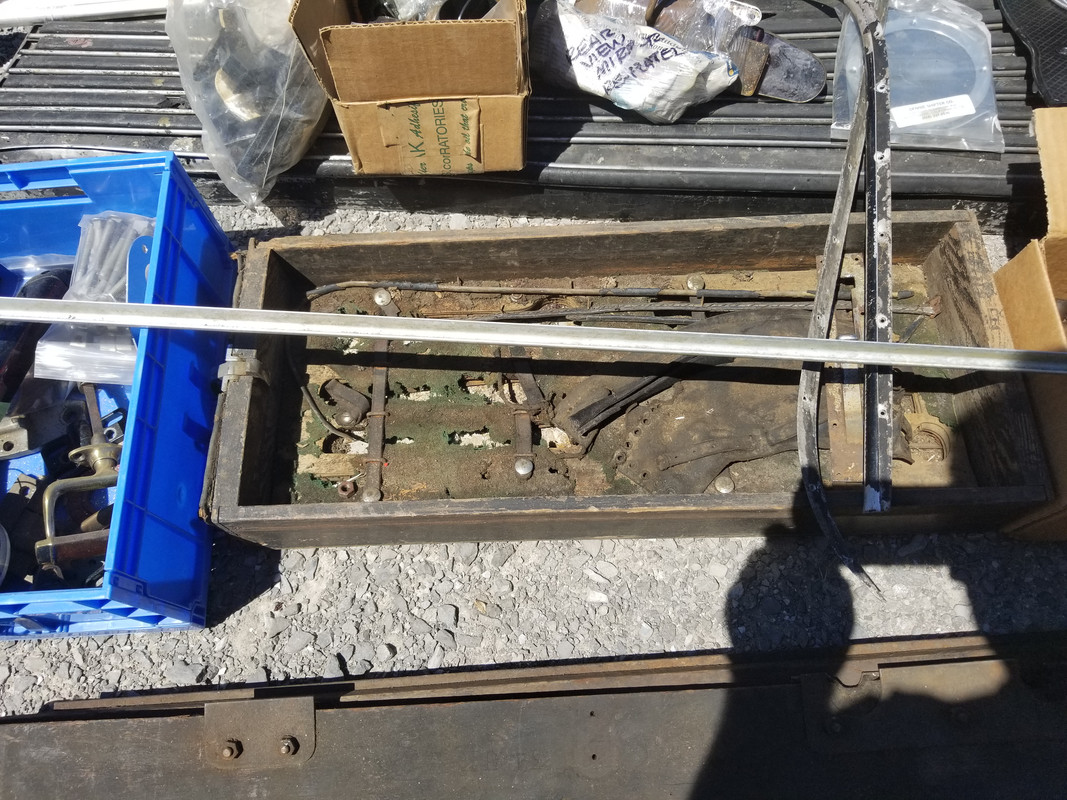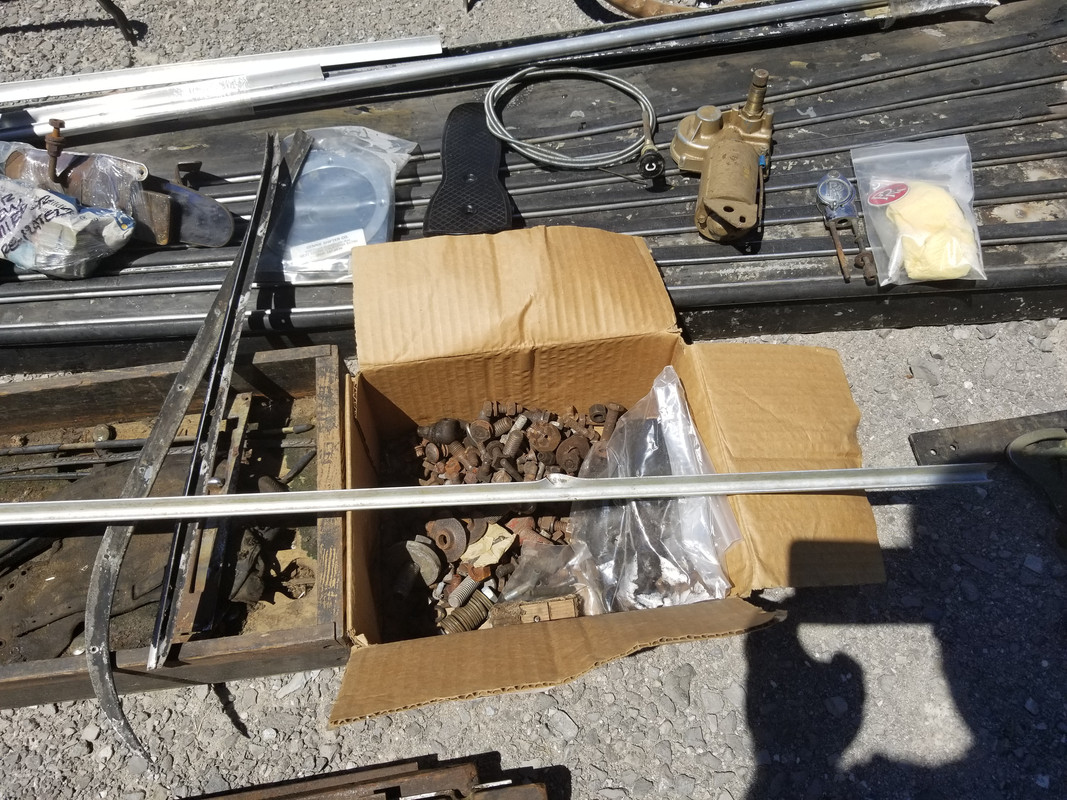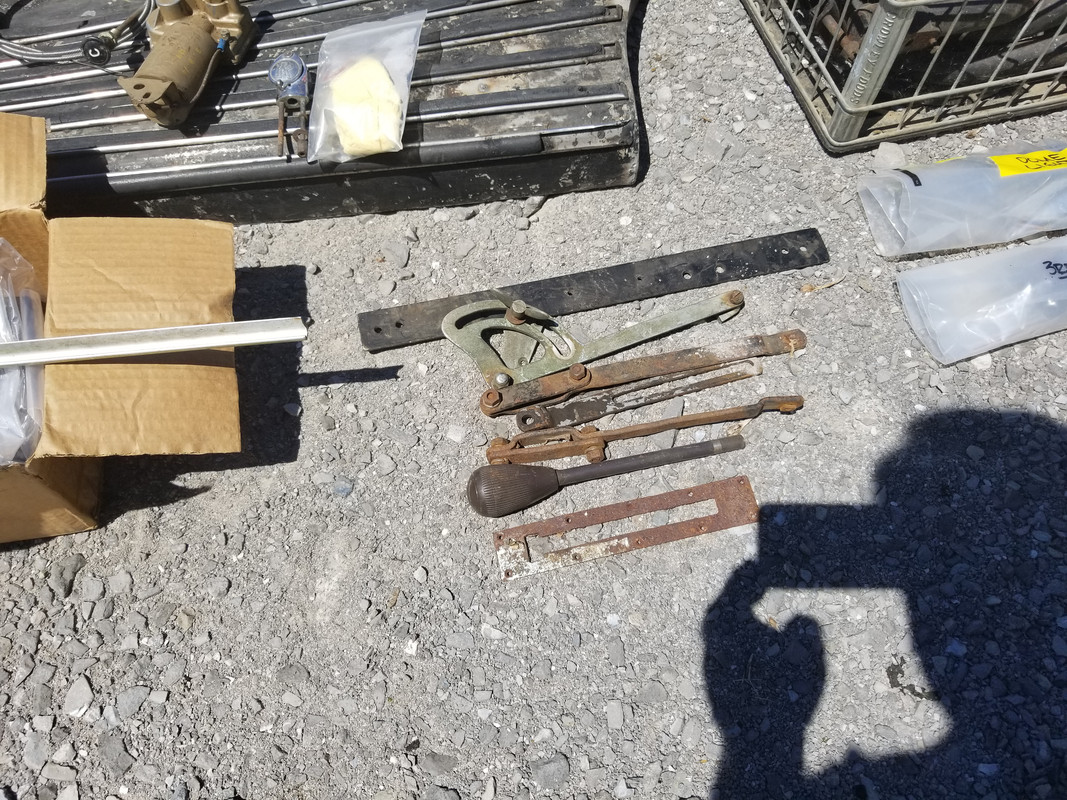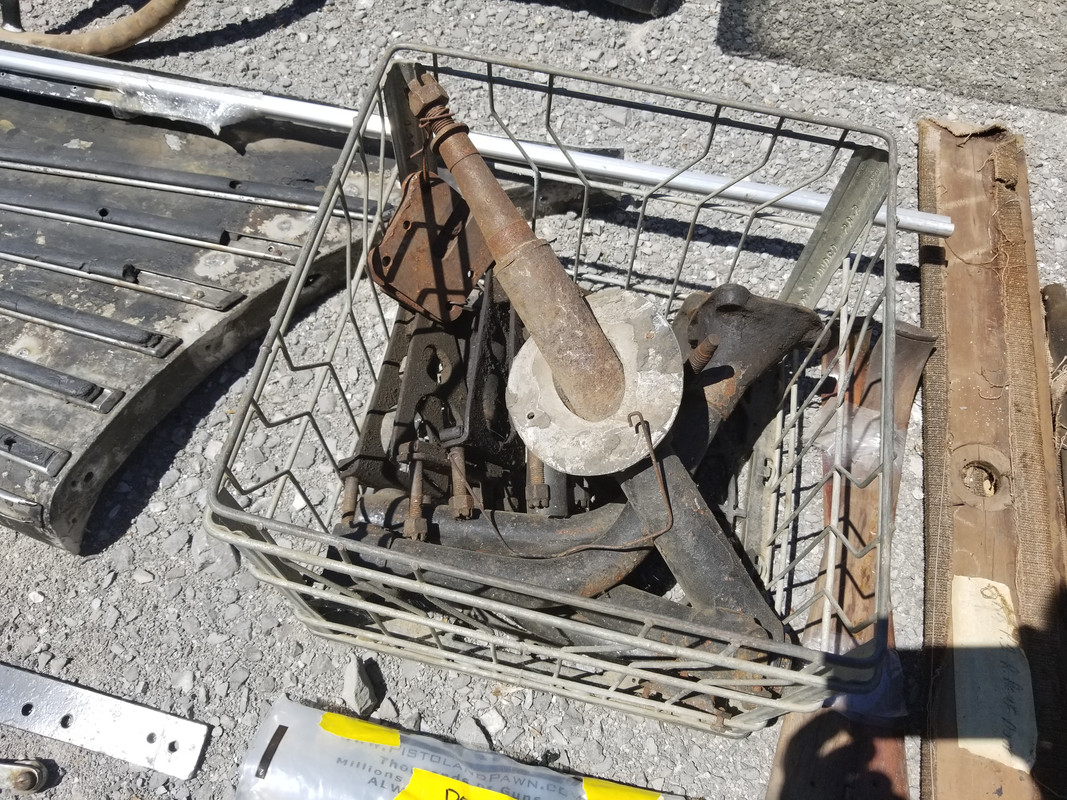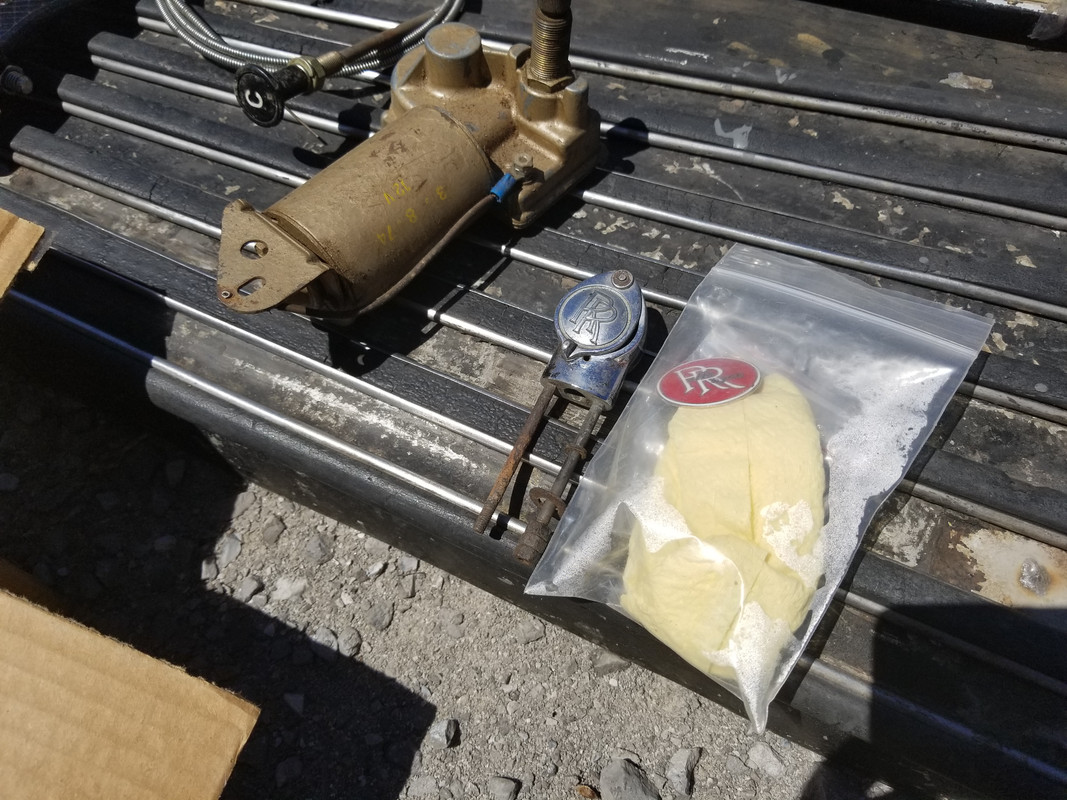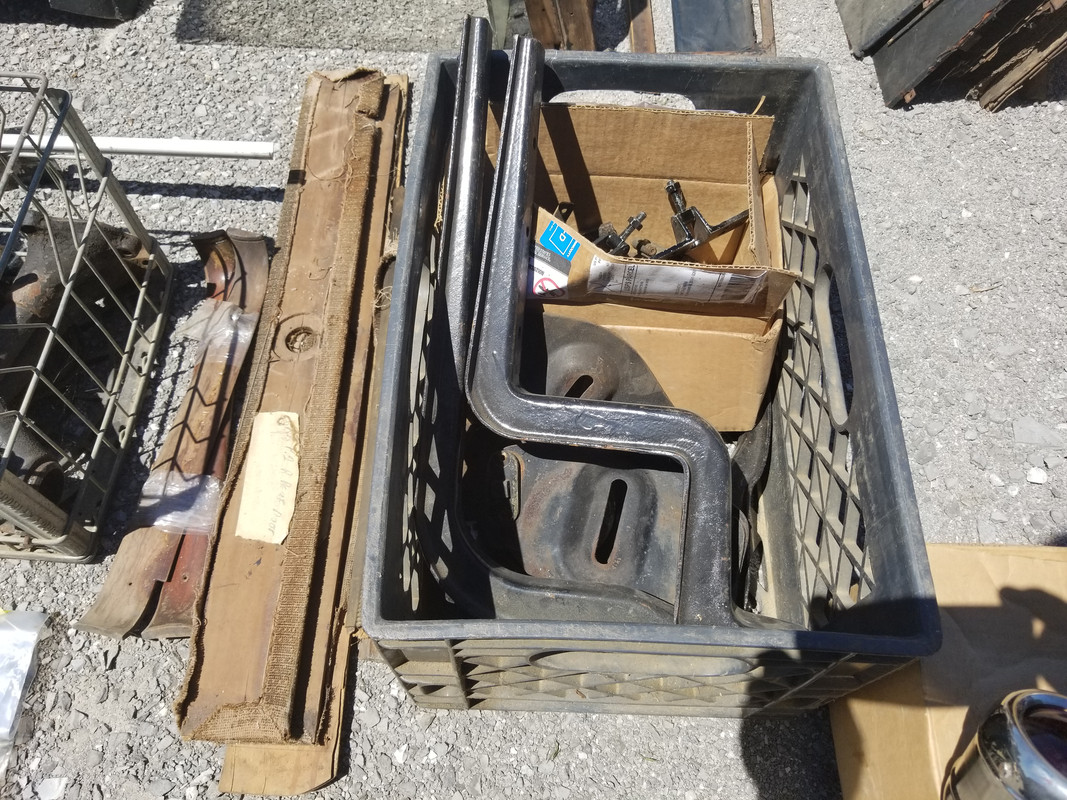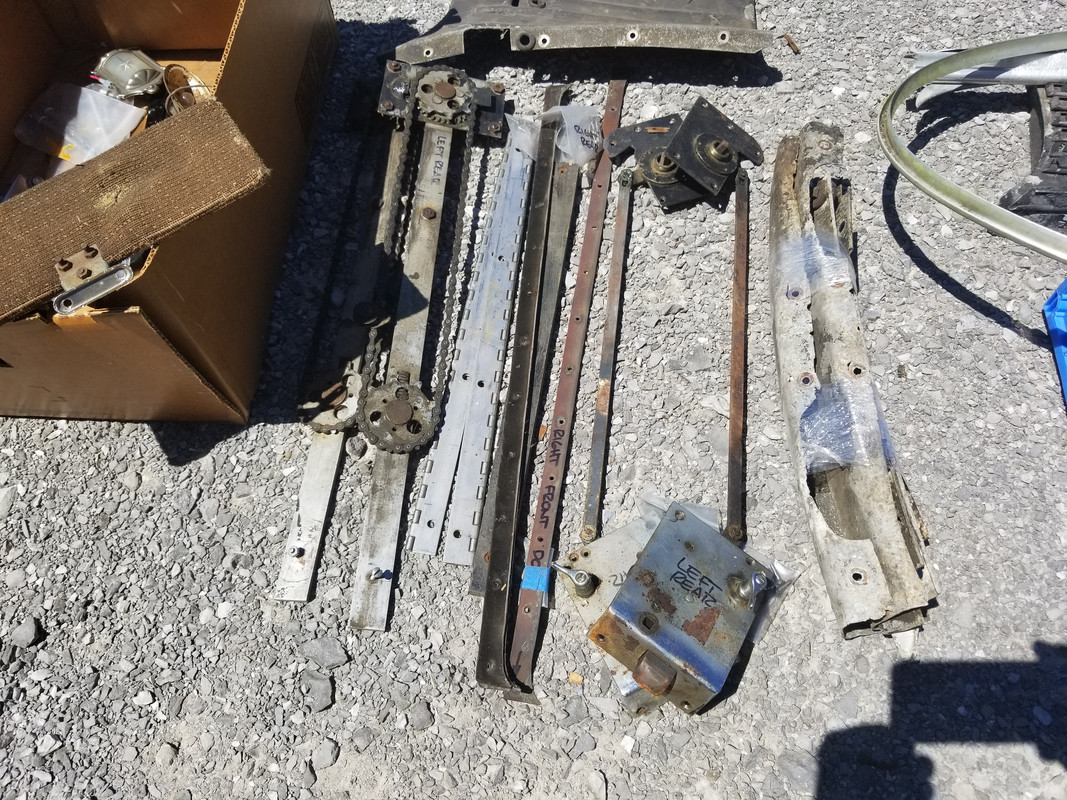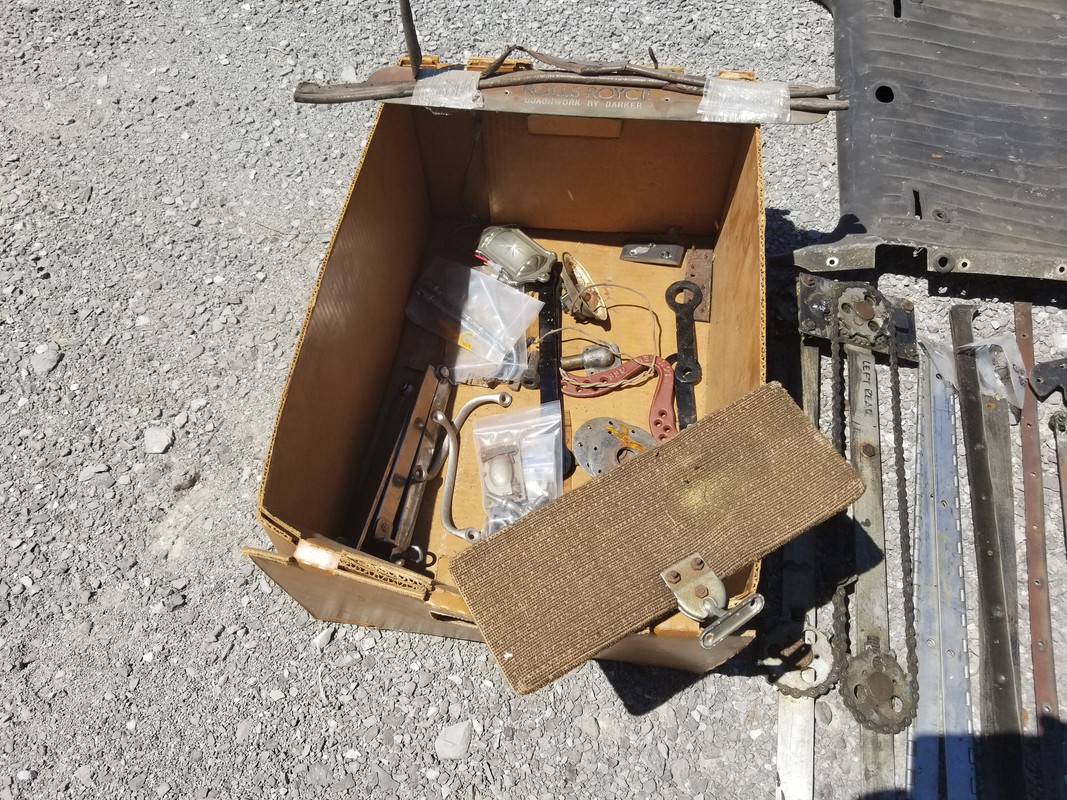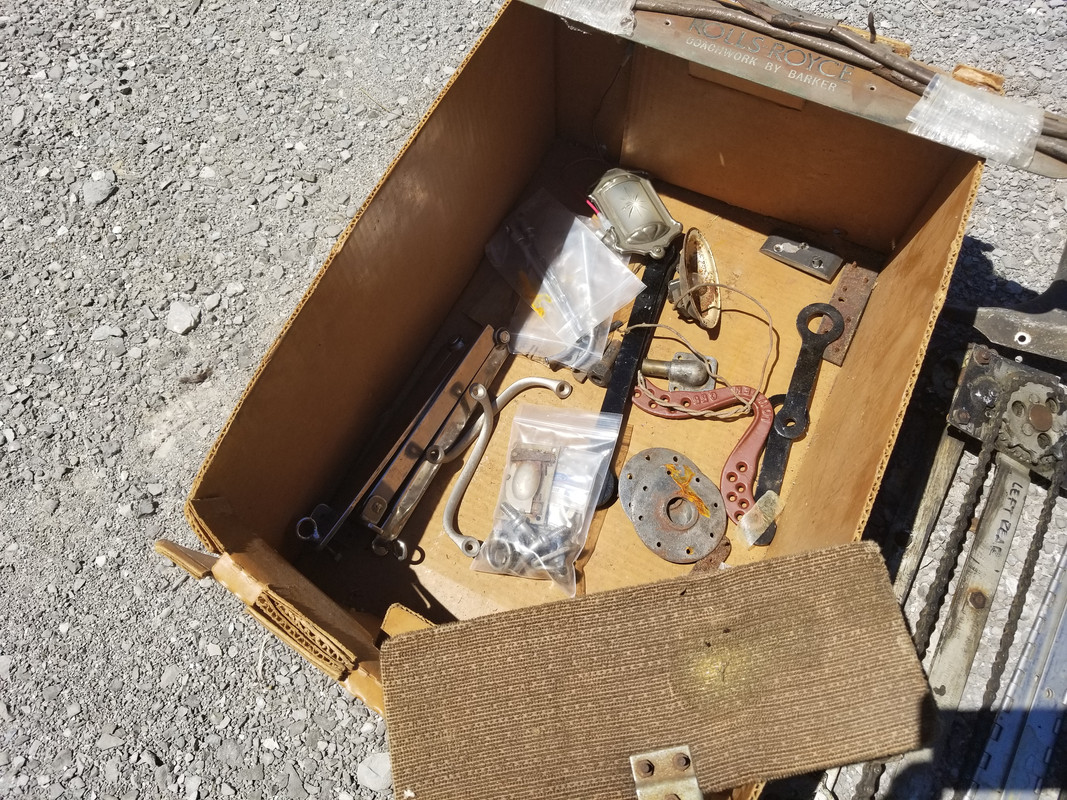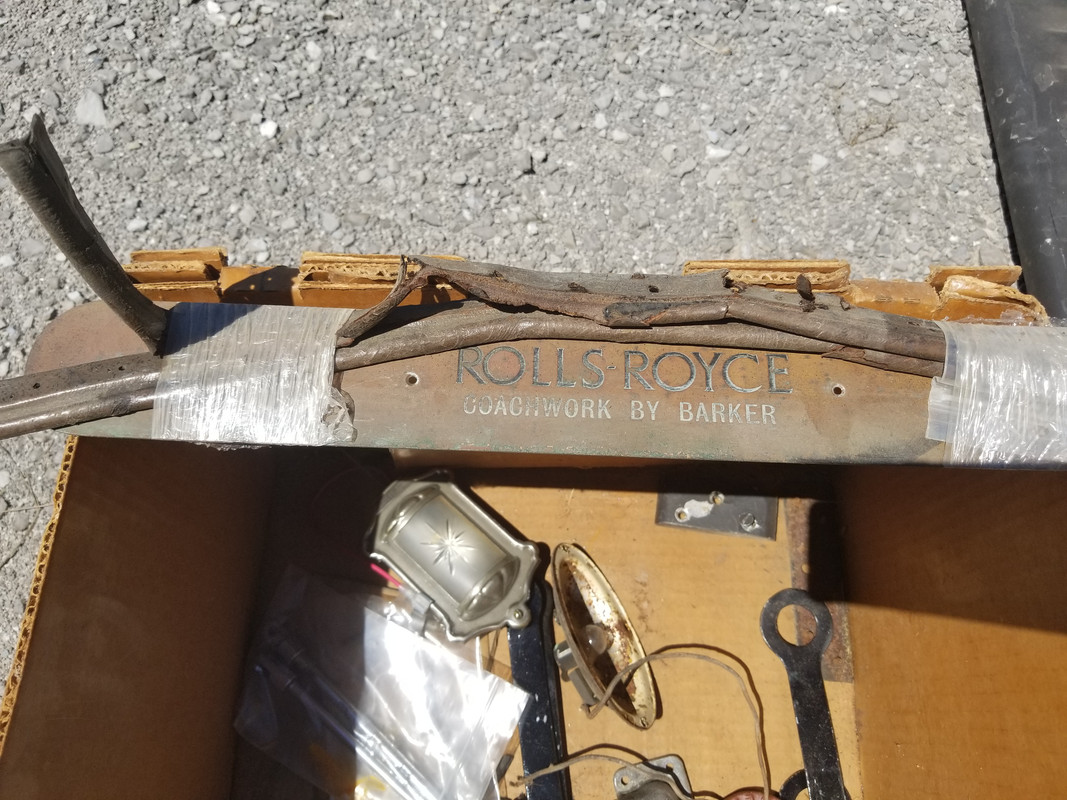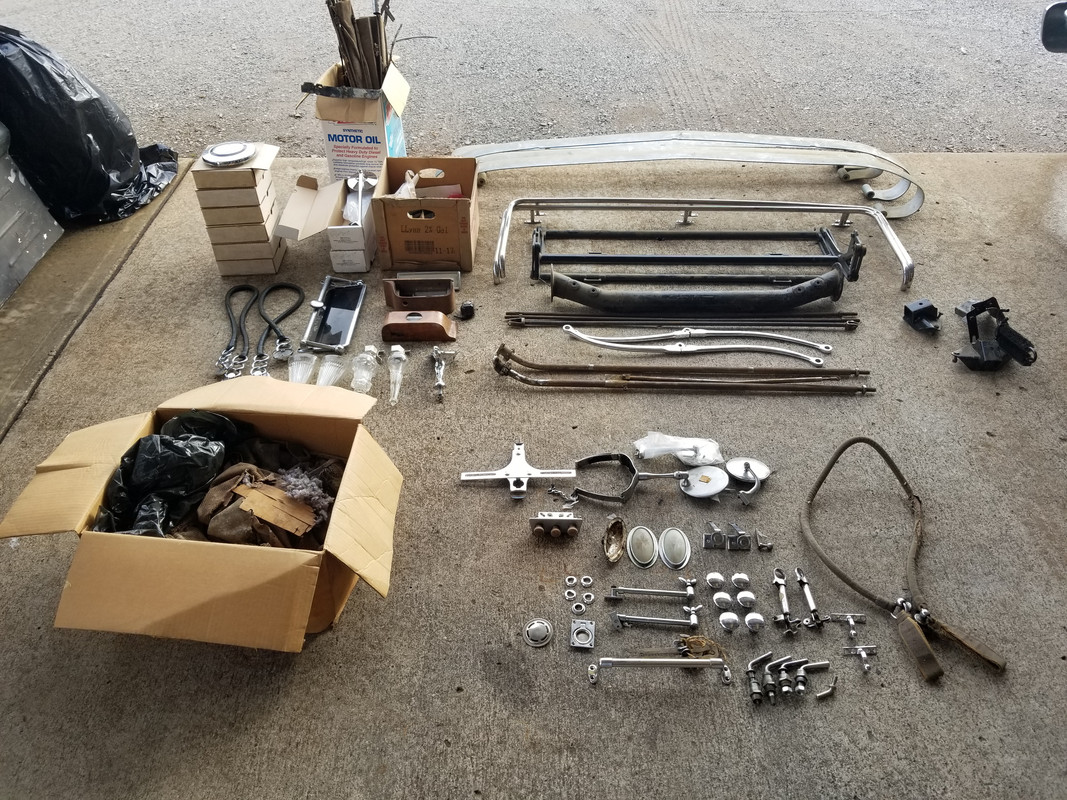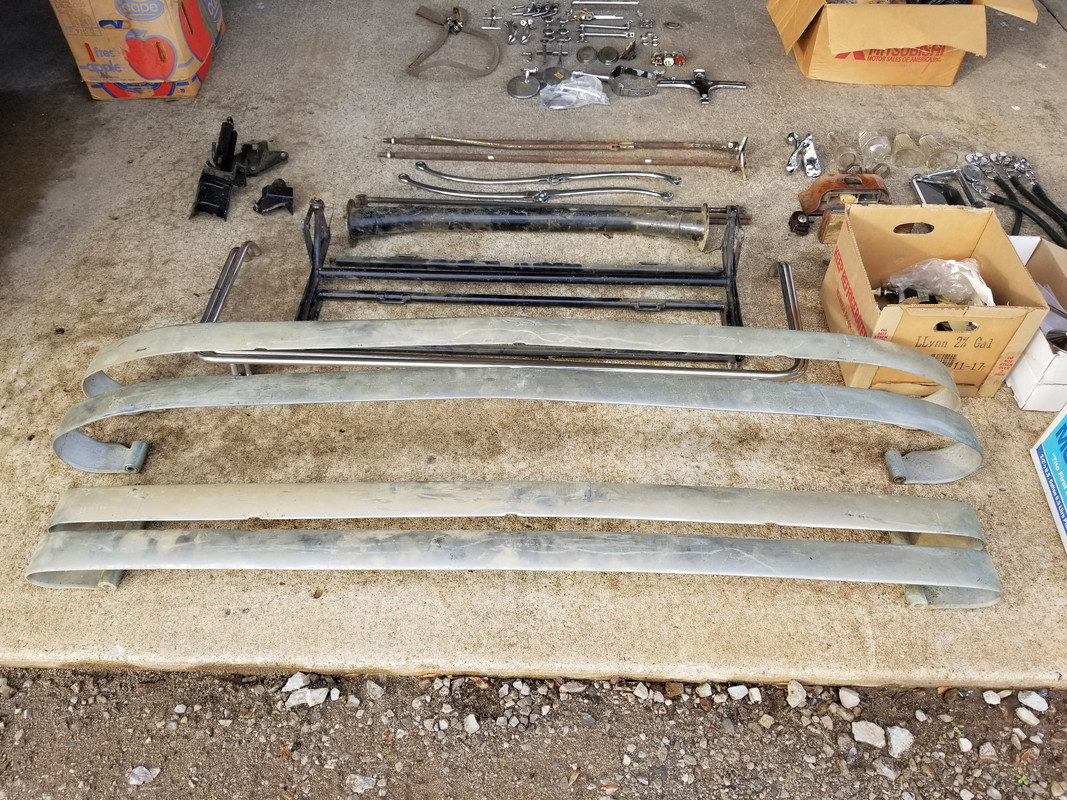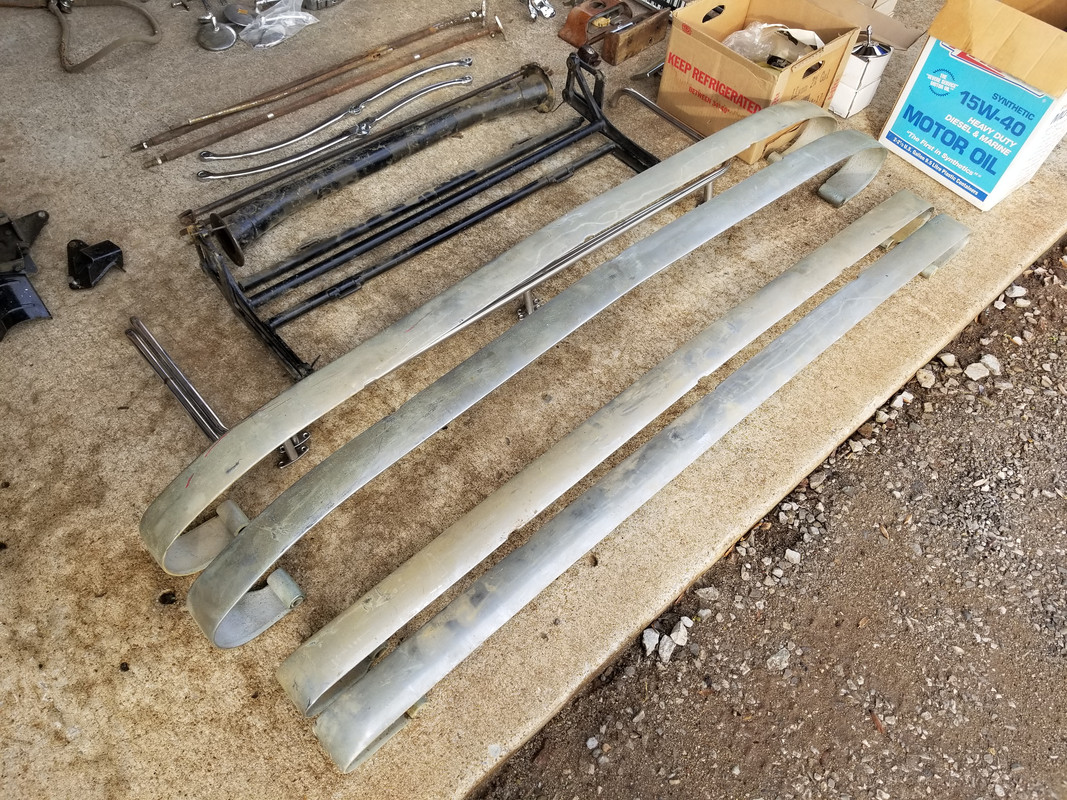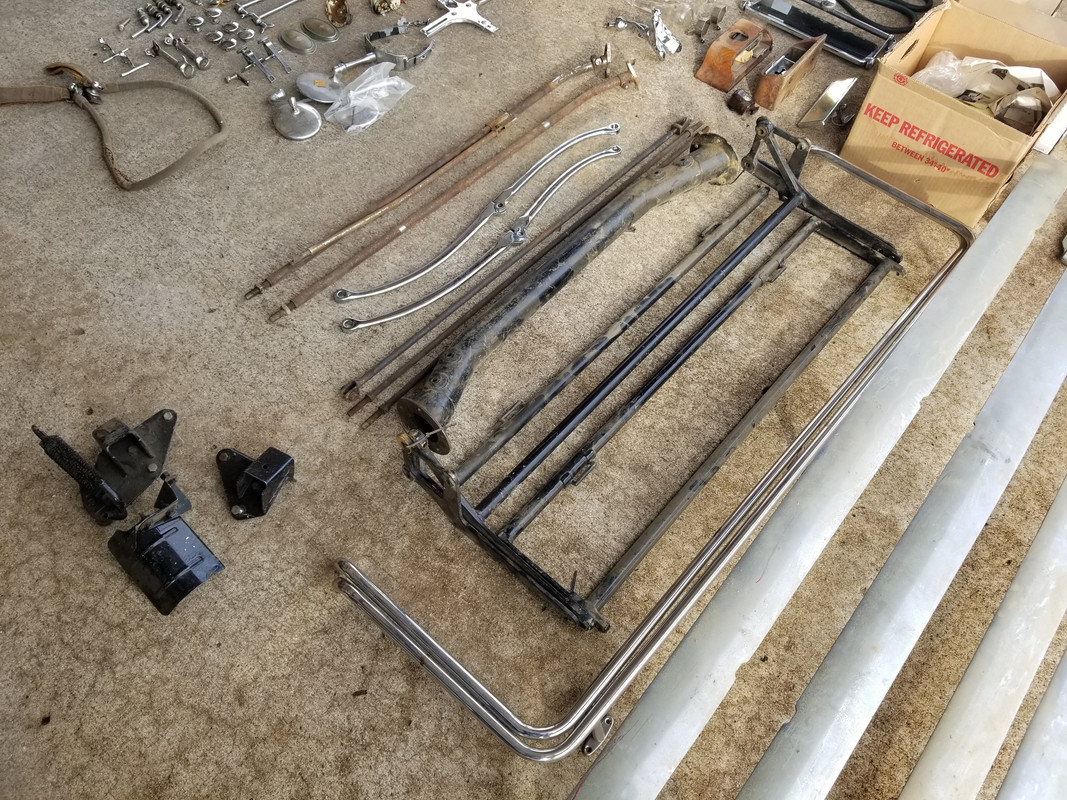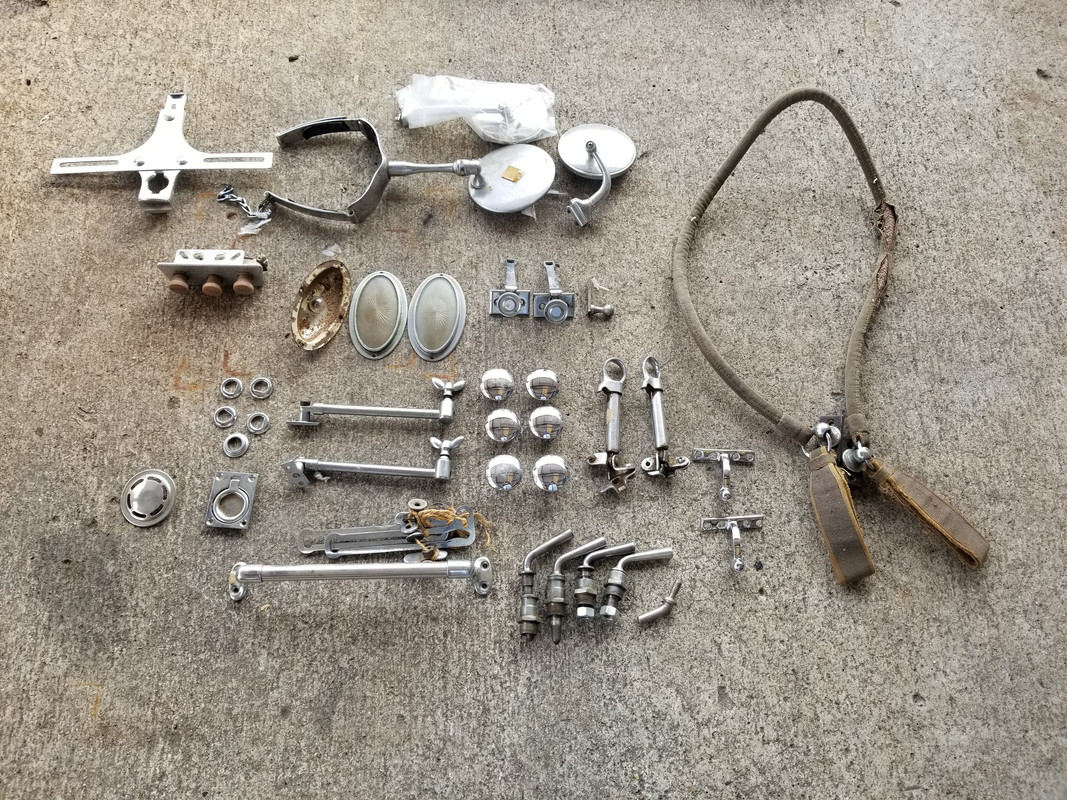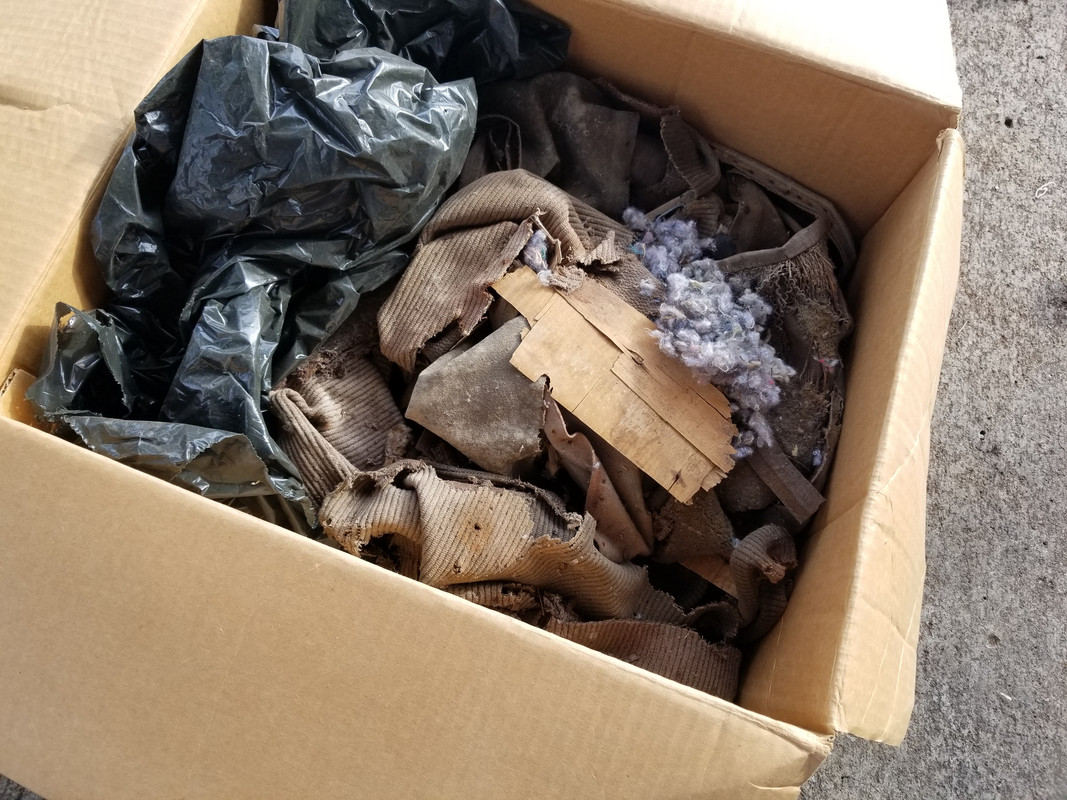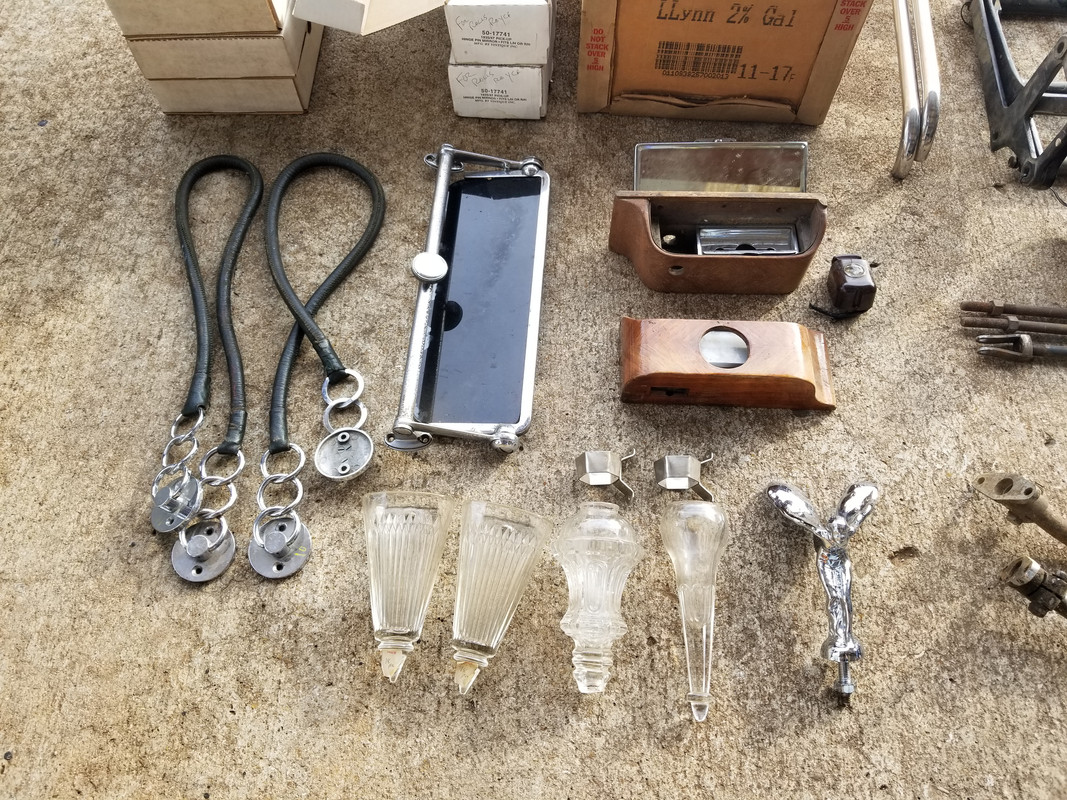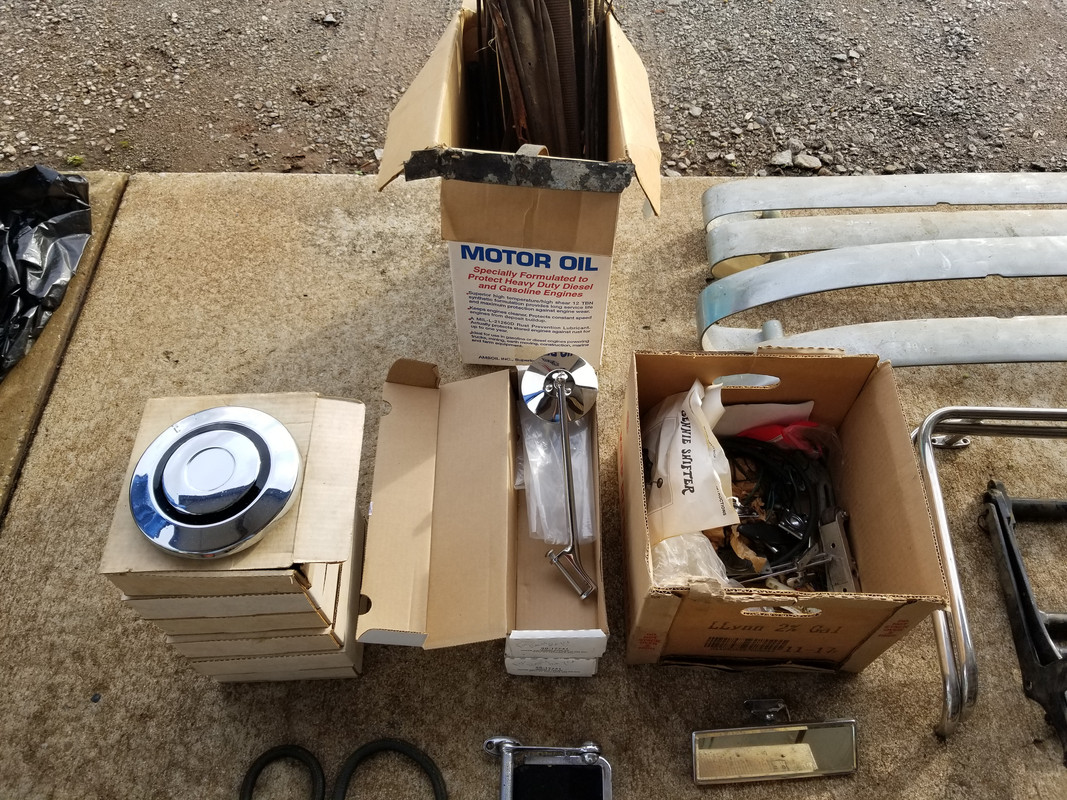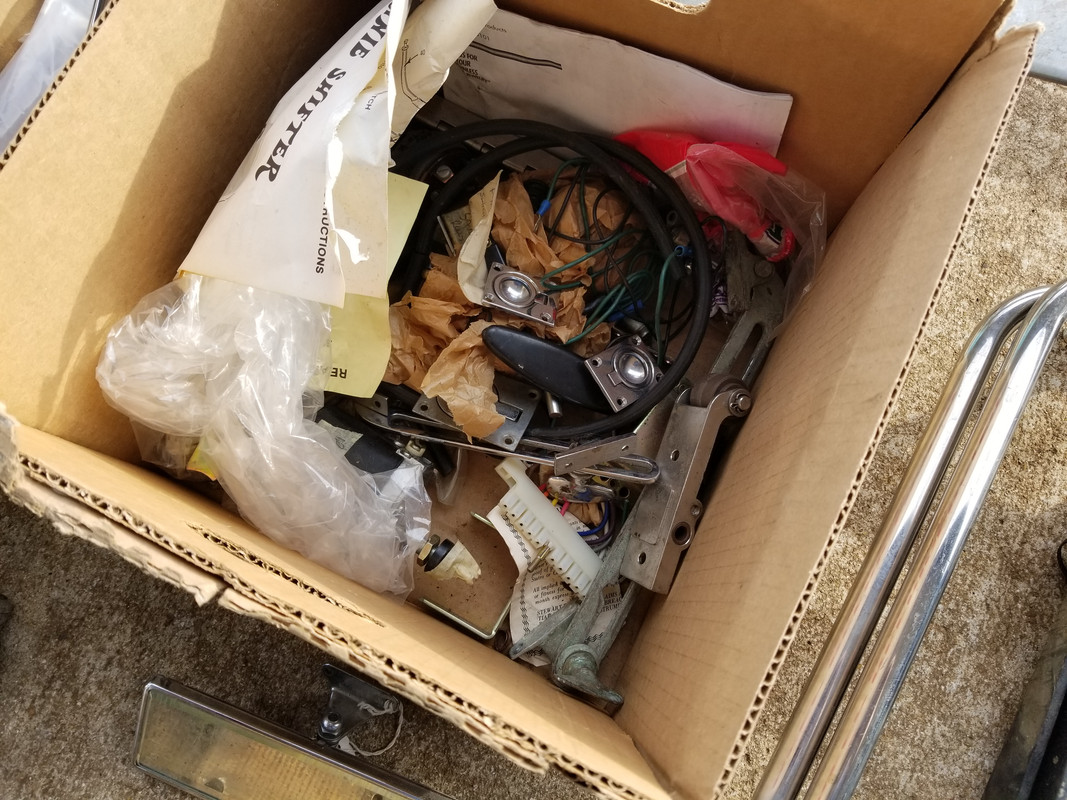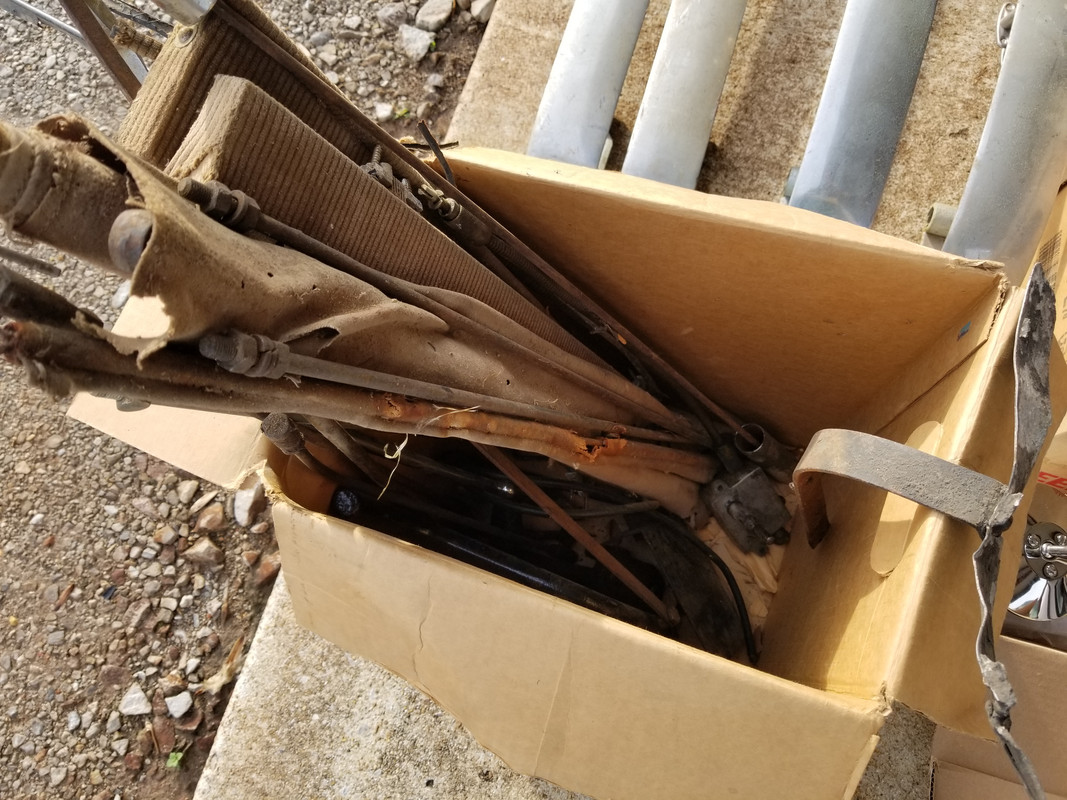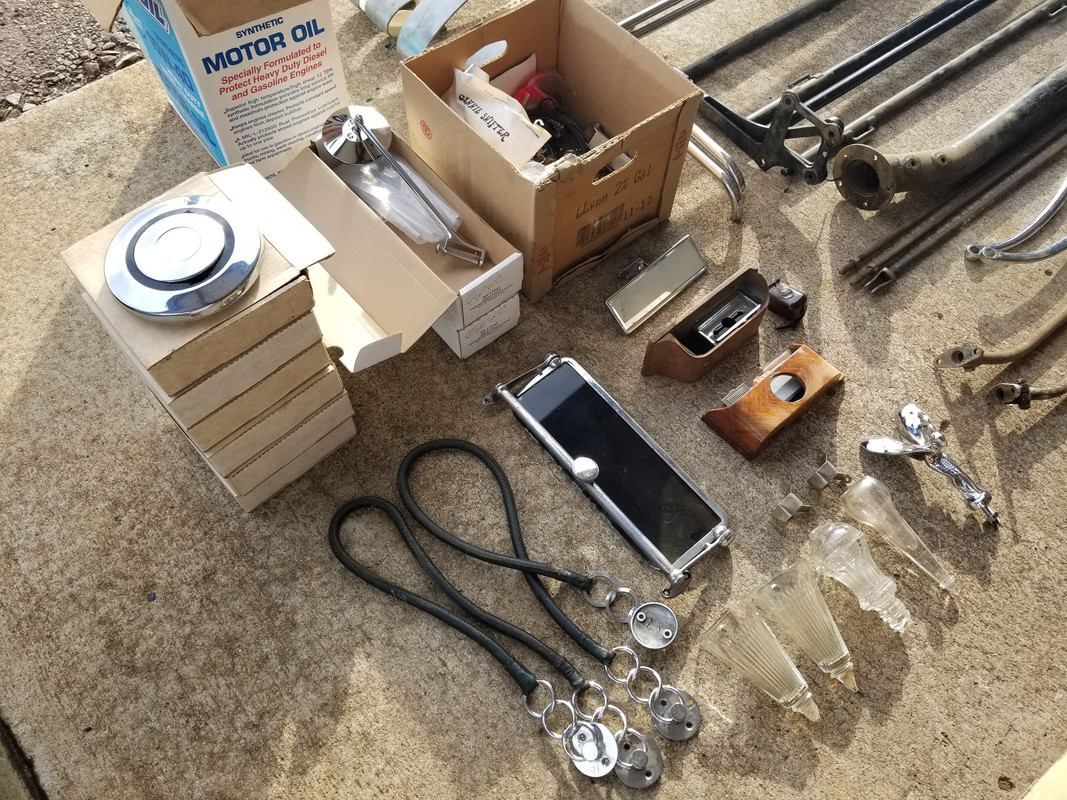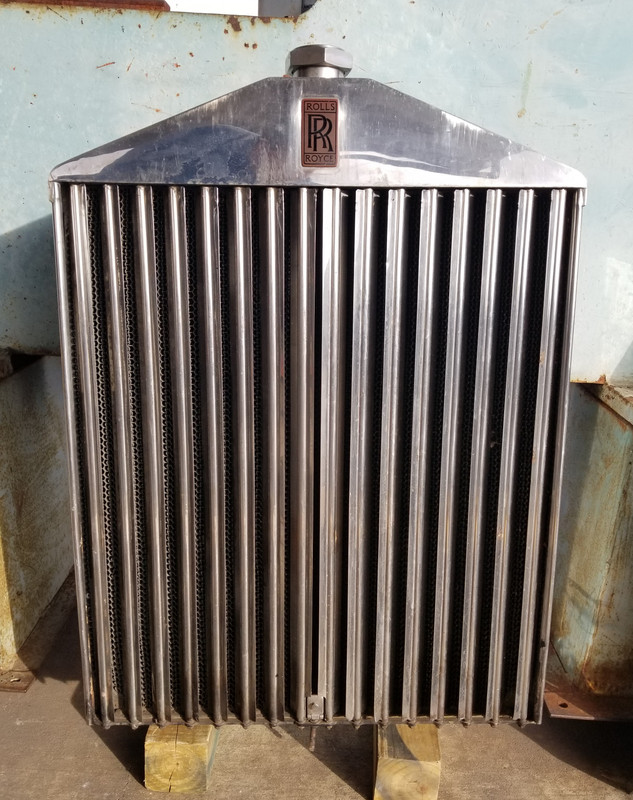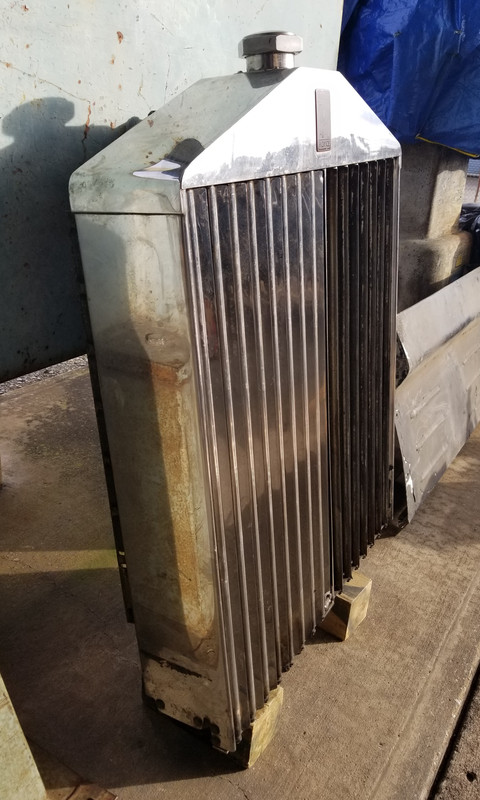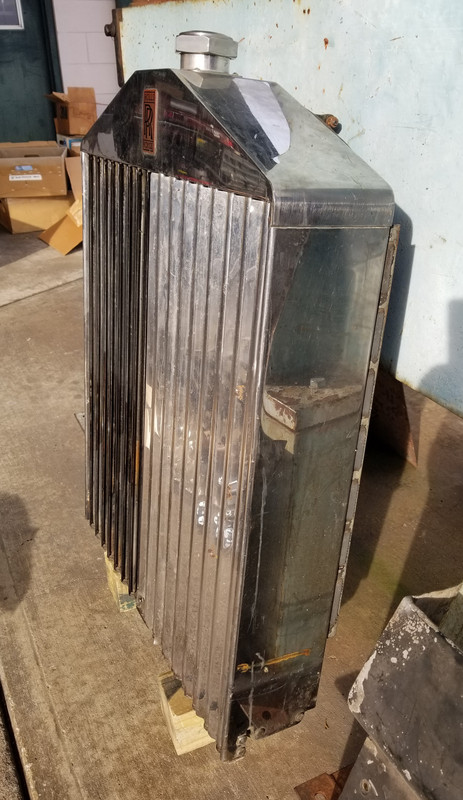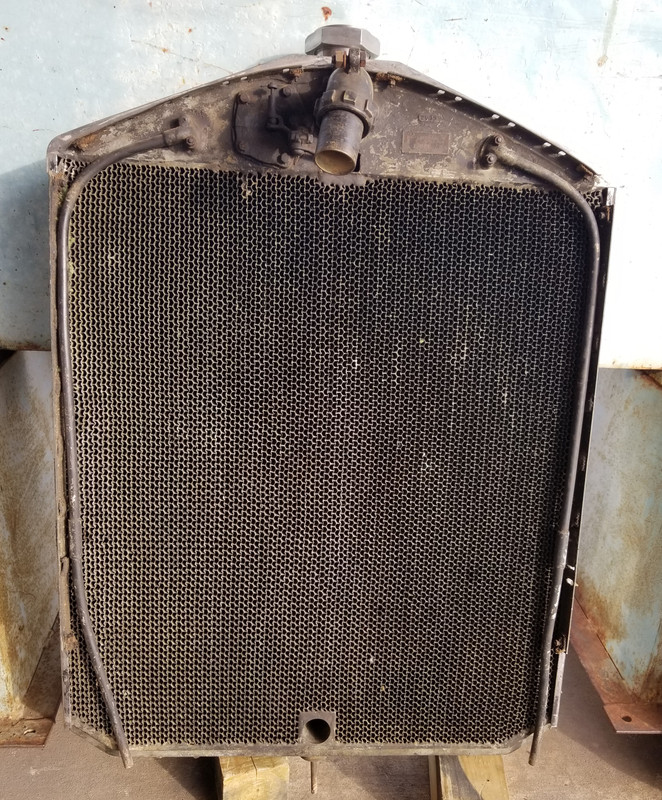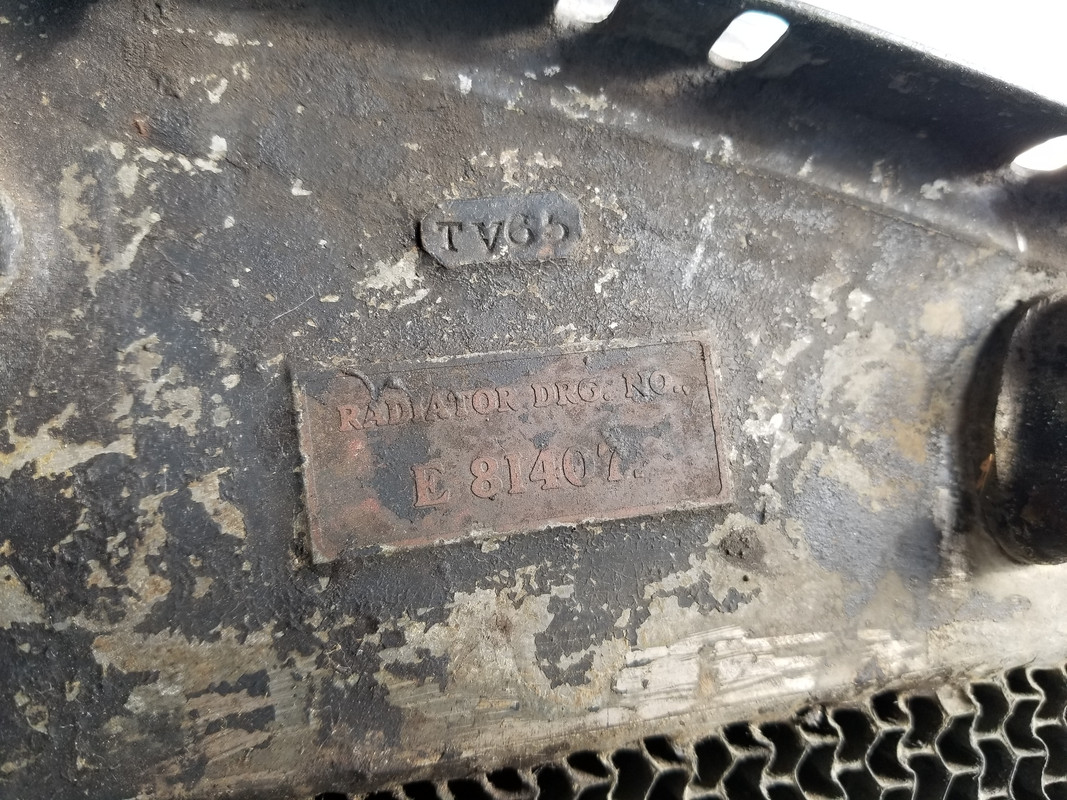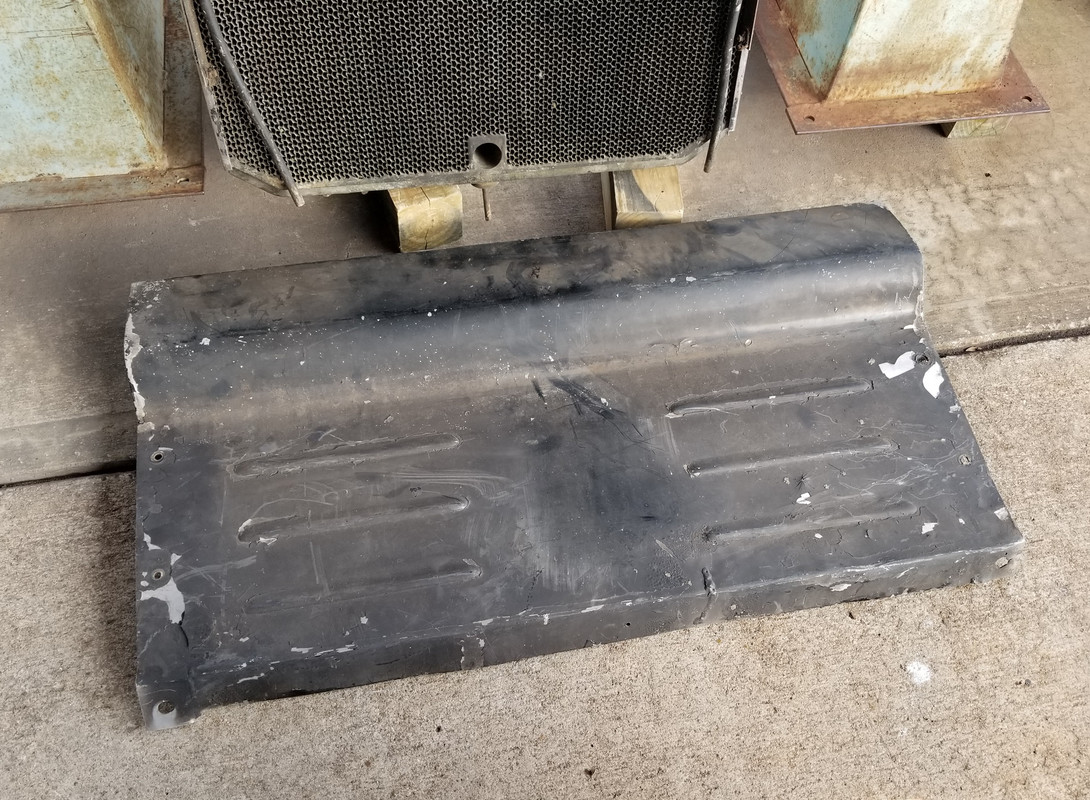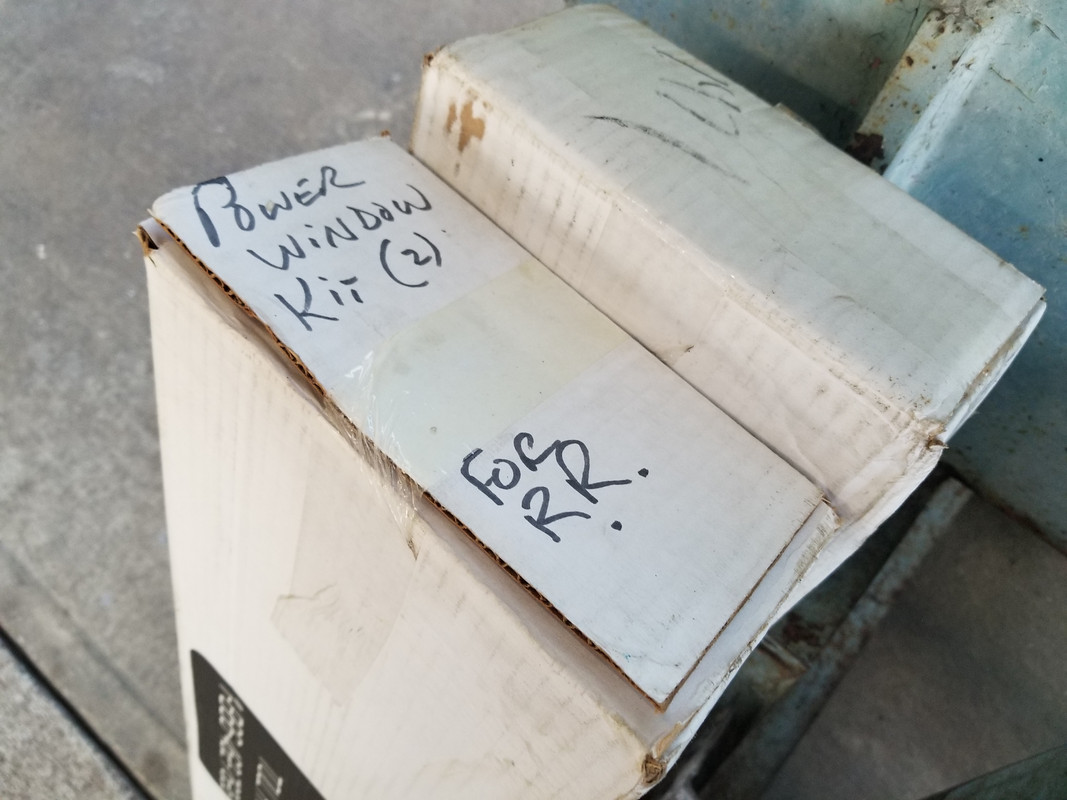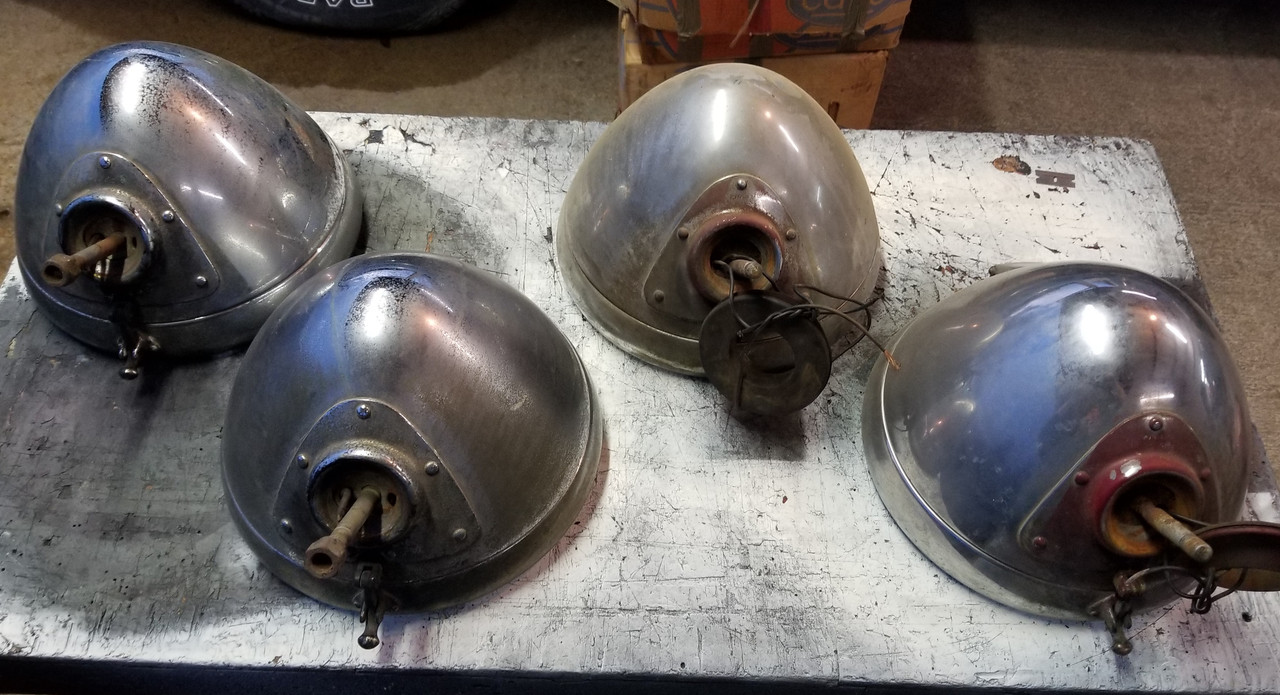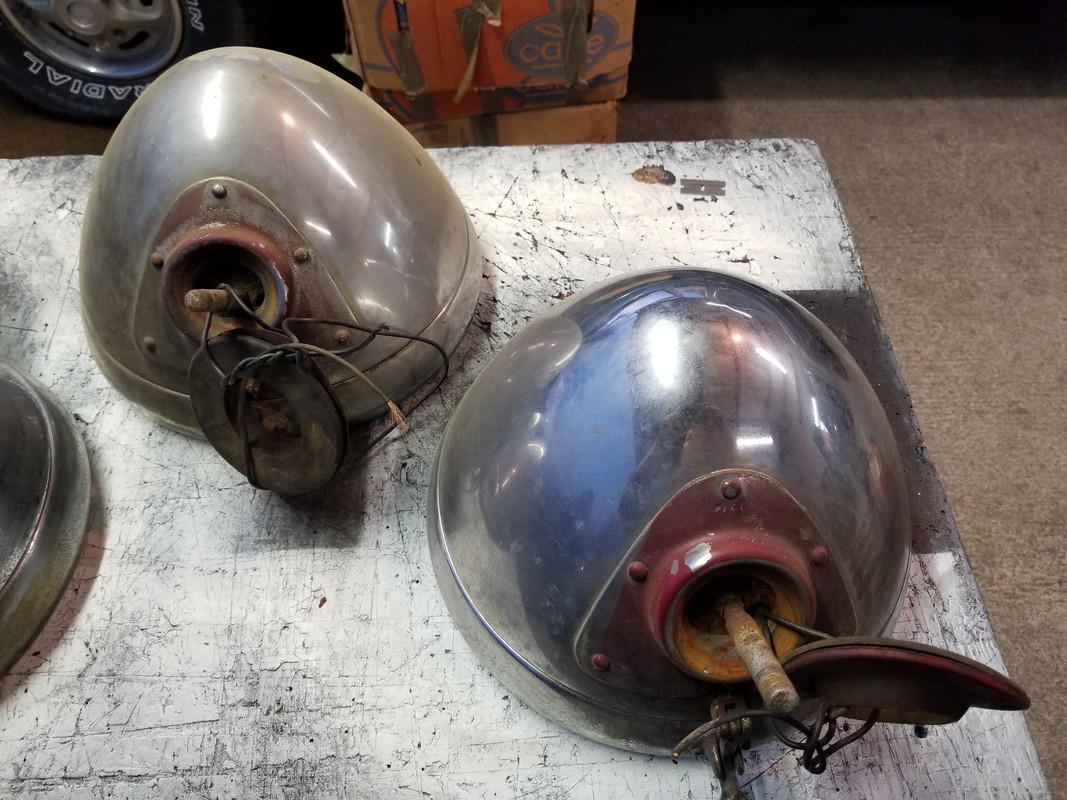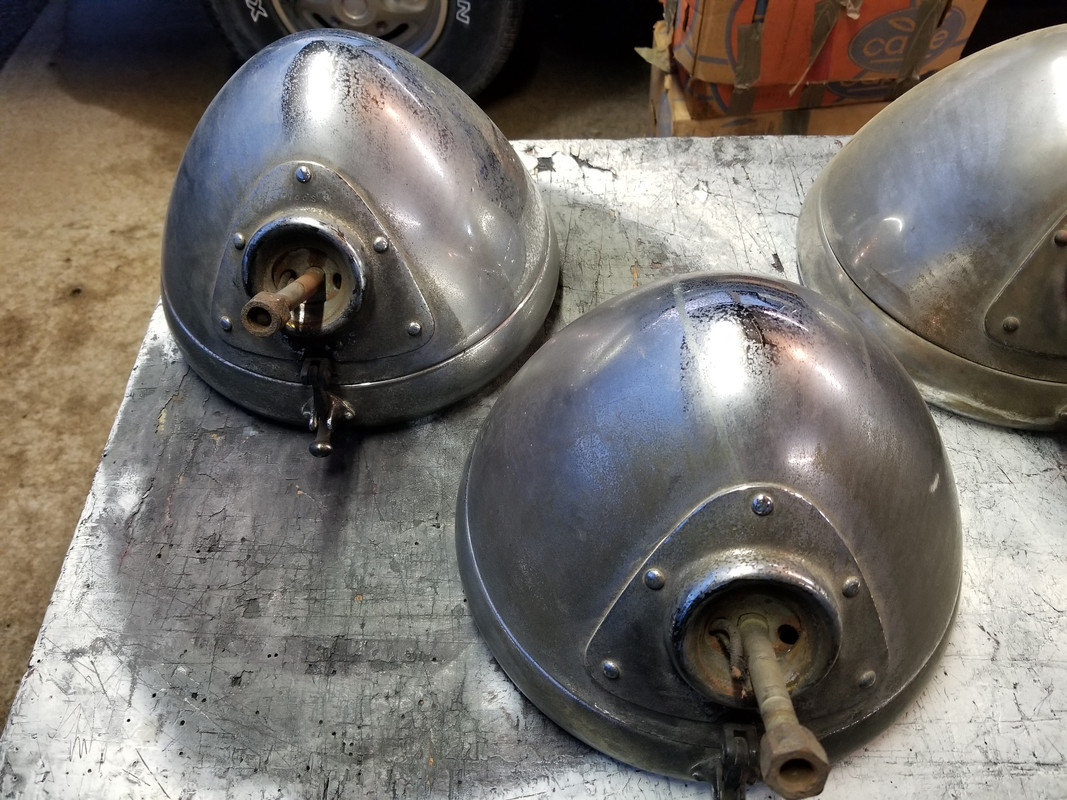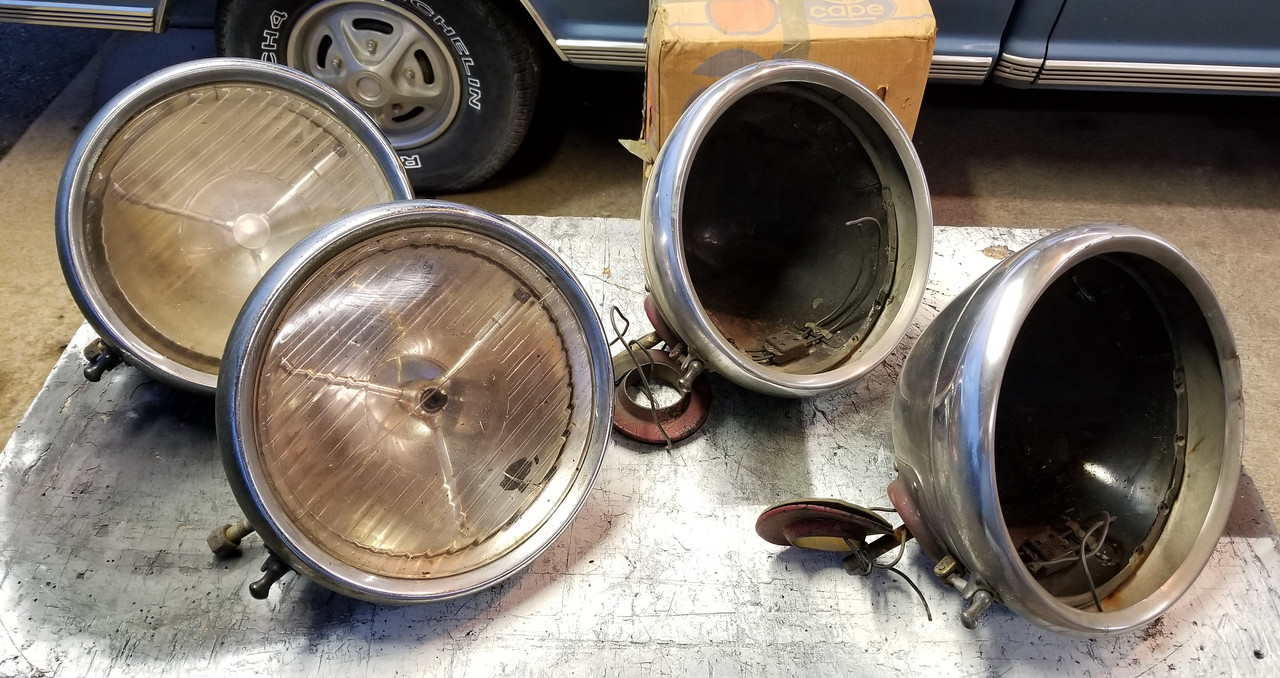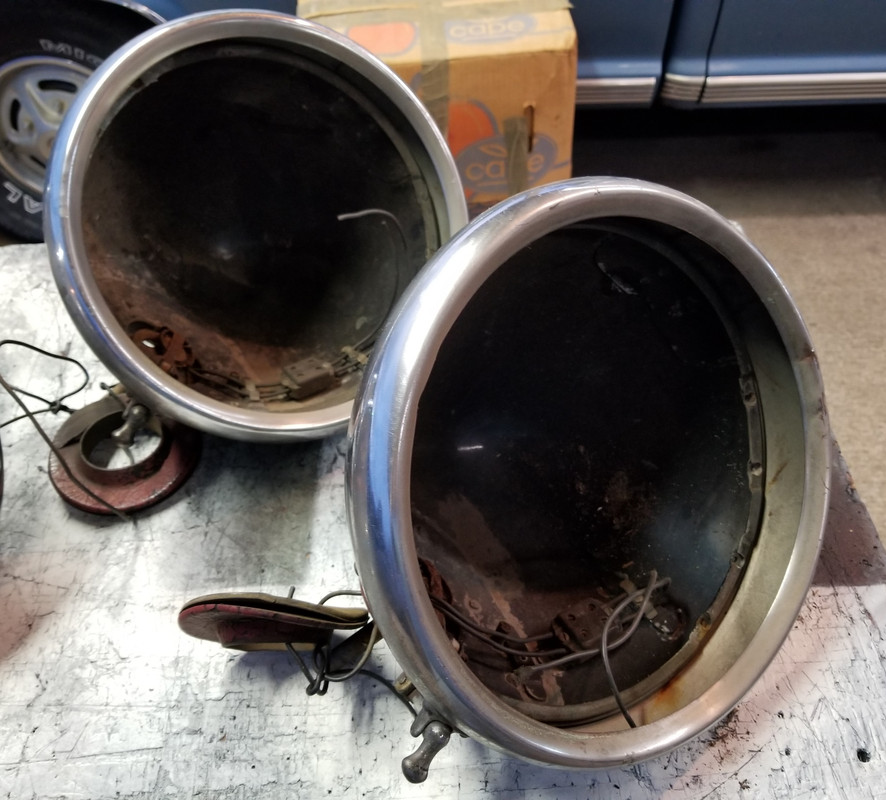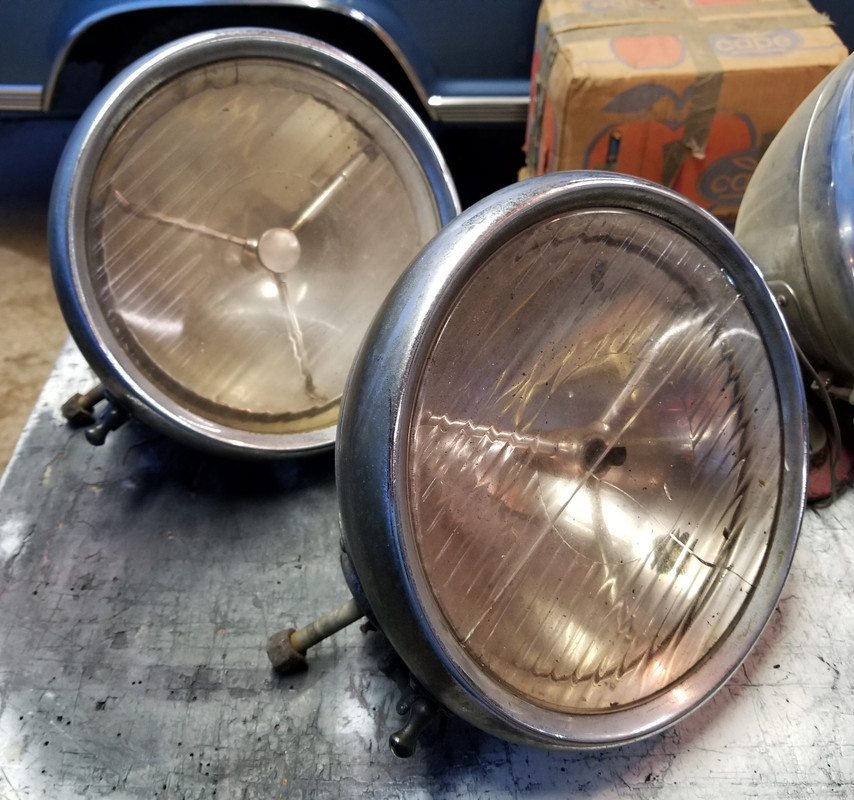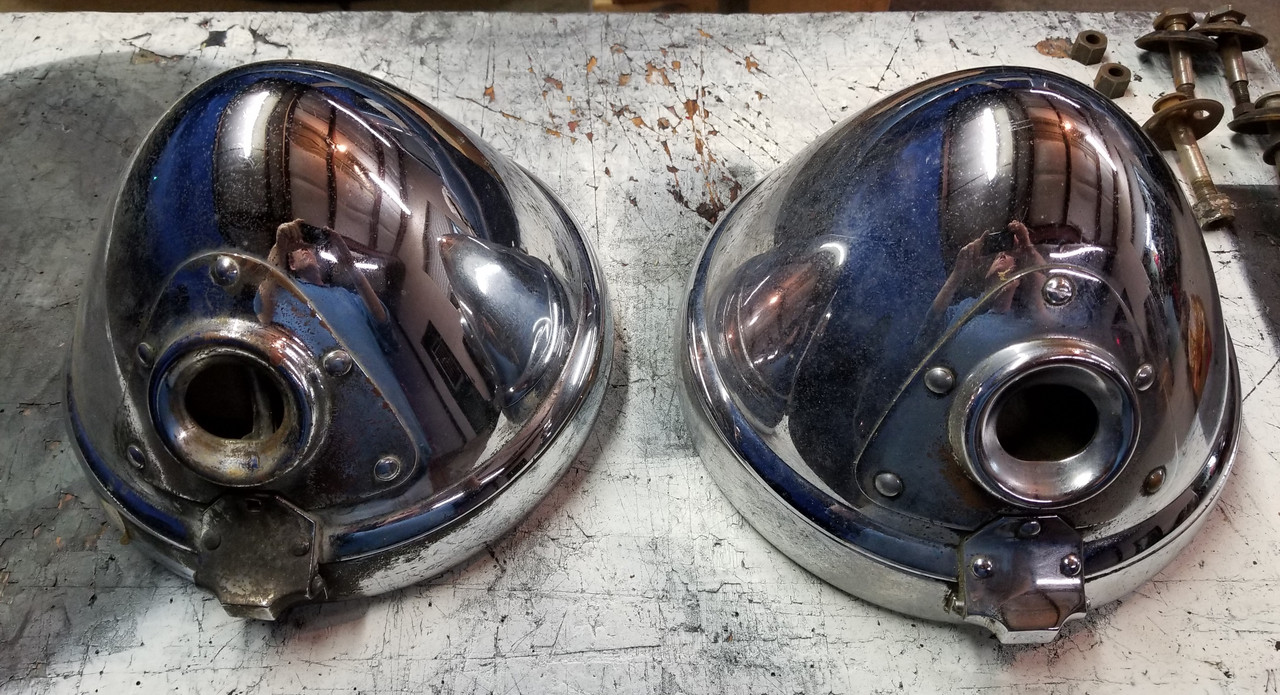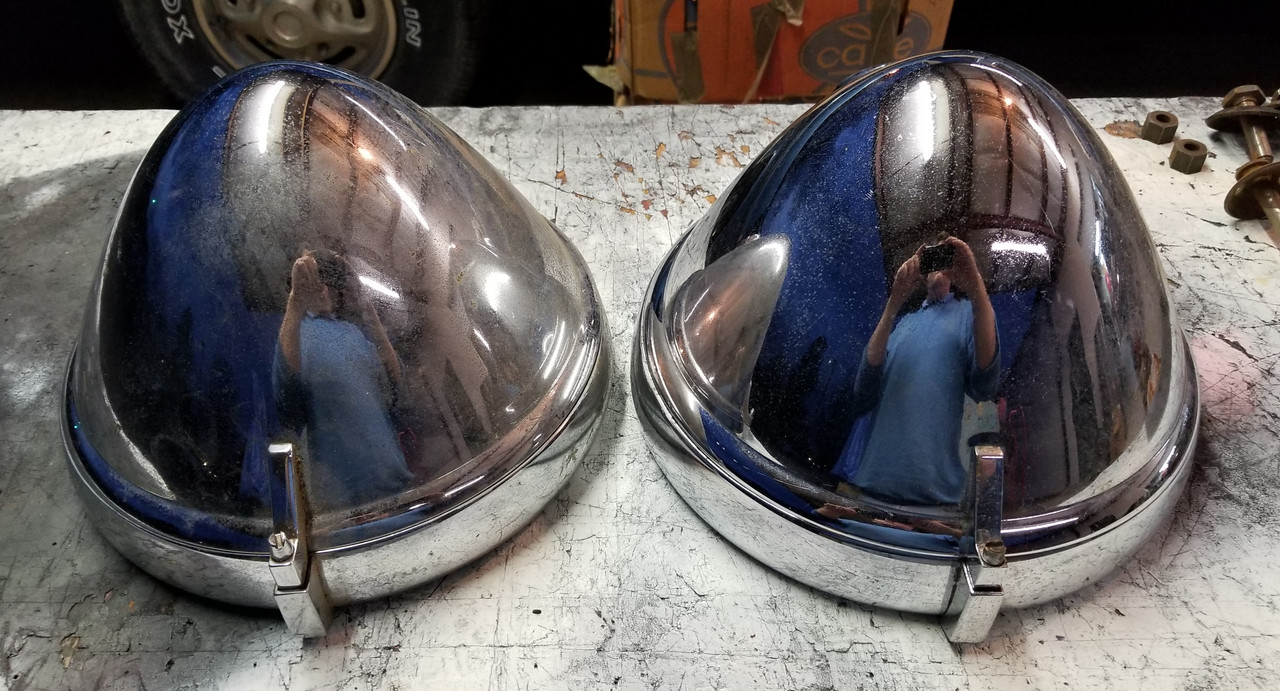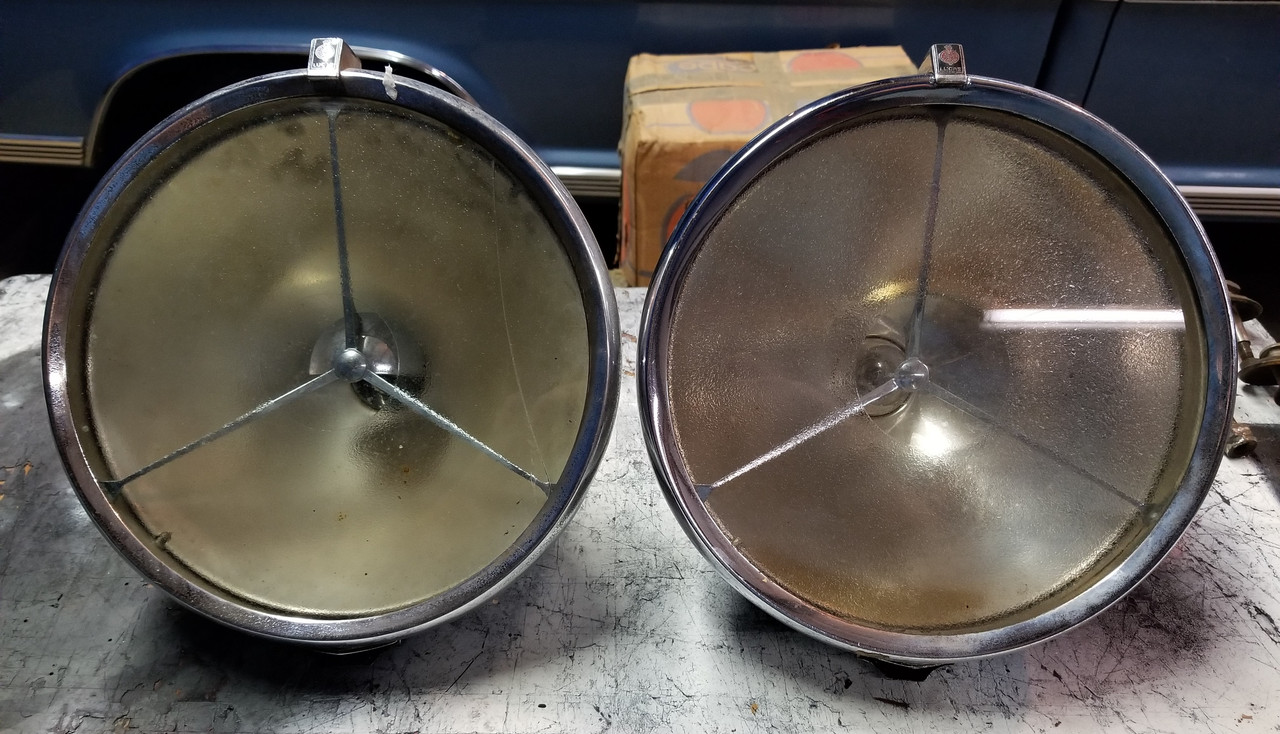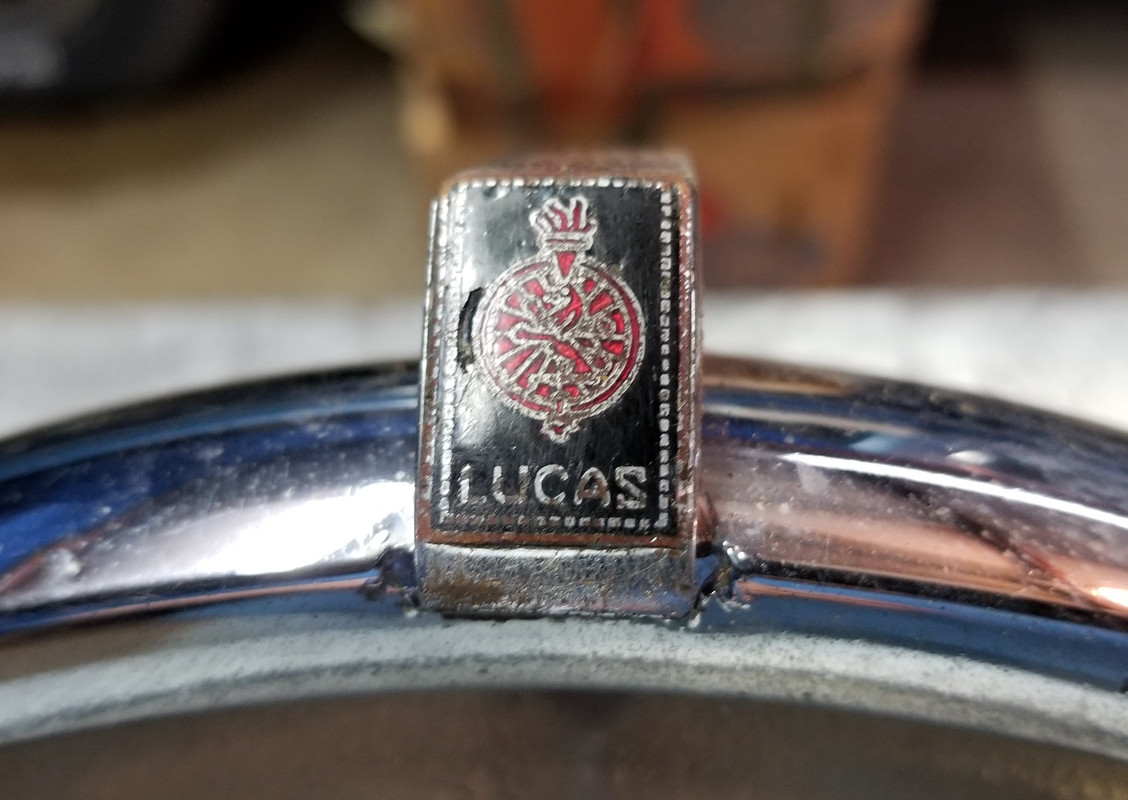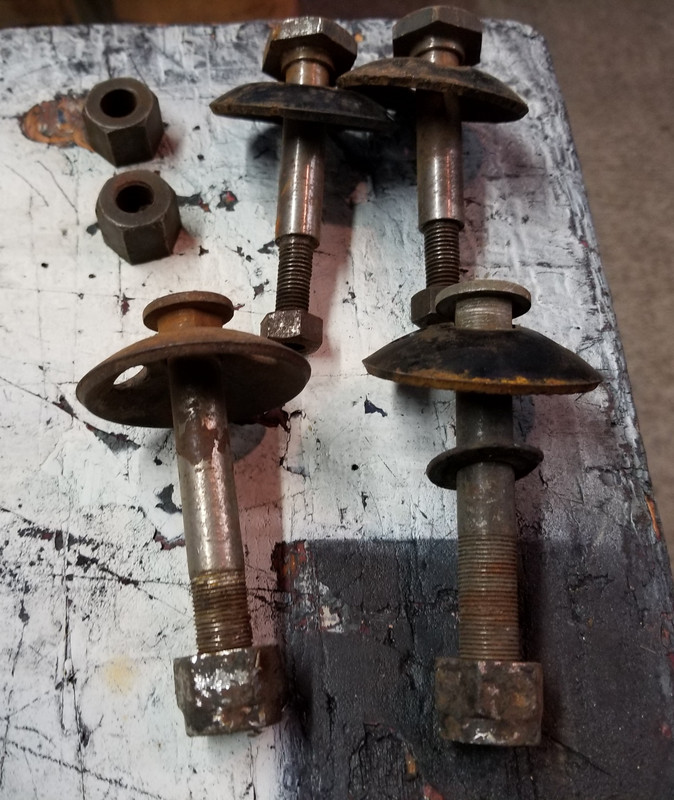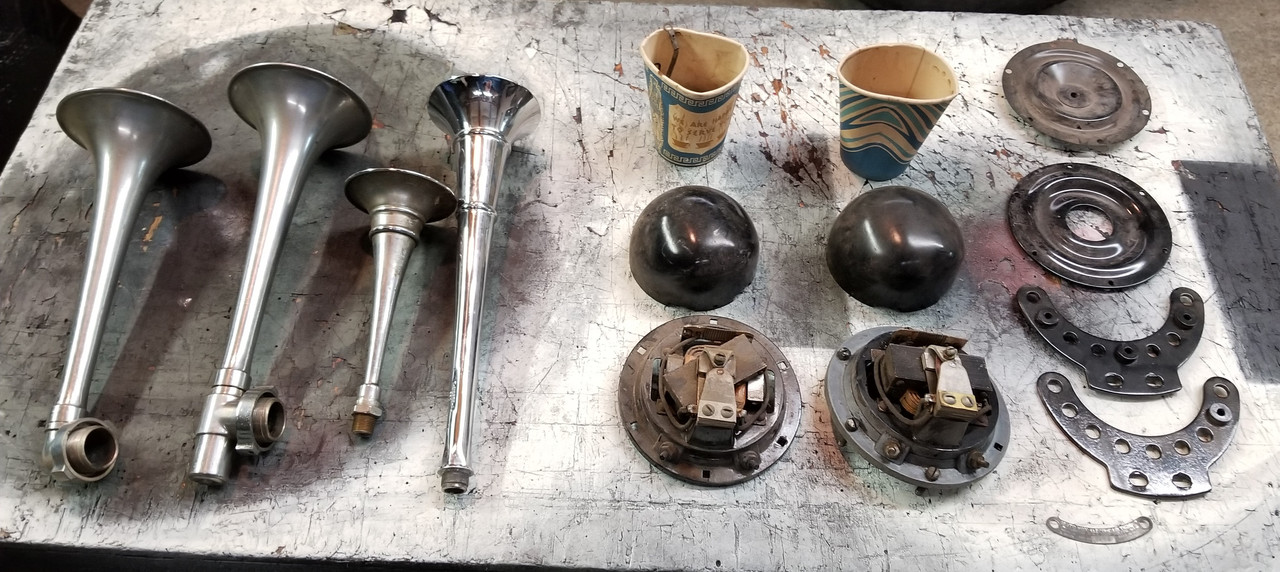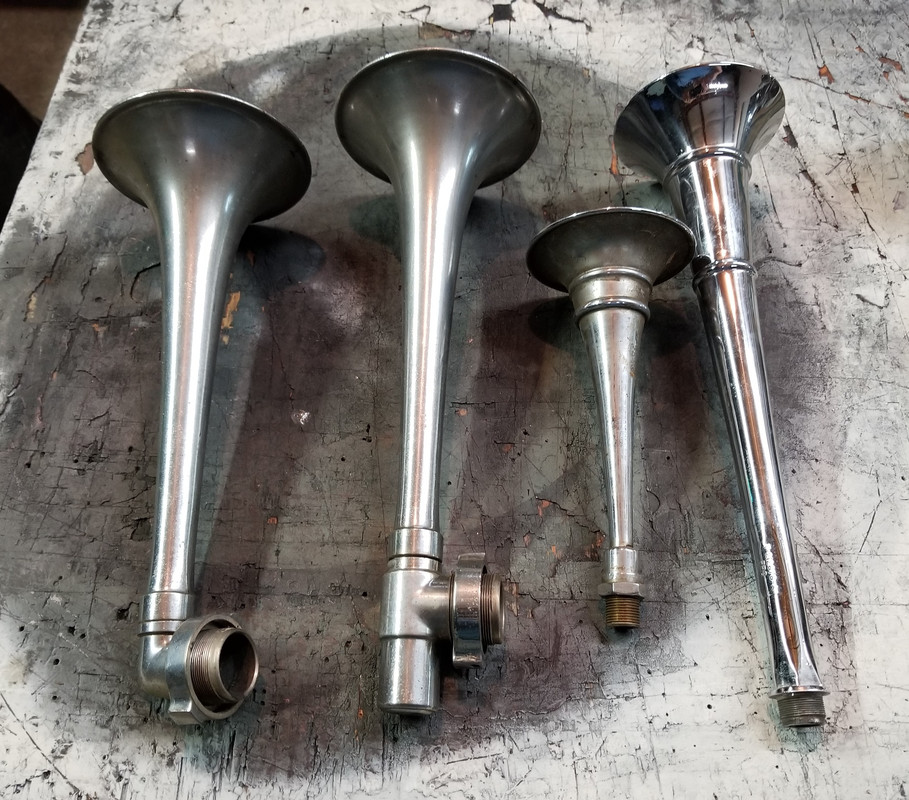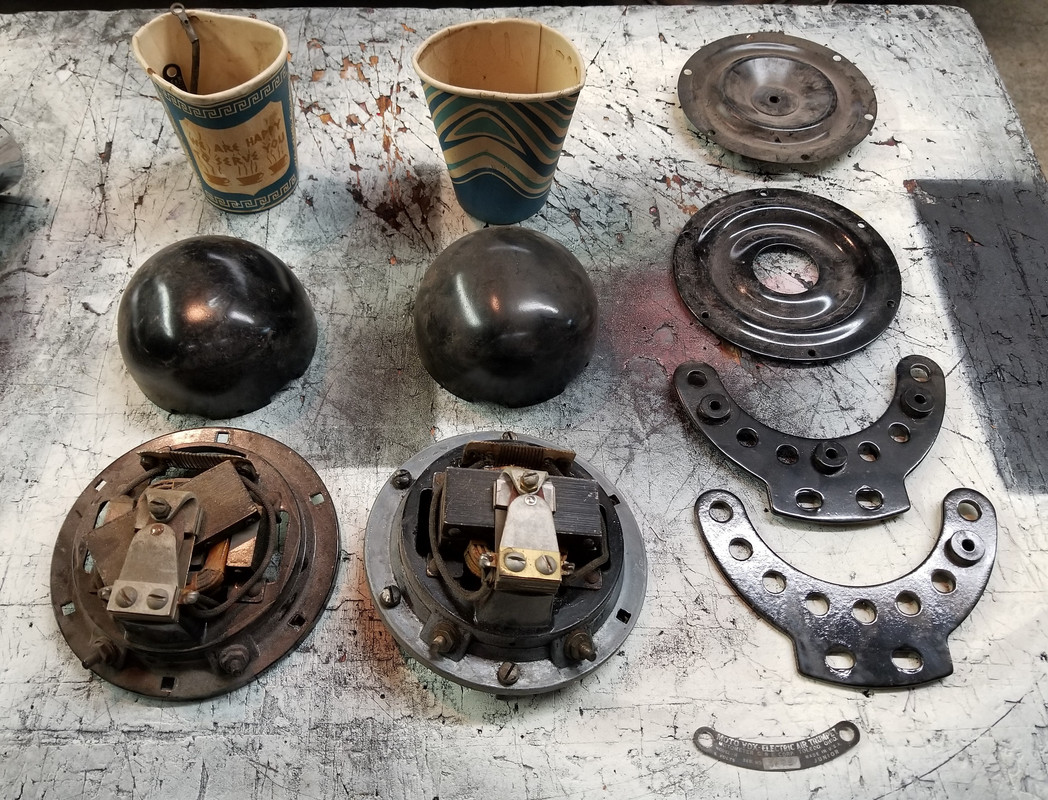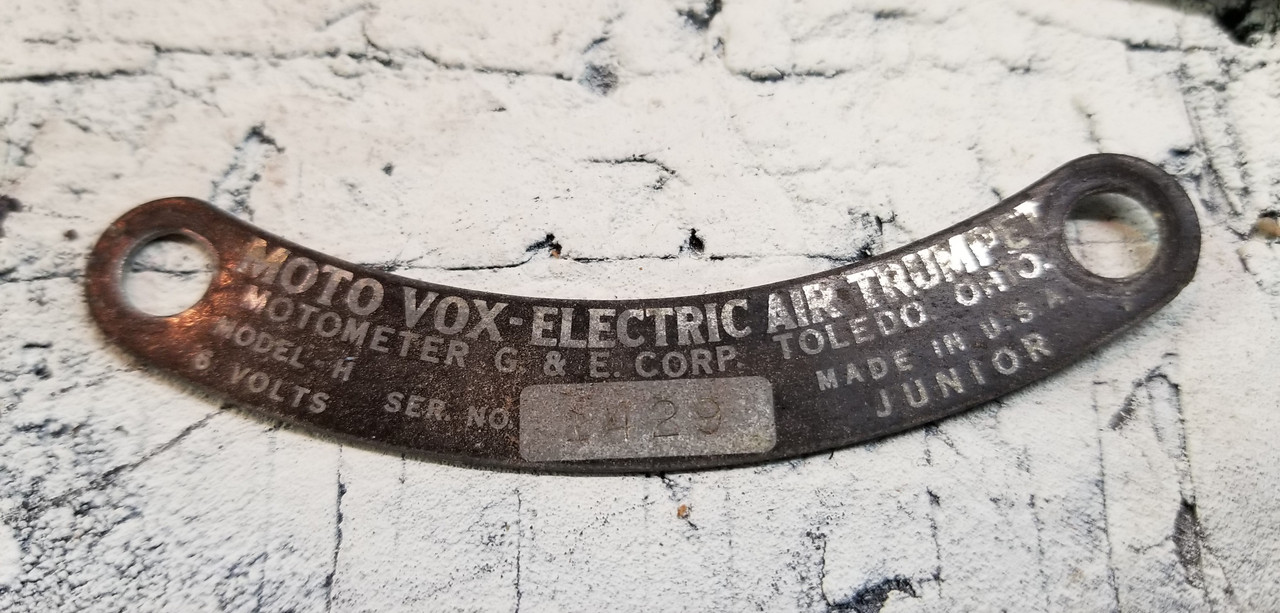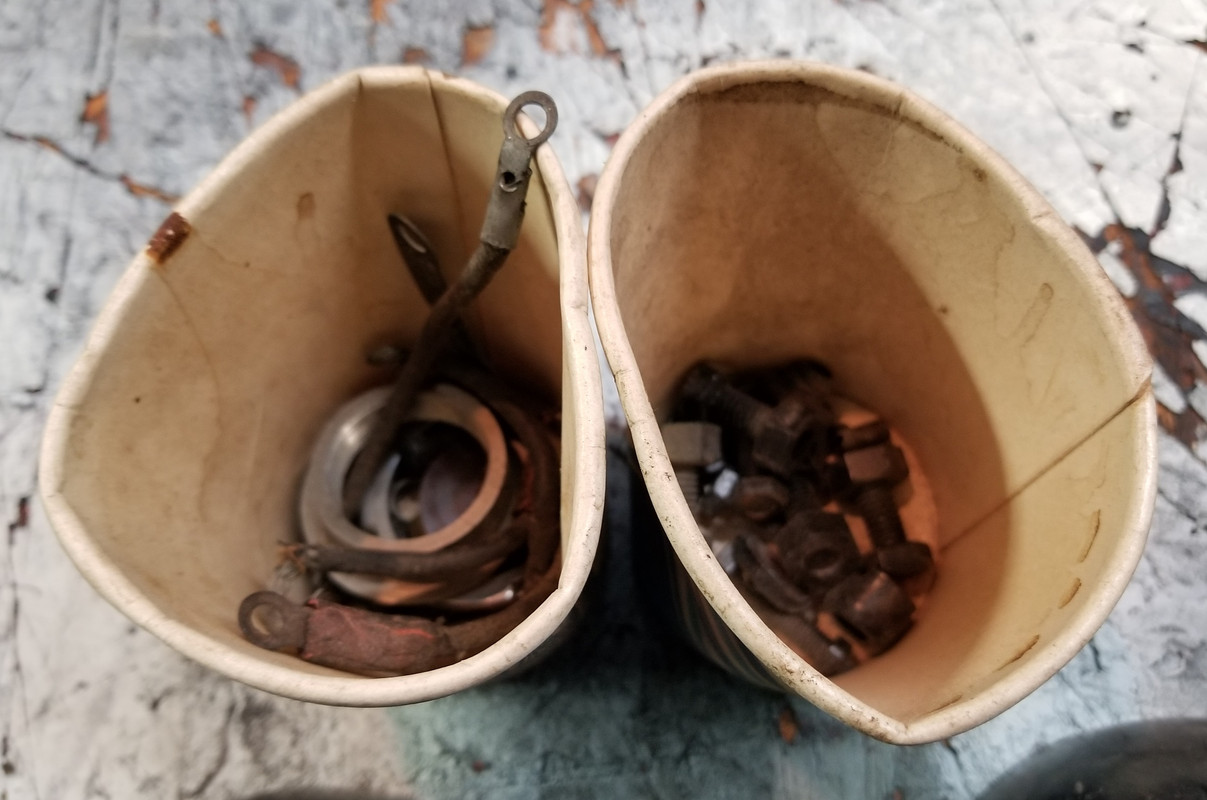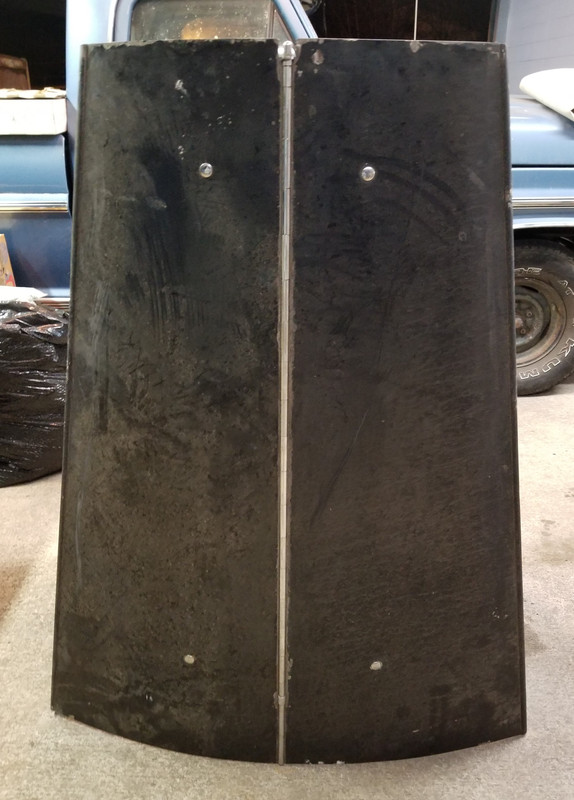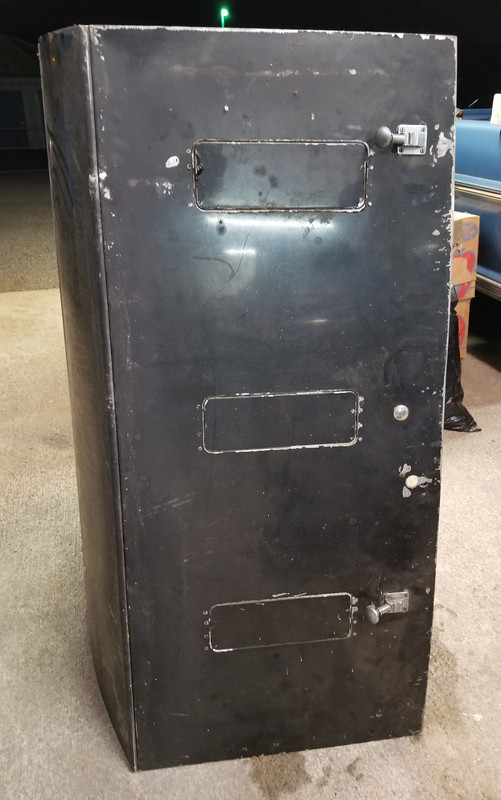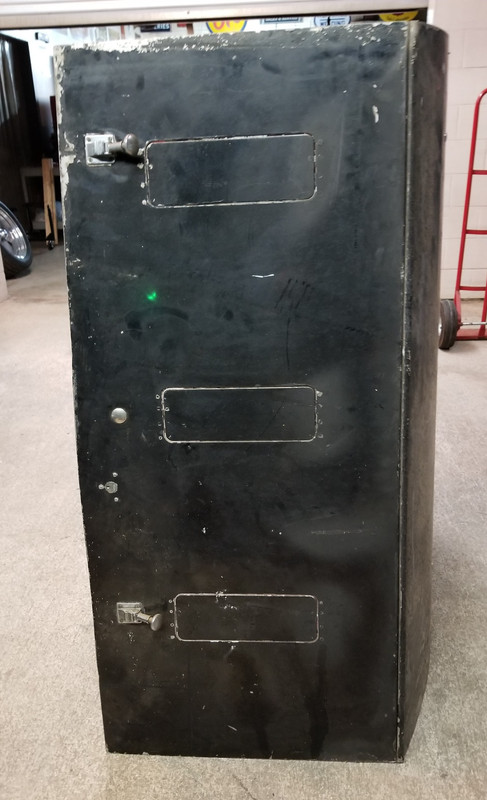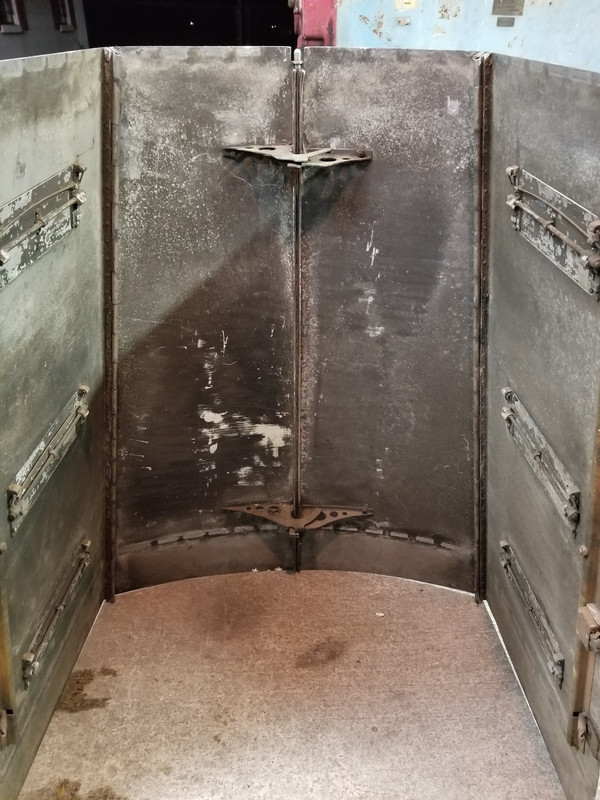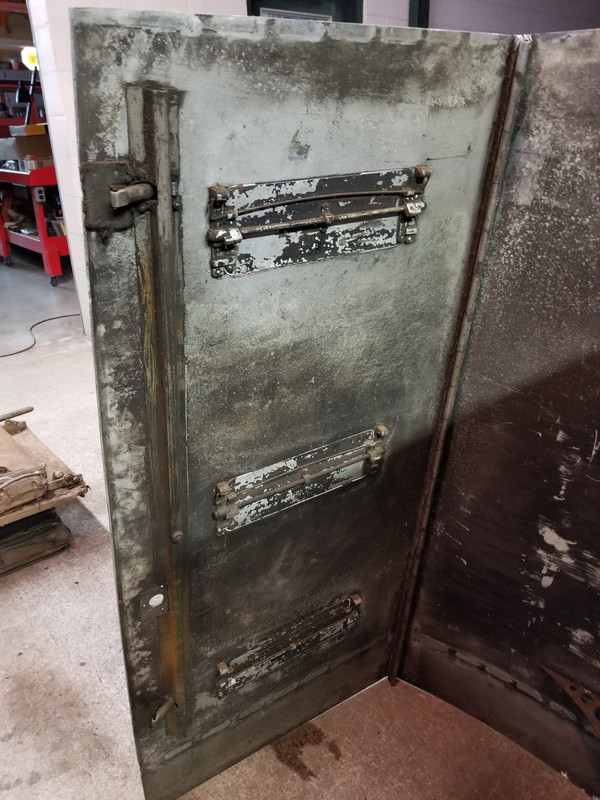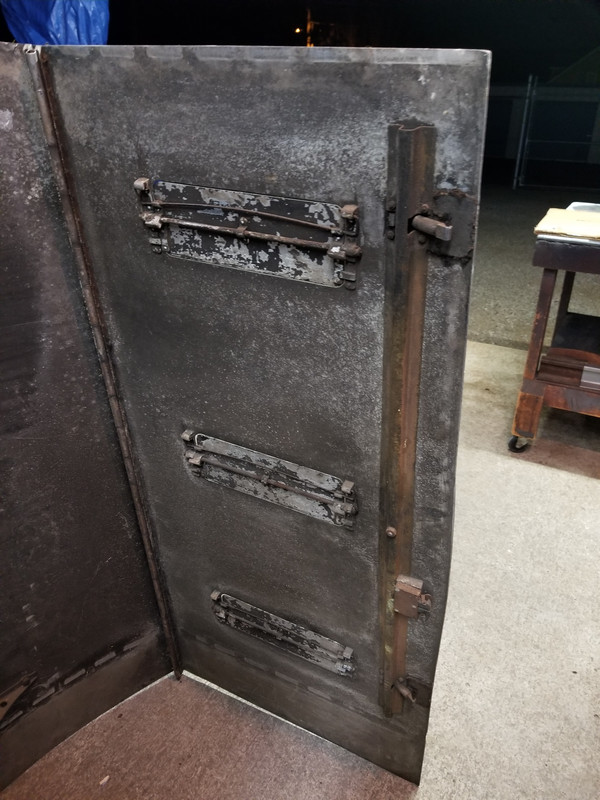 What's left:
One of the most common questions people ask about the car is "So what's left?" I'm sure anyone seriously considering placing a bid is wondering the same thing, so this is how I'd answer. The wood fabrication is 99% complete and has all been fitted and assembled. The only wood fabrication remaining is mahogany garnish moldings need to be made for the rear quarter windows and the original garnish moldings for the doors need to be shortened. None of the wood (exterior or interior) has been varnished or clear coated, so that will need to be done and the primered areas of the doors still need to be painted. The wood overlays on the doors and the interior door panels were all designed to be removable as individual assemblies for this very reason, so it won't be a huge wooden jigsaw puzzle. Hinges will need to be designed and fabricated for the tailgate and rear hatch. Other remaining items are wiring, gauges, some plumbing, heat and A/C, carpet, seats, etc. The fenders and running boards all need to be worked and fitted to the car, as does the hood and original Rolls radiator. One huge plus is that the original radiator looks to be in excellent condition and will hopefully need nothing more than a good cleaning and polishing. In a nutshell, the remaining work should all be run-of-the-mill street rod stuff and something any good street rod or restoration shop can handle with minimal fanfare. The hard part is already done.
Price, trades, shipping, etc.
We do not have a Buy-It-Now price in mind, so bid what it's worth to you.
I will not end the auction early so please don't ask.
I will not sell any of the parts separately so please don't ask. (Yes, people actually do ask that question!)
The family is not interested in any trades so please don't ask. (I could write a book on this one!)
All shipping and/or transportation costs will be the sole responsibility of the buyer but I will make every effort to accommodate the shippers.
A $500 non-refundable deposit will be expected via PayPal within 48 hours of the auction end and the balance will be due in cash or certified funds before the vehicle will be released.
Please message me with any questions you might have, and thanks for looking!